FORDHAM

nails it with a 17.3 in Breakfast – 2GB scores 14.3 overall.

HOWCROFT

's big increase on 3AW, up to 26.1 in breakfast, 16.9 overall.

ABC Sydney and Melbourne up.
Big drops at 2Day and Fox.
Not unexpectedly, a volatile survey in most markets
This is the first regular ratings measurement after surveys 3, 4 and 5 were cancelled due to the pandemic, although GfK did release other information during the survey pause (see previous report).
The survey was run under very unusual circumstances, with more electronic diaries on the market due to increased difficulty of door to door survey collection during the pandemic. Melbourne, which was in lockdown for most of the survey's field work, was researched using all electronic diaries, while other markets still had a combination of paper and electronic methods.
Compare today's results with the previous survey 2, conducted in February and March, here.
This survey was conducted for CRA between Sun Jul 26 to Sat Sept 19, 2020, which took place during the football season, but the fixtures were not standard due to covid.
During the survey, ABC NEWS changed to ABC NEWSRADIO, effective July 26 and a number of DAB stations rebranded (see notes at the bottom of the DAB+ charts).
Click the charts to enlarge them, refresh this page during the day for the latest updates.

AM/FM/DAB+ Stations
DAB+ Only Stations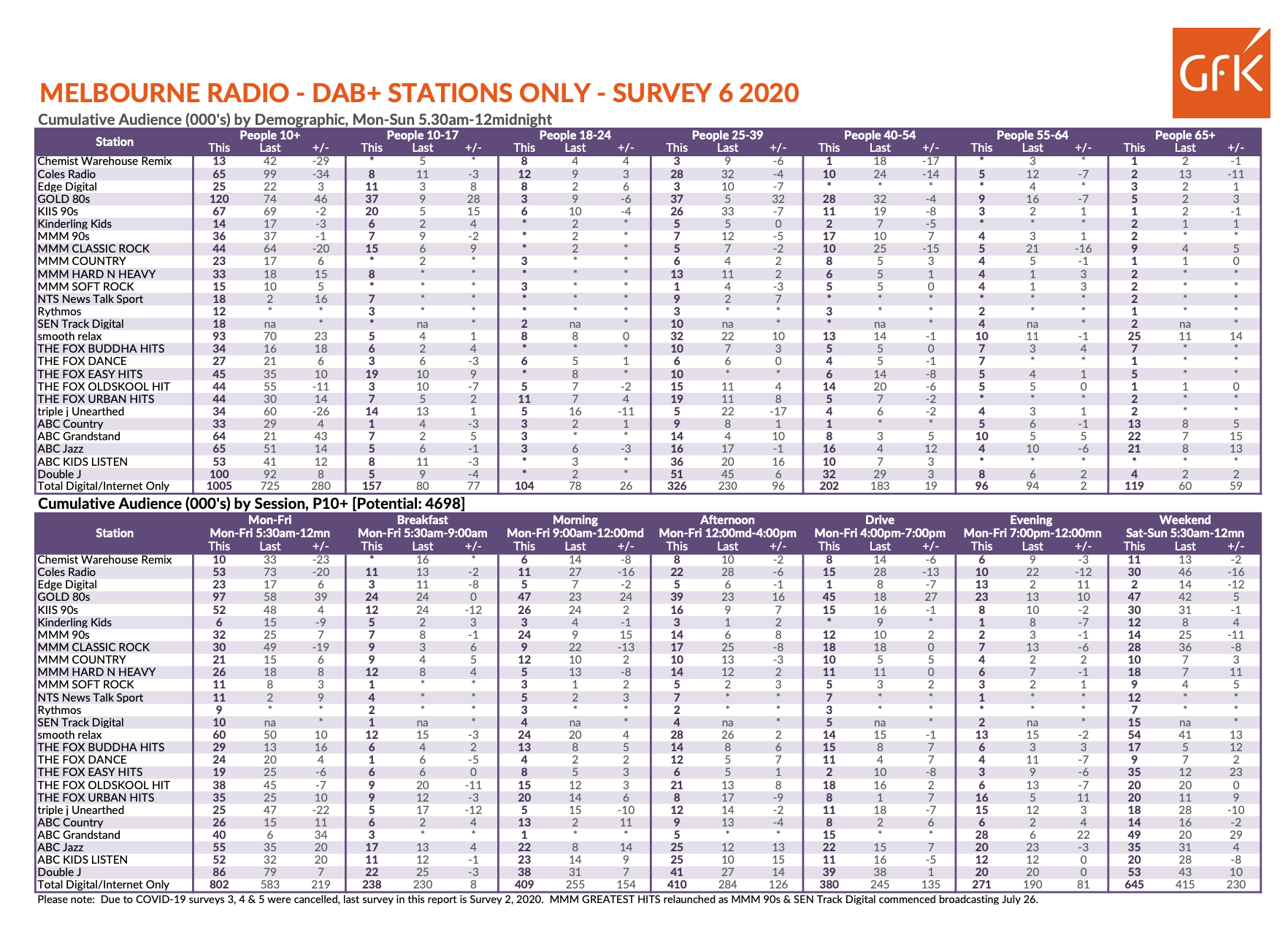 ---
Subscribe to the radioinfo podcast on these platforms: Acast, Apple iTunes Podcasts, Podtail, Spotify, Google Podcasts, TuneIn, or wherever you get your podcasts.
Ask Alexa
:
'Alexa, play radioinfo flash briefing'
or
ask Google Home
:
"Hey Google. Play the latest Radioinfo flash briefing podcast."
---