Our analysis by networks and cities.
Check back with us through the day as we updates this story.
Raw results figures here, see also Cumes, Digital Radio and Spin
The Networks
Let's start by saying that in normal circumstances with today's survey results, they'd call for the stewards who'd order 2GB and 3AW be swabbed.
But these are not normal circumstances and it seems clear on first blush that the coronavirus and the lockdown, particularly in Melbourne, has had a significant impact on results.
Apart from talk stations which rose dramatically, most music stations in Sydney and Melbourne lost share with the total share points of surveyed stations dropping in both cities.
In Sydney the total share of all people 10+ listening to surveyed stations went from 87.4 in Survey 2 in April to 85.1 in Survey 6 today. This suggests that almost 15% of listeners get their audio elsewhere.
The figures are similar in Melbourne which went from a total share of ear from 87.5 in Survey 2 to 85.5 in Survey 6.
In Brisbane, where FM music still rules the drop in total share was just 1.3 and it stayed steady in Perth on 81.7. In Adelaide, however, total share went from 87.3 in April to 84.2 now – a drop of 3.1 in total audience share
Nine Radio and Other Talk

Even in the most improbable corners of their silliest fantasies could the heavies at Nine Radio have hoped for the results delivered today.
GfK Survey 6 saw Nine's Radio's Talk Stations grow audience by 12% (all people 10+), by 18% in the 25-54 demographic and by 32% in the 40-54 demographic, while also retaining the Number 1 mantle on Sydney's 2GB and Melbourne's 3AW.

In Sydney, where Ben Fordham was expected to experience a significant drop in Alan Jones loyalists after the great man left the building, he's done remarkably well. Jones had left Fordham with a massive audience share (even for Jones) 17.9 in Breakfast. Fordham, first up, has scored a 17.3 which, although down on Jones "farewell" figures is still well above what was average for the breakfast show (around a 14-15 share under Jones.

As importantly, 2GB returned a 14.2 share overall Mon-Sun and retained a comfortable lead in the market with good gains in younger demographics.

In Melbourne the results were even more stunning with 3AW jumping +3.0 to reach a lofty 16.9 share with the Breakfast show of Ross Stevenson and new partner (replacing John Burns) Russell Howcroft posting and incredible 26.1 share (a +8.8 jump). All other shifts rose too, none more so than Neil Mitchel, up +3.6 to a 19.1 share.

4BC Brisbane, however, declined in share, down -0.5 to 7.1 while, in Perth, 6PR gained +1.0 to reach 8.5 overall.

The Adelaide, Nova Entertainment owned FIVEaa also had a gain (+0.9) rising to number 2 in the market on a 12.2 share.

ARN

As did most music networks, ARN felt the effects of a COVID survey in Melbourne and less so in Sydney. Both KIIS and WSFM in Sydney sustained slight losses of -0.3 and -0.5 respectively.

In Melbourne, though, home to the tightest lockdown in Australia, the losses were much more dramatic. KISS 101.1 which had been slowly climbing up the ratings ladder fell back -0.9 to a 5.0 share. GOLD 104.3 took a -2.0 plunge to land on 8.7 overall while the station's British Breakfast guru Christian O'Connell's show plummeted -2.2 for a 7.2 share. No matter, in these extraordinary times, those results are enough to keep the station at number one – albeit on the FM band.

In other cities, much less affected by the pandemic, it was business, pretty much as usual. In a tight race in Brisbane, 97.3 is equal second with Triple M on a 10.5 share behind Nova on 11.5. The venerable 4KQ managed a +1.3 gain to reach a highly respectable 9.2 and number one, AM.

It's a similar situation in Perth where Nova leads on a 12.9 share, SCA's MIX94.5 is in second place with 12.7 while ARN's rejuvenated 96fm is in third on a 12.6 share.

Adelaide gave MIX102.3 a +1.1 uptick to consolidate its lead on 13.0 while CRUISE1323 took a -2.1 tumble.
SCA

For SCA, the COVID results were similar to those of most FM stations: losses in Sydney and Melbourne, business as usual in the other metro markets – but with a twist. In Melbourne, Triple M bucked the trend gaining +0.9 to land on 5.9 overall – the same as stablemate FOX. Which shed -2.2. In Sydney, Triple M was down -0.7 while 2Day crashed to a 3.3 share losing -1.8.

In Brisbane Triple M is level pegging with 97.3 in second place on 10.5 having gained 0.6 since Survey 2. Sister B105 is just 0.1 behind on a 10.4 share.

There was not much change in Adelaide with 5MMM easing -0.2 while SAFM gained +0.5.

In Perth while MIX94.5 stays well in the hunt in a close second place on a 12.7 share, HIT 92.9 has tumbled -1.4 ro level out an 8.7 share overall.
Nova Entertainment

Nothing brings into starker relief the difference between the COVID experience in Melbourne to that of Sydney than the different results for the smoothfm brand. The tightly formatted stations are usually close in share but this time are miles apart.

In Sydney, 95.3 put on a +0.9 spurt to finish on a 9.9 share while its Melbourne counterpart, 91.5 dropped -2.2 to land on 7.5, its lowest result for several years.

Meanwhile, at the Nova ranch, things looked mighty good, except for 100 in Melbourne which dipped -1.9 and 96.9 in Sydney, down -0.4. But hey, almost all boats were rising or falling in that tide.

In Brisbane and Perth Nova was number one while in Adelaide, number three or number two, FM, if you prefer.
ABC

ABC local stations loosely followed the COVID pattern of their commercial counterparts going up most (+3.0) in Melbourne and despite a concerted attempt to lure listeners from a Jonesless 2GB, ABC Sydney could only manage a +0.9 uptick.

The brand lost ground in all other cities while the ABC youth brand, JJJ was down, considerably, everywhere.
See the cities results below our podcast interviews with key network heads.
With so much time between surveys, the Program Directors may have been a little nervous. Peter Saxon asked them how well they slept the night before, with all of them admitting to various degrees of wakefulness the night before the survey.
Nova's Paul Jackson singled out Nova Adelaide's new Ben & Liam breakfast show for the "fantastic result" of getting to number one FM breakfast show after 8 months. Covid 19 has "clearly affected the results in Melbourne," with increases on talk stations, but other markets are pretty much in line with where they were in the earlier surveys this year.
"The survey was not as bad for radio as I thought it might be," said Duncan Campbell, who said he slept ok, but was a little anxious the night before the results. "Outside of Melbourne, the numbers are pretty much the same as survey 2. Car listening was down, but at home listening was up.
Nine Radio's Tom Malone woke at 3am the morning before the survey and couldn't go back to sleep. But the results were good for the main Nine Radio stations, and he is "confident of the long term strategy" he has put in place for the network.
Listen to the full podcast interviews below.
Cities
Sydney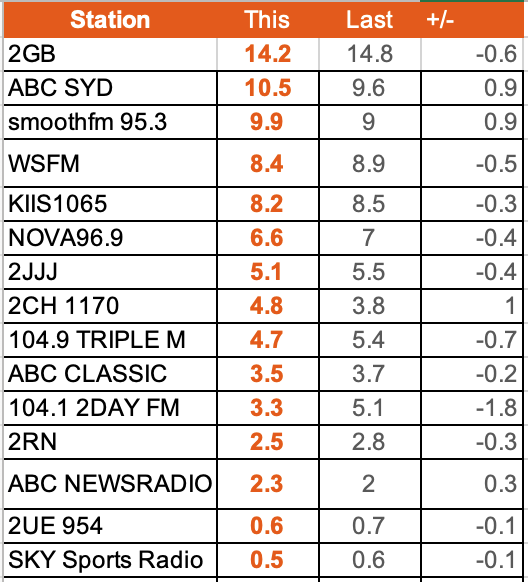 2Day lost most this survey, dropping 1.8 share points to 3.3% overall. The biggest gain was 2CH, up 1 share point in its last survey as a music station before it reformats to SEN sport.
Top station 2GB slipped fractionally, down 0.6 to 14.2% overall. Ben Fordham's breakfast held close to Alan Jones' share, down by just 0.6.
Second placed ABC Sydney gained 0.9 to score 10.5%
Smooth consolidated its third position, up 0.9 to 9.9%
Fourth placed WSFM lost 0.5 to 8.4%
KIIS was fifth, down 0.3 to 8.2%
2GB's Ben Fordham was the top breakfast host, followed by Wendy and Robbie on ABC Sydney then KIIS' Kyle & Jackie O
Melbourne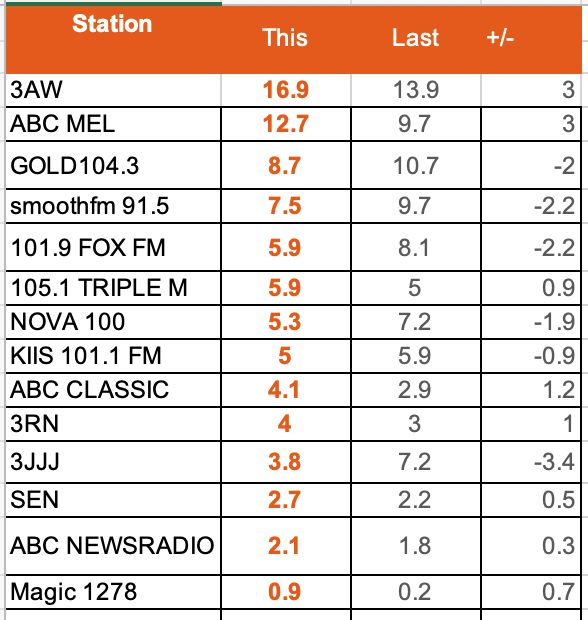 Triple J had tne biggest fall this survey, down 3.4 share points to 3.8% overall. Smooth, Fox and Nova also fell.
The big winners were 3AW and ABC Melbourne, both up 3 share points.
Top station 3AW gained 3 points to 16.9% overall
ABC Melbourne jumped into second place, up 3 points to 12.7%
Gold lost 2 share points to 8.7%, dropping into third place
Smooth dropped 2.2 share points into fourth place at 7.5%
Fifth placed Fox dropped 2.2 to 5.9%
3AW's Ross & Russel topped the breakfast shift, followed by Sammy J on ABC Melburne then Gold 104.3
Brisbane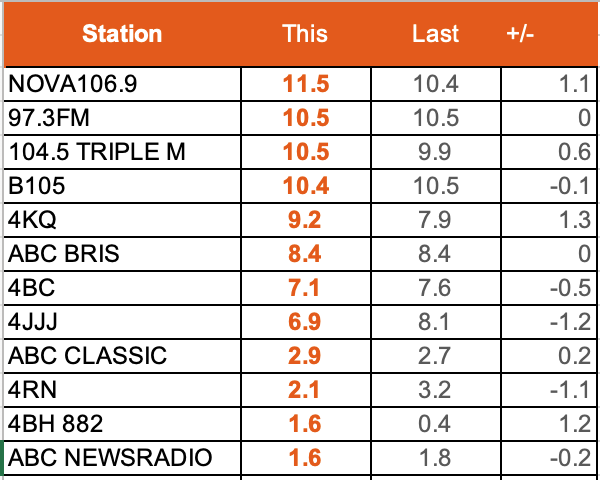 Triple J was the biggest loser this survey, down 1.2 share points to 6.9%. Radio National also fell.
Nova, 4KQ and 4BH all gained share. 4BH's increase was significant considering it was languishing at the bottom on 0.4 last survey after the previous format change and has now risen to 1.6 share points overall with it's new music format.
Nova is the new market leader, moving into top spot, up 1.1 to 11.5%
Second placed 97.3FM was steady on 10.5%
Triple M moved into equal second place, up 0.6 to 10.5%
B105 was pushed into third place, slipping 0.1 to 10.4%
4KQ jumped into fourth place, up 1.3 to 9.2%
ABC Brisbane was in fifth place, steady on 8.4%
Adelaide
Triple J and Cruise dropped the most, and ABC Adelaide also lost ground. Mix had the biggest rise.
Mix consolidated its top position, up 1.1 share points to 13% overall
Second placed FIVEaa gained 0.9 to 12.2%
Third placed Nova gained 0.2 to 10.4%
ABC Adelaide slipped down to fourth position, losing 1.4 to 9.9%
Cruise dropped to fifth place, down 2.1 to 9.0%
FIVEaa had the top breakfast show, followed by ABC Adelaide. Nova's Ben & Liam were third in breakfast overall, the number one FM breakfast show.
Perth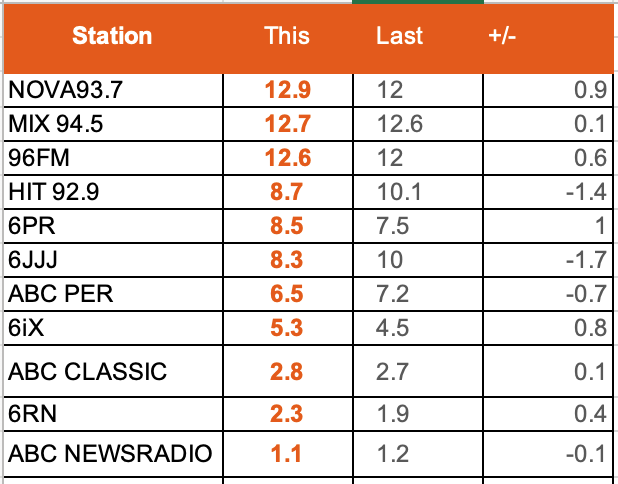 Triple j and Hit fell most, while 6PR had the biggest gain.
Nova moved into top position, up 0.9 to 12.9%
Mix slipped into second place, down 0.1 to 12.7%
Third placed 96fm gained 0.6 to 12.6%
Hit slipped into fourth place, down 1.4 to 8.7%
6PR moved into fifth position, up 1 share point to 8.5%
Nova had the top breakfast show, followed by Mix and 6PR
---
Subscribe to the radioinfo flash briefing podcast on these platforms: Acast, Apple iTunes Podcasts, Podtail, Spotify, Google Podcasts, TuneIn, or wherever you get your podcasts.