Broadcasters have been outgunned by big tech companies such as Android and Google when it comes to grabbing real estate in digital car dashboards.
In a presentation at Radiodays Europe, Joe D'Angelo, SVP of Global Radio and Digital Audio at Xperi, outlined what that company is doing to get radio back into prominent positions in the digital dashboard. Xperi is a global technology company with a range of brands that deploy technologies to create immersive experiences for customers.
There are 12 global companies that are really fighting aggressively to get into the dashboard with their audio services, they started in the mobile space and have loyal audiences, so they are leveraging those into car entertainment systems.
Those 12 companies have over 900 million registered users and generate $41 billion dollars in revenue. Those companies generate about as much revenue as all the companies in the world wide radio industry ($42 billion globally).
The top three of those companies are Apple Music, Google and Amazon Music, with combined users of over 2 billion.
"These companies got into their businesses with very different business models from radio. Audio is not their primary business but they are using it to leverage an advantage for their primary businesses.
"They are doing well in the car because they have strong value propositions. Once a car manufacturer puts in one of these services they know they don't have to worry about the technology because the developers will service and upgrade them continually, and they will always work," said D'Angelo.
As well as providing audio interfaces to their own podcast and streaming platforms the digital companies are also delivering a modern digital service to advertisers with deep levels of audience measurement that does not necessarily get to the broadcasters.
Xperi is working with car companies to ensure that radio is integrated into the dashboard and with Android and Google systems, with the intent of giving radio a level playing field with the other services that are moving into the dash.
Drivers and passengers want to be able to select and interact with audio content via a highly visual and interactive environment. Xperi is partnering with the global radio industry to combine the best of IT services and discovery in an intuitive looking display.
"No driver wants to manually tune up and down a dial any more and wait to hear the station before decide if they want to listen to it. Metadata and voice interfaces are very important now, with simple voice commands a driver wants to be able to select a favourite station or mood of music instantly.
"Once a driver or passenger has decided what they want to listen to, Xperi's services interrogate the metadata to deliver the artist or station genre."
The Xperi interface has been purpose built to support broadcast radio so that radio companies can retain control over their content. Xperi does not charge broadcasters to be on the system, they make their money from licencing the car companies to use the technology. Unlike other platforms which may override a station's content, the Xperi system gives radio companies assurance that their commercial strategic objectives are being supported.
"This platform is extensible, updates can be pushed to devices in the field and we provide the type of screen experience that has become a common expectation in all types of vehicles," said D'Angelo.
The auto industry has been looking for "a consistent global consumer experience," which is what Xperi provides. It integrates with all broadcast platforms including all analog and digital radio systems, including DAB+ and HD Radio.
"Rich images, descriptive date and an opportunity to interact with the radio station," are provided on the Xperi platform.
"This was not simple to achieve, we had to work with many radio companies to ensure that we have a reliable system with global support. We have a team that is constantly innovative to keep radio competitive.
"If the radio industry works together we will no longer be outgunned, together we can offer more of what listeners want… there are highly skilled companies like us that can help radio deliver a better strategy into cars," said Joe D'Angelo.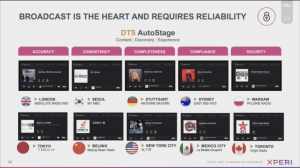 Radioinfo is a media partner of Radiodays Europe