NAB Radio Show Wrap Up. More than 2,000 US radio broadcasters from around their nation have wrapped up their gathering in Dallas as the annual "Radio Show" jointly presented by the National Association of Broadcasters (NAB) and the Radio Advertising Bureau (RAB) comes to its conclusion.
Most observers agreed it has been a productive and successful three-day industry event. The main topics covered included radio's pressing need for the smartphone radio chip to be "turned on" as well as debate and concern over music royalty fees; the pros and cons of streaming; the challenges facing commercial spot sales/programming; living in a PPM world; cross platform audience measurement; and the challenge of generating digital revenue. On a basic level, the underlying concern of the conference was the very survival of terrestrial radio in the unfolding digital era and mapping out a course to achieve the industry's vitality and relevance in it.
Reports from the Floor. Noted radio programmer, station owner and consultant, Clark Smidt covering the Radio Show on the RadioInfo team reports, "Multiple 'super sessions' and special events took center stage on Thursday (9/20) with a tremendous roster of top talent.
Over and over again, the mantra was creativity, fresh sound, and the benefits of local operations and commu
nity service. There was an evident call for smaller groups, hands-on broadcasting ownership and the immediate need for smart new sales strategies to deal with changes in the marketplace." According to Smidt, individual highlights include the
renewed cooperation and coordination of radio and records championed by CBS Radio President Dan Mason; the call to "Turn the Chip On!" by Emmis CEO Jeff Smulyan telling the Leadership Breakfast that all smart phones already have a radio chip installed but not turned on; and excellent moderating by RAB CEO Erica Farber who reinforced radio's resilience.
When it comes to promoting current music on radio, Farber, with her extensive experience at Radio & Records confidently points to stations like Marconi winner KIIS (Kiss FM) in Los Angeles delivering huge exposure and play. Smidt observes, "Suggestions for stronger radio and record industry connections and fresh, appealing, commercially viable formats bring back memories of NAFMBconventions in this same Anatole Hotel with record companies, program and music directors present." Smidt reports, "I got an excellent HD radio demo in a new Chevy from ibiquity's senior director of broadcast business development, Jeff Detweiler. Jeff stated there still aren't enough appealing HD stations to hear in most markets – although Seattle and NYC are exceptions. Cohan Radio president Peter Coughlin asked 'Why should I spend the money on going HD if there aren't enough receivers?' Ibiquity's response: There are eight million receivers already in cars and more than 10 million by the end of 2012."
Heard around the convention:
"There's nothing FM stations can't fix to succeed."
– Connecticut Broadcasters Association president Mike Rice
"What recession? Just keep trying. And, then be persistent"
– Midwest Communications CEO/president Duke Wright
"Success comes from strategic selling."
– Entercom Norfolk market manager Bennett Zier
"Making radio great comes from promotion, presence and excitement going right to the audience."
– Fuller-Jeffrey Hall of Fame CEO, Bob "Doc" Fuller
"Personality is the big factor."
– Bonneville CEO Jeff Simpson
"We are redirecting our station to 'Talk with Attitude.'"
– Bill Cooksey, APD WRKO, Boston
"Our success in Kentucky came from buying heritage stations with strong community presence."
– Henson Media President Ed Henson
"I tell my people: We play music and throw parties for a living."
– Univision CEO Jose Valle
"Radio is still the # 1 source for music discovery"
– Scott Borchetta, CEO Big Machine Label Group
Question of the Conference: "What's OUR iPhone?" asked Cumulus CEO Lew Dickey at the Radio Show Leadership Breakfast, urging that radio embrace its own evolution. "Five years ago, Apple was a computer company. Now they'll do $80 billion this year as a phone company."
Wells Fargo's Marci Ryvicker Gives Radio a "B" in the Revenue Growth Department. Marci Ryvicker has been analyzing radio for Wells Fargo for years and her annual reports at theNAB/RAB Radio Show are greatly anticipated. This year, Ryvicker announced to the rapt crowd that radio "is doing okay, growing," and that it deserves a "B" grade for its revenue growth efforts – not bad considering the tepid economy in which it is operating. Ryvicker also says that when all is said and done, radio will have captured 9% of the total advertising spending in America this year – down only 1% from six years ago. Not surprisingly, radio is benefitting from increased automotive advertising – its largest category by dollars spent.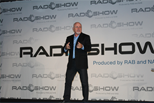 Advice for the Industry in Tough Times. Nationally syndicated talk radio sensation Dave Ramsey is pictured here speaking to a packed Wedgwood Ballroom inside the Hilton Anatole at the NAB/RAB Radio Show in Dallas yesterday (9/20). In this Super Session titled "Succeeding in This Economic Environment," Ramsey delivered inspirational ideas and strategies for thriving in the radio industry. The Ramsey organization says the proven business concepts discussed were developed over Ramsey's 20 years in the radio business.

Radio Show Presents a Talk Radio Panel (or Was It Really an All News Radio Panel?). The NAB/RAB Radio Show presented a panel for the talk radio format semi-prejudicially titled " Is News the New Talk for Radio?" featuring Phil Boyce, VP spoken word format, Salem Communications; Mark Masters, president/CEO, Talk Radio Network; and Ed Shane, CEO, Shane Communications. It was moderated by Jim Farley, VP news and programming, WTOP-FM,
Washington, DC. Farley set the topic up by mentioning the Rush Limbaugh ad boycott and asked the question "[With big time advertisers shying away from talk radio and controversial products] is it time to consider all-news as the new talk for the future?" He referenced the success of WTOP which is undeniable. The station has been the #1 biller in the nation for two straight years. Ed Shane gave a case study for what they have done at "92 News" in Houston, a Radio One station. He said there were three things you have to have if you want to create an all-news station: guts, money, and patience. He talked about the expense of running that station, saying they took on $2 million in talent costs and had to re-build the radio station's facility. Shane played some of the imaging for the station which uses the slogan "All News, No Spin."
TRN exec Jim Watkins subbed for Masters who was unable to attend at the last minute. Watkins said smaller stations can do the all-news format using his company's America's Radio News Network. He claimed 500 affiliates when you add them up. (Some are taking the top-of-the-hour product, just under 200 take the morning drive show and the other stations taking some of the other long-form shows, AARN has all-news product from 6:00 am to 9:00 pm.) BOYCE STEPS UP TO THE PLATE: After all the conversation about how talk is dead and all-news is the savior, Phil Boyce started by saying "I feel like the last man standing at the U.S. embassy in the Middle

East, with the protesters outside calling for my head and chanting 'Death to Talk'."
Boyce repeated the line "Listeners have a Vote" and did his best to convince the crowd that while there was some short-term damage from the Rush boycott, it did not hurt traditional talk radio. He mentioned that both Sean Hannity and Mark Levin told him this week their sales are up 20%-25% over last year, despite the boycott. "There is a website out there listing all the advertisers Rush still has o

nencouraging the protestors to go after." Boyce mentioned some of them and said there were 68 of them on this list. "Not bad for a show that has 18 minutes a day of network commercial time." He then pointed out, "The Premiere sellers have figured out that there are a lot of advertisers who are bullet-proof when it comes to ad boycotts. They just don't care because they know talk radio moves product, and they know the 1,000 angry e-mails or Facebook posts do not come from their client base. If the angry tweet says, "We'll never shop with you again," they can check their database and discover they never shopped there in the first place. These direct advertisers are who we need to do business with.
The transactional big-name advertisers may never come back, but there are plenty out there who can replace them." Boyce went on to mention the new movie "2016 Obama's America" had record box office business and used talk radio as its primary advertising medium. He said, "This ad boycott thing is nothing new. They tried to kill Glenn Beck two years ago, and at one point had a list of 100 advertisers who would not advertise with him and they claimed victory in driving him off the Fox News Channel, dancing on his grave. The problem was, he was not in that grave and one year ago this month he went out and formed his own TV news channel with 300,000 subscribers." Boyce did the math for the panel…$32.4 million a year, from subscriptions. "That does not count his book sales, appearance fees, and the $100 million dollar five-year deal they just did with Premiere. What they meant to kill him only made him stronger."
Note: This is an edited version of an article that first appeared on radio-info.com .