NEW Zealand's media agency market has returned to its levels of pre-COVID ad spend in May following a record 67.4% increase in year-on-year ad spend, with the new total now 3.7% above the pre-COVID level seen in May 2019, according to data released by Standard Media Index.
The result represented the market's fourth consecutive month of growth and was mostly driven by exceptionally large increases in ad spend from the Tourism, Banking and Toiletries product categories.
Radio advertising has improved by 32%, but other media segments are up by much more.
SMI AU/NZ Managing Director Jane Ractliffe says that while the market delivered record growth in May SMI's Forward Pacings data shows an even higher level of growth will be recorded in June with total spend for that month (ex Digital) already up 70.7%.
"It's really quite extraordinary for the advertising market to have already returned to the same levels of ad spend seen well before the COVID-inspired downturn and highlights the level of confidence now in the market.
"The total market growth rate reported for May is clearly unprecedented and within that figure we're also seeing all major media reporting double digit growth in ad spend. And the TV, Digital and Outdoor media are all delivering ad spend totals well above the pre-COVID May 2019 totals.''
The SMI data shows the May 2020 period was the worst month for ad spend ever seen in New Zealand with the market reporting a record year-on-year decline of 45.5%, but now the market has returned with an even stronger level of demand. Outdoor is leading the market's recovery with total ad spend up 141.5% year-on-year.

Given the recent strong gains in ad spend SMI is now reporting NZ's calendar year-to-date ad spend to be up a healthy 23.5%, with the total also 4.7% above the January to May 2019 totals. Digital leads the gains (+37.5%) followed by Outdoor (+26.5%) and then Television (+22.7%).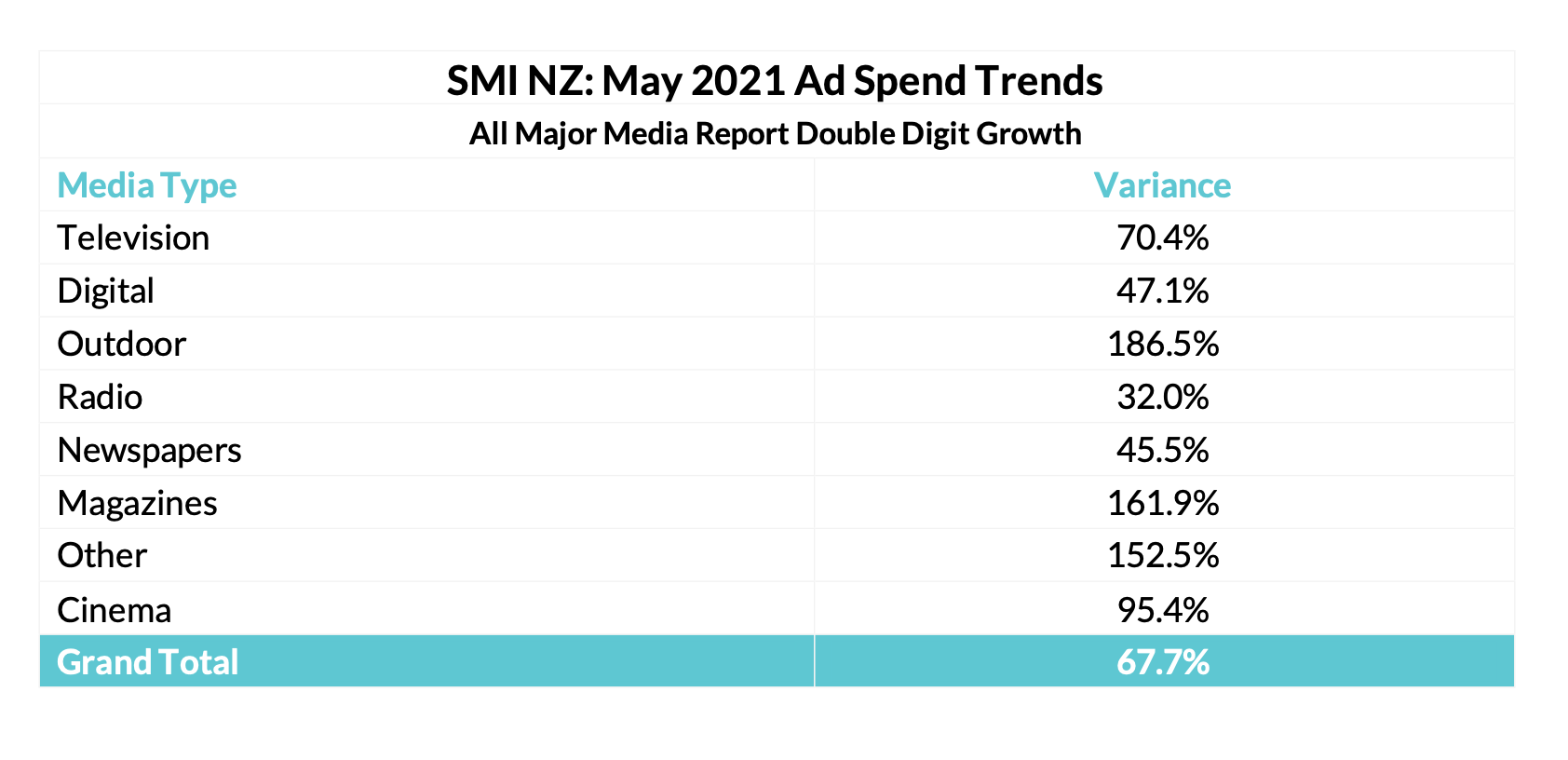 ---
Subscribe to the radioinfo podcast on these platforms: Acast, Apple iTunes Podcasts, Podtail, Spotify, Google Podcasts, TuneIn, or wherever you get your podcasts.