No final dividend paid.
As reporting season continues, Southern Cross Media Group has reported a 16% drop in revenue for the half year ended December 31st.
Net profit from ordinary activities after tax (excluding significant items) was up 22%.
The company's dividend reinvestment plan has been suspended in response to the tough conditions resulting from the covid pandemic. Financial figures in the stock exchange filing show that SCA received about $40 million in government grants during the second half of last year.

Speaking to radioinfo after the results announcement, SCA CEO Grant Blackley says the company was hit by the impact of covid, which was "sharp and deep," but there has been "improvement recently."
"Border closures and the health crises brought about by the pandemic" were the primary reason for the fall in revenue. The company has high cash conversion, this year at 134% cash conversion, whcih has allowed the company to reduce net debt.
To reduce costs, some staff were cut and other efficiency projects were rolled out. Jobkeeper also helped the company maintain as many staff as possible. "We will continue to look into new technology and ways to increase efficiency," said Blackley, who forshadowed some restructuring still to come, moving away from some traditional job roles towards new jobs in the company's digital audio divisions and new project areas.
"The investment into regional markets remains dear to our heart," said Blackley, commenting on the networking of some shows on the Hit Network. He also made the point that regional Triple M stations have strong local content. "Our commitment to the regions has not stopped."
One of the new digital products, rolled out with LiSTNR is what SCA is calling its 'Shortcasts.' These are short regional audio news and information bulletins on LiSTNR and smart speakers. Initially this will include hyper local News and Sport reports across 15 regions and 34 towns in Australia, a new CrimeWatch weekly report in four key markets and an audio events guide (read more here). "We are creating hyperlocal content for those regions and we will expand it as it matures… While one window may close, other windows will open up," he said.
Blackley revealed that the company is in discussions with Google about payments being negotiated under the Media Bargaining Code, which was passed today, "but there is nothing to announce at this time."
"We have re-engaged with Facebook and I hope they recognise the value that we contribute… SCA delivers hyper-local content across multiple markets… we are hopeful that Google and Facebook will recognise that."
With things looking up for revenue, Blackley said: "Advertising markets are continuing to improve towards pre-COVID levels as the economy recovers and government restrictions stabilise and ease. Our Q3 revenue is forecast to be between 6% and 8% below the prior corresponding period while costs for the full year will reflect the benefits of work done over the past few years to restructure our business. Capex for the full year is expected to be $15 million."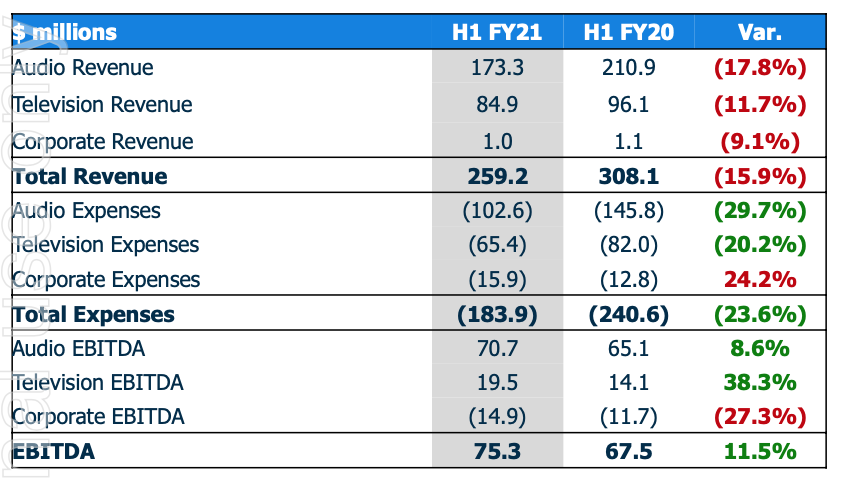 The number of Australians accessing digital audio has doubled since 2016 and is projected to reach 80% of Australians by 2024. Blackley says LiSTNR will provide a personalised listening experience that "easily enables consumers to discover a new world of premium, relevant audio that is available both live and on-demand." Digital content such as podcasts and other innovations in digitla audio currently provide about 3% of revenue to SCA's Audio division, compared with traditional radio, which generates the rest, but Blackley expects this to build over time.


The company's results presentation shows that national agency revenue for metro stations makes up about 75% of that segment of the audio business, while in regional markets, local advertising is about 55% of revenue, down from 63% in the previous period.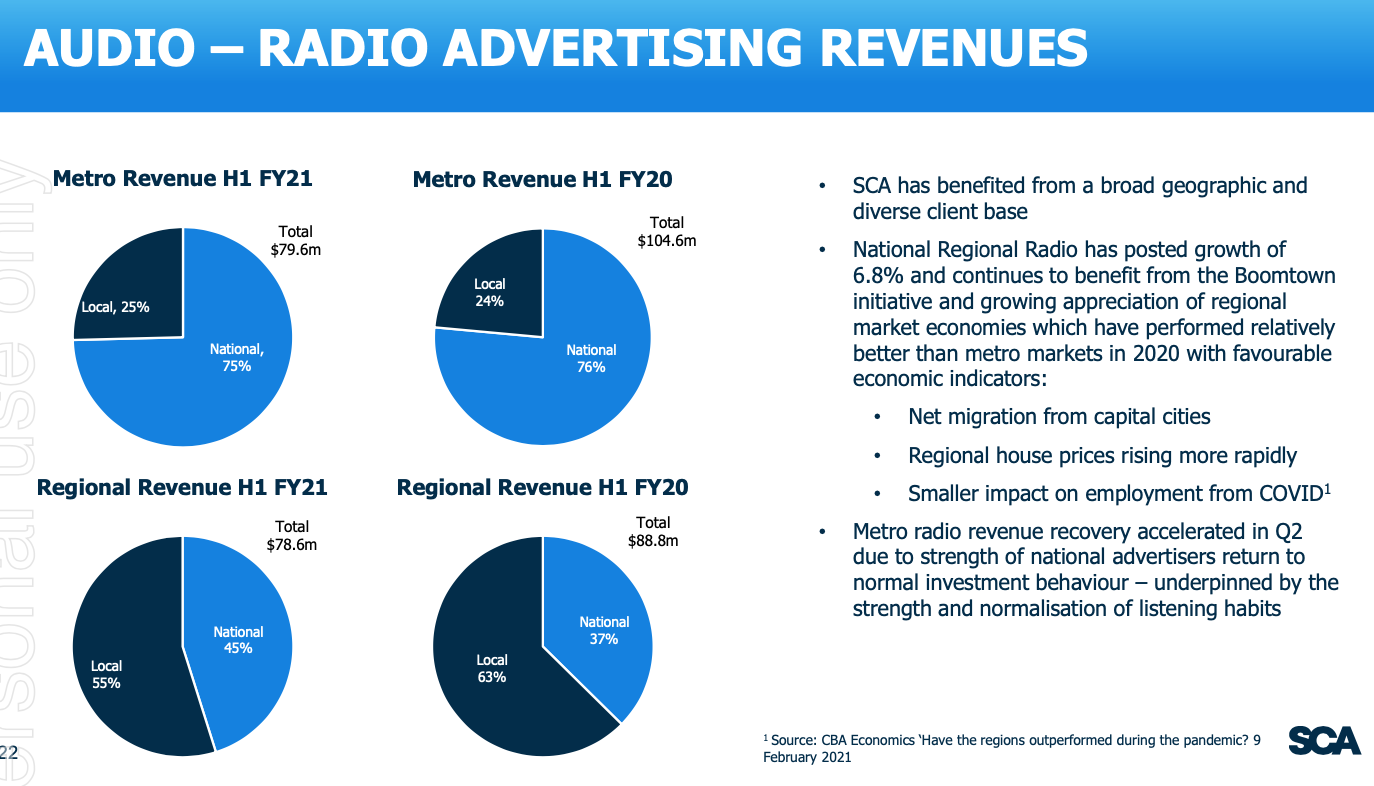 The company received about $30 million in Jobkeeper subsidies and about $9 million from the government's Public Interest News Gathering (PING) program.
Breakfast shows in Sydney (2Day), Melbourne (Triple M) and Perth (Triple M 92.9) have been "revitalised" with new presenters and Blackley says early indicators are positive. "We are waiting for the results from survey 1… but so far we have seen positive feedback from our pulse surveys, live streams for those shows go up and callers increase… we are confident we will see growth in those formats."
Yesterday Nine Entertainment and HT&E reported their results.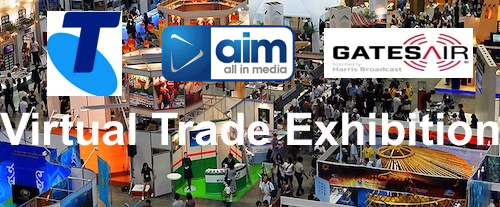 ---
Subscribe to the radioinfo podcast on these platforms: Acast, Apple iTunes Podcasts, Podtail, Spotify, Google Podcasts, TuneIn, or wherever you get your podcasts.