SAFM breakfast team member Burgo is featured in a new ABC TV reality doco called The Daters, available on iView.
The Adelaide twenty something single guy feels it is time he settled down, and is willing to have it all documented for the cameras.
Burgo is not shy about putting his private life in the public eye. SAFM listeners have followed his dating activities for some time and even accompanied him to the Tinder Ball.
The first episodes of the show aired this week and revealed that Burgo feels the show will "help him to put himself out there." And the publicity for SAFM probably won't hurt his ratings either.
Burgo told viewers: "I do breakfast radio. The 4am alarm is not the best thing for a social life [but] afternoon naps help."
What's he looking for in his search for his perfect match?
"What I'm looking for in a woman is someone is there there when I need them to be there and will go when I need them to go… someone who is fun."
In a new strategy for ABCTV, the 10 minutes episodes are being shown first on iView. They may eventually be seen on free to air ABC channels, but no air date has been given at this time. The first episodes of the new series went live on iView this week.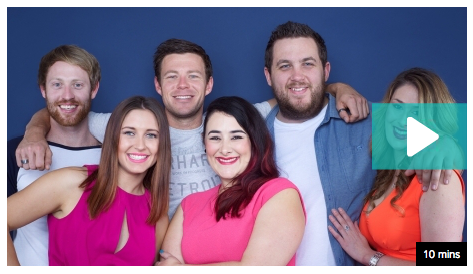 The Daters follows 6 Australians as they step outside their comfort zones in the search of love over the next three months. The 3 Girls and 3 Boys in the show have one thing in common – they are all single.

Together they have made a pact to commit three months to stepping outside their comfort zones and actively searching for a love life. From Tinder to Dating Boot Camp, they will try all different forms of dating. This is real life, caught on camera as it happens.
The series is produced by ABC Factual TV, and shown exclusively on ABC iview, Australia's leading online TV platform.