Sally Sara's play Stop Girl is more than just a cathartic experience.
She wrote it partly to exorcise the demons that haunted her from her foreign correspondent posting to Afghanistan. But there is more in it than that.
The play explores the purpose of journalism.
Is journalism just to fill the empty spots in a radio or tv news bulletin? Or is there a greater purpose? Something that helps make the world better perhaps, to hold people to account and expose what is hidden. Sally's main character Suzie, played by Sheridan Harbridge, wrestles with that tension as her life after the Kabul posting unravels. At one stage she curses the audience and wonders if the world would be better off without war reporting.
Like doctors and other professionals who deal with life, death and difficult situations as part of their daily work, journalists are told to retain their objectivity, not to get involved. Throughout most of her reporting assignments Suzie tells us that she retained her professional distance, but one incident that she can't shake has haunted her – that is what causes her slide into anger, self doubt and decline.
The councillors aren't really helpful, but her friend and her mother are there for support as she endures her painful journey.
Like a reporter embedded with troops, the audience shares her struggle, and this is where the substance of the play takes place, exploring the tension between professional duty and humanity.
Anyone who has worked in a war zone will also recognise the gallows humour as she comments on the sounds of a bomb nearby and explains how an IED works to her visiting friend. The dialogue is genuinely funny, well timed and well placed in the dramatic flow to bring contrast and relief when it is needed.
In this semi-autobiographical theatrical debut, the storyteller becomes the story and takes us to Afghanistan and back again using a range of plot devices. One example is Suzie's fear of supermarkets. Any foreigner who has worked in Kabul knows that locals shop at the Bazaar or on Butcher or Flower Street, but that foreigners buy their difficult-to-find western treats from supermarkets named with superlatives such as 'Finest' and 'Best,' where security is tighter to protect them from attack. Despite the security however, there have been several suicide attacks on these premises, and just doing your weekly shopping can cause anxiety. This reference underscores the every-present danger faced by those who have been there, but is also accessible to those who have not experienced it as the details are gradually revealed.
The production opens with Suzie hunkering down under a doona with her laptop and microphone so she can get the best acoustics to file her radio news report.
The minimalist set is full of radio and tv reporting equipment, which is cleverly used as both a prop and also integrated into the the visual backdrop. The integration of the news camera and the projection screen is used to give us an insight into what is haunting Suzie, as seen through the reporter's camera lens.
The play also deals with themes of freedom and reminds us that Australians live in a very safe environment compared with many other countries. Suzie's cameraman, played by Mansoor Noor, an Australia-Afghan actor who brings credibility to the role with his authentic Dari accent, comes to Australia and seeks asylum. Through the eyes of the Afghan character we are reminded what a safe country we live in and how absurd things like doggie spas for pampered pooches are for someone who grew up wondering if they would still be alive at the end of each day. His passion to make every day count holds a mirror to the comfortable lives of everyone else around him, including the safe comfortable media colleagues who don't appreciate what they have and where they live.
There is no intermission, which is necessary for development of the tension in a tight performance of about 100 minutes, that brings Suzie's front line struggle from the battle field to the suburbs of Sydney.
As a former ABC foreign correspondent, Sally Sara reported from more than 30 countries, including Iraq, Sierra Leone and Zimbabwe, often working under difficult conditions with few resources. She was the first female correspondent to be appointed to the ABC's Johannesburg, New Delhi and Kabul bureaus, and is currently presenter of ABC current affairs program The World Today.
Sally's debut play is an insight into her personal journey, but it is more than that. This is an important play that explores journalism and reminds us to appreciate the freedom we have, protect it, and not take it for granted. It is highly recommended.
Stop Girl is at the Belvoir Street Theatre until Anzac Day, April 25.
Performance times and tickets here.
Stop Girl is a recipient of the Blake Beckett Trust Award and is supported by The Group and Principal Partner Ord Mittett.
The theatre is supporting Mahboba's Promise, a not-for-profit organisation working in Australia and in Afghanistan, creating much needed help and support for disadvantaged women and children. Details and donations here.
Review by Steve Ahern
Sally Sara with Sheridan Harbridge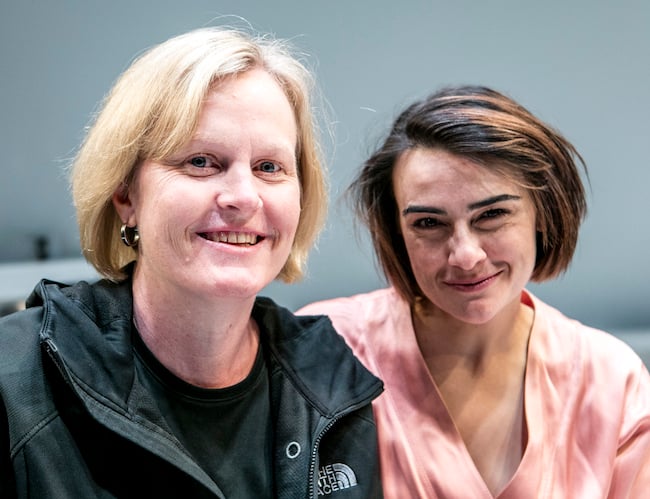 Photos: Brett Boardman
About the Author
Steve is Head of the Asia Pacific Broadcasting Union Media Academy and founding editor of this website.
He is a former broadcaster, programmer, senior executive and trainer, and a regular writer and speaker about trends in media.
He has worked in Afghanistan.
More info here.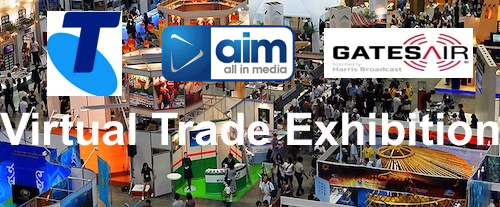 ---
Subscribe to the radioinfo podcast on these platforms: Acast, Apple iTunes Podcasts, Podtail, Spotify, Google Podcasts, TuneIn, or wherever you get your podcasts.