2Day's new breakfast show, podcasting, instream advertising and more.

After Southern Cross Media's results were released today (see our other report), CEO Grant Blackley talked about the strategy behind the numbers with radioinfo.

Transmission assets

One of the big contributors to this year's financials is the sale and outsourcing of the company's playout and transmission assets. SCA has outsourced its tv playout to the commercial tv consortium NPC, but still retains its radio playout systems in house. Transmission is now outsourced to Broadcast Australia.

This resulted in some one off asset write downs for SCA, but also has long term benefits, according to Blackley.

"These 'back of house' functions are asset intensive so we've outsourced them to specialist providers. In the long term this will benefit is in areas of maintenance and procurement. We will avoid the 'asset refresh cycle' which will reduce future costs… We now have long term contracts in place and our future operations and capital replacement risk is now transferred to the specialist operators."

This strategy leaves more money and operational focus on the 'front of house' priorities of audio content creation and sales monetization for the company. In 2019, $27 million was spent on CapEx, which is expected to reduce in future years now that the playout and transmission assets are outsourced.

"SCA will continue to invest sensibly in front of house activities: creating compelling content and using our audio assets to help our advertising partners succeed. This will include optimizing the value of our current radio and podcasting brands, as well as developing new audio products that meet the increasing consumer demand for mobile, personalized, on demand and audio content."


Revenue and Costs

The company has kept costs under control and increased revenue, especially in its radio and audio division.

Audio revenue is up by over $10 million (+2.4%) to $453 million on last year and Audio costs have decreased by 1.9% to $300 million.

Television revenue dropped by about $7 million (-3.2%), but TV expenses also fell, down about $8 million (4%) on last year.

Underlying net profit after tax (NPAT) for the whole company was $76.2 million, up 3.1% on last year's $73.9 million. Debt was reduced by $11.3 million (3.7%) to $292.6 million.
Blackley credits various strategies for the company's good revenue performance in a tight market: the investment in podcasting; the metro radio network alignment strategy; and the Boomtown regional marketing strategy.

"In metro markets SCA's audio revenue increased by 4.1%, while the broader radio market declined by 0.5%…

"Boomtown resulted in an increase of 1.5% in regional radio revenue which has been showing 13% compound growth over the past two years… National revenues are up 9.2% on the previous year."

The metro digital radio strategy and the Boomtown campaign, combined with a strong focus on sales have all been important components of the revenue growth strategy. In metro and regional areas, national advertising has increased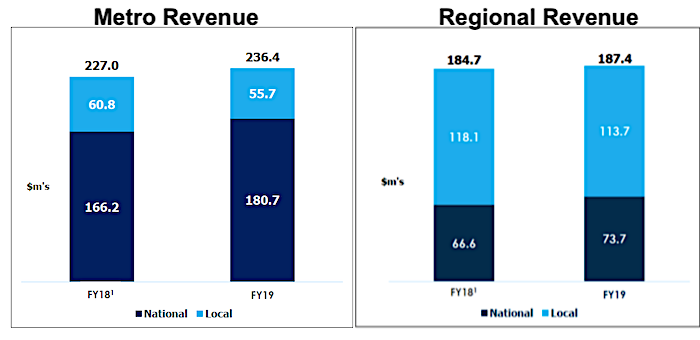 2Day FM Breakfast

Putting one existing employee, Jamie Angel, onto 2Day breakfast may reduce the cost of the previous three person breakfast team, Grant, Ed and Ash, but it's not about cost according to Blackley. The 2Day more music and single presenter breakfast strategy has been percolating for some time.

"We have been looking at the five year history of workday listening and formulating a strategy from it. We changed our music strategy across the day (as reported previously) and we started to see an increase in workday listeners (see graph below), so we began strategizing that we could continue to see the same growth in breakfast if we made a change…

"This has been in consideration for twelve months. The old format wasn't reaching the targets we wanted…

"This is not just about changing the breakfast presenter it's about a whole strategy that will give us a point of difference in the market. Jamie is known to the 2Day audience and a great performer, but music is the hero in this strategy. Jamie will bring that strategy together for us.

"We have doubled down on the music, we are playing 10-11 songs per hour, there are less ad breaks, the news is in a slightly different position… there is a lot of programming strategy behind this move that we have rolled out this week.

This internal workday listening chart tells the story behind the decision: in the past two years there has been a significant upturn in at-work after the downturn hit at the end of 2013.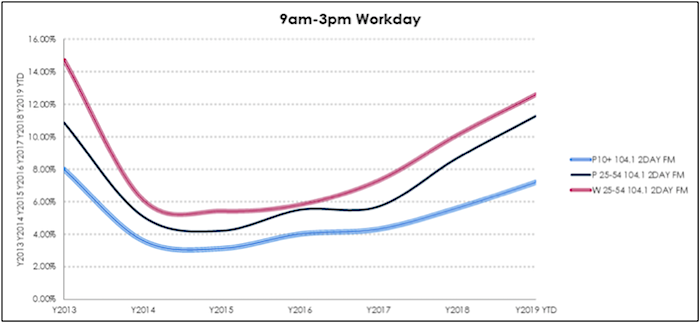 Podcasting

SCA's Podcasting activities are expected to beak even and begin to contribute to overall profit in the second half of this year, according to Blackley.

"We targeted a $5.1 million investment in podcasting and we will be cash flow positive by the second half of this year. We've had 150 million downloads and we have 65 authors in our stable of podcast creators.

"We've seen a vast improvement in revenues for podcasting, with revenue growing by 260% on last year and the number of advertisers in podcasts increasing by 300%. Monetization of this new product is improving considerably… we expect podcasting to contribute meaningfully to earnings into the future."




He also sees smart speakers as a growth technology that will allow radio streams and podcasts to grow audiences on new devices. SCA intends to grow this market segment and monetise these growing audiences.


Instream advertising

SCA's digital opportunities are expanding after the introduction of Instream Advertising, plus the exclusive representation of SoundCloud, along with the company's owned and operated inventory.

With the growth of PodcastOne, SCA is now using the AdsWizz platform to insert ads into its streams and podcasts.

"We can now deliver instream addressable ads to any internet connected device, this will only improve our ability to monetise inventory on these platforms… It is the beginning of another opportunity which will scale and deliver positive returns as this advertising segment grows."

Blackley emphasized the financial stability of the company and its forward looking advertiser focused growth strategies to deliver continued good results.

The advertising market "remains challenging" and the expectation is that revenue in the short term will go back to "mid-single digits" in July and August, returning to growth from October.

Podcasting and digital audio is "continuing to grow strongly year on year," and group expenses are "tracking below FY19."

The company delivered a 7.75 cent per share dividend, the same as last year.