Veteran radio broadcaster, John Kerr, was honoured in Sydney last night, with a special tribute dinner to celebrate another significant milestone in his star-studded radio career.
This month, Kerr will have notched up 18 consecutive years behind the 2UE microphone – in a radio career spanning more than half a century.
In November this year, Kerr reaches a milestone achieved by very few – 55 years in radio.
A small group of close friends shared a sumptuous meal at Bel Mondo in The Rocks. Including Hall of Famers John Laws and Bob Scott along with Steve Liebman singer John Williamson and actor Graeme Blundell.
2UE General Manager, Chris Parker, said it was an honour to be recognising an institution of broadcasting like John Kerr. 

"John is one of a kind and a true legend of Australian radio,"Mr Parker said.

"When it comes to working behind the microphone – John Kerr has done it all. John is an utter professional in everything that he does and has been informing and entertaining listeners for more than half a century.

"To have worked at the highest levels of broadcasting for as long as John has, is testament to his talent, expertise and skill as a radio professional," he said
Bob Scott, John Kerr and Steve Liebman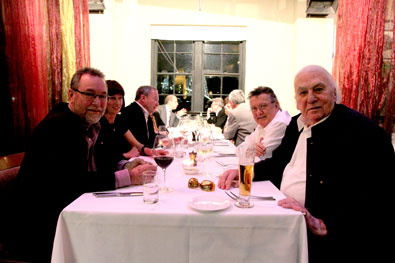 John Williamson, Laws and Graeme Blundell