The winners of the 2019 New Zealand Radio Awards have been announced at a special gala awards ceremony at Sky City Theatre in Auckland.
First place honors for 'Network Station of the Year' went to ZM Network.
'Station of the Year–Non-Surveyed Market' went to first time winners Sun FM in Whakatane with More FM Manawatu awarded 'Station of the Year–Surveyed Market'.
The industry's premier award for 'Outstanding Contribution to Radio' was presented to Simon Barnett for his contribution to New Zealand radio.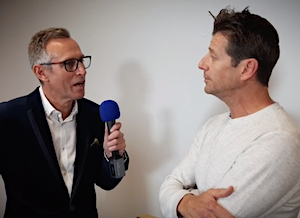 Speaking to Dean Buchanan in a pre-recorded video to accept his award, Barnett became emotional, crediting his success to his "hero" wife Jodi.
Barnett will join Newstalk ZB on July 1.
He was unable to attend the awards in person due to his wife's recent health problems.

The awards show was hosted by Meg Annear from MediaWorks and Megan Papas from NZME.
The awards acknowledged the hard work within all aspects of the radio industry celebrating the on-air personalities, programming, news & sports coverage, promotions, creativity & production, sales and community involvement.
NZ Radio Awards Chairman, Jana Rangooni said: "It is great to be able celebrate the work of so many talented people across the industry tonight. New Zealand has one of the most diverse and competitive radio landscapes in the world which is one of the reasons all our radio stations stay so relevant to the daily lives of listeners. The teams work hard and with a huge amount of passion. All the industry deserves credit for that, as well as tonight's winners."
For the second year running, ZM has taken out one of the most sought after awards with 'Best Music Breakfast Show Network' with ZM's Fletch, Vaughan & Megan. The Edge with Jono, Ben & Sharyn claimed the award for 'Best Music Non-Breakfast Team Network'.
'Best Music Non-Breakfast Host Network' was won by Robert Scott from The Breeze.
Also for the second year in a row, Mike Hosking from Newstalk ZB was awarded 'Best Talk Presenter–Breakfast or Drive' and for the third consecutive year, Marcus Lush from Newstalk ZB was the successful winner of the 'Best Talk Presenter–Other' category. 'Best News Story Team Coverage' had joint winners with RNZ National for their Checkpoint programme "Dodgy EQC Repairs" along with Newstalk ZB for their story on the Jami-Lee Ross saga.
Full Winners and Finalists list