In a presentation earlier this year at Radio Days Europe Tony Thomas recognised the work done by programming consultancy BPR (Broadcast Programming and Research) in contributing to the success of smooth fm.
BPR is not often in the spotlight, preferring to let it's clients take the credit, but radioinfo has managed to coax Wayne Clouten, Director & Senior Consultant at BPR Australia, onto the record after smooth achieved dual city number one FM status last survey.
"The Smooth FM success story is a text book example of research driven strategy combined with visionary tactics and passionate execution. It is a pleasure to work with Paul Jackson, Tony Thomas and all the team at Nova Entertainment," Clouten has told radioinfo.
BPR did an initial scoping study for what was to become the Smooth format in early 2011, and has continued to work with the station until the present time.
"In late 2011 we developed a ratings performance model which was required to identify the potential survey ratings the format would achieve in the official radio ratings.
"It was estimated that Smooth would achieve the No 2 FM station position within 3 years of launch and possibly the No 1 FM station position in the longer term," says Clouten.
Smooth fm was launched in 21 May 2012 (Survey #4 2012). The Melbourne station first achieved the No 2 FM rating position in Survey #2 2015. Smooth FM Sydney first achieved the No 1 FM rating position in Survey #5 2015.
Both stations achieved the top FM ratings position of 9.9% in both Sydney and Melbourne last survey (survey #2 2017).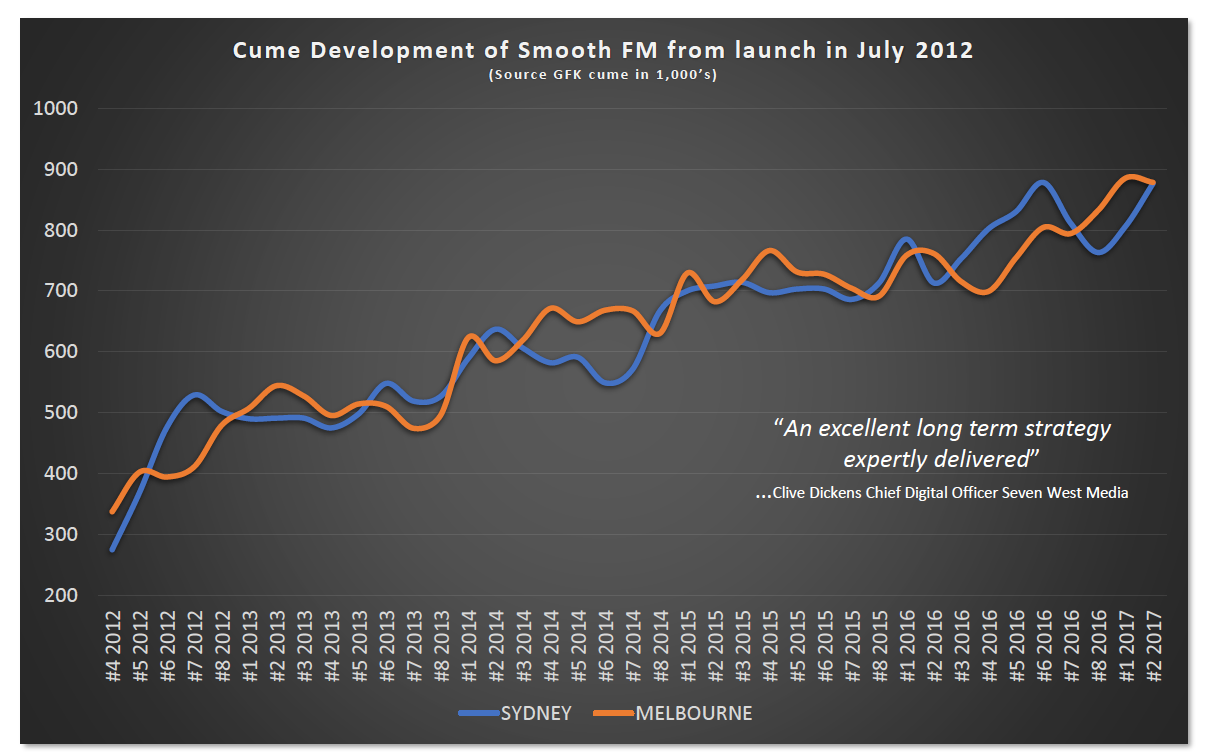 "For me this is the second time I have been involved in the development of a market leading Soft AC station and I consider that a great privilege…and a whole lot of fun," says Clouten
He is "particularly proud" of the input BPR has made and continues to make to Smooth. Myradiotest.com does all the music research for Smooth and Clouten has been involved on the strategic side of things since the beginning.

"It's terrific to do the strategic side of things and there is a lot of satisfaction from identifying, quantifying and shaping the format opportunity… watching a team of people at Nova Entertainment bring it to life so well is what I find most enjoyable. It doesn't happen everyday and it's very special."
Clouten believes smooth's success "is not just good for Nova Entertainment as a business… but also for the industry."
"Broadcast radio needs great content, great audio brands, to keep our industry bubbling and vibrant against the onslaught of other audio platforms wanting to cut our lunch."
Nova's Group Program Director Paul Jackson has worked closely with BPR across our the Nova and Smooth brands for more than six years. "Wayne has played a key role in helping us develop and shape the brands into clear and defined positions in each market. Wayne's strategic thinking has played and continues to play a key role in our success," he says.