Mix 102.3 Adelaide breakfast host Mark Soderstrom will not be returning to the breakfast show next year.
Erin Phillips will remain with the show and a new co-host is expected to be announced early in the new year.
UPDATE: Ali Clarke replaces Soda.
In a media statement, Soda says:
"I've made the tough decision to finish up at Mix after eight great years.
"It has been an enormous privilege to be invited into the cars, homes and workplaces of the station's fantastic listeners and friends who I will miss dearly.
"I have been fortunate to have met some brilliant and inspiring people along the way and it is these relationships that I will cherish most about my time at Mix."
ARN's Chief Content Officer Duncan Campbell says: "Soda has made an incredible contribution to Mix 102.3. I'd like to thank him for valuable input that has seen Mix 102.3 enjoy great rating success in the competitive Adelaide market. He leaves with our best wishes."
Soda joined Mix 102.3's breakfast team in 2014.
While the station overall has been top of the market for the past two years, the breakfast show had been falling in recent surveys, with Mix breakfast scoring a 9 share in the last survey of 2021. Survey 2 of 2020 was the peak breakfast share over the past two years, at 12.3% in that timeslot (see our full interactive chart here).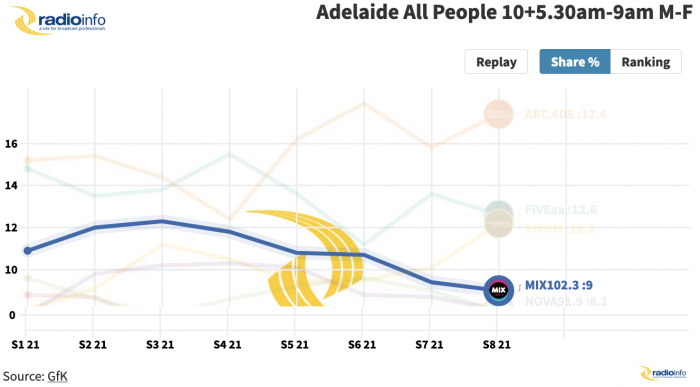 There were rumours of unrest in the breakfast team earlier when the new show taking an unexpected "break" to regroup for the new ratings year. The overall station share chart for the past two years is below (note: some 2021 surveys were cancelled due to Covid).
Click the 'replay' button to restart the moving graph, click on any combination of stations to see them highlighted.