Queensland Senator Matthew Canavan has proposed splitting the ABC into rural and metropolitan corporations to ensure that the bush gets a fair go from Australia's national broadcaster.
Rural politicians became tense earlier this year when the ABC split its regional and rural activities into a new division, resulting in changes to regional radio programming, but the issue goes deeper than that, with rural electorates constantly on the lookout for perceived bias in staff numbers and content that favours the capital cities over rural and regional bureaux of the ABC. Most of these regional and rural bureaux contain ABC Radio stations, regional news teams and rural reporters.
Canavan, a member of the backbench committee on broadcast reform, has put a proposal to Cabinet as part of a wider report from the National Party's broadcast reform committee that suggests the ABC should be split into metro and regional operations.
The report has not been made public, but Canavan, writing in The Australian, has explained his position, based on staff numbers. He writes:
About 10 per cent of Australians live in a town with a smaller population than that of the ABC's ­Ultimo studios in the centre of Sydney. About 1208 journalists (or "content makers" in the corporate jargon) are employed there. Why does the ABC employ 40 per cent of its journalists in Sydney when only 20 per cent of Australians live in Sydney?
Is it any wonder that the ABC has kicked regional Australia in the guts over the past few years? Prime exhibit was the Four Corners story on the live cattle trade, which found plenty of time to broadcast vision from Indonesia but hardly focused on how important the trade was to northern Australia. Just 5 per cent of ABC journalists are employed in northern Australia.
He argues that, by concentrating so many people in inner-city Sydney, the ABC is failing to meet its charter obligation to "contribute to a sense of national identity" and "reflect the cultural diversity of the Australian community."
"Smartphone apps are fantastic, shiny, bright things but they are no replacement for meeting real people in a real street," says Canavan in his article. He "is not hopeful" that the new ABC Managing Director will change this situation.
He says it is time to consider splitting the ABC in two: "An ABC Urban could be left to pursue green, lefty crusades to their heart's content while an ABC Rural could get on with presenting stories from the bush."
There is a push by commercial media to change media ownership laws to allow capital city stations to swallow up regional tv stations, with commercial television broadcasters arguing that new technology has brought structural change to the industry that makes regional tv businesses unsustainable in the long term. With regional viewers being able to stream content from capital city stations, without the lience area restrictions imposed on traditional broadcast media, the argument has some merit for commercial television (although not necessarily radio, as long as local radio stations can resume their internet streams).
Commercial television networks are currently lobbying for such a change in the 'Save Our Voices' campaign, which argues, somewhat counter-intuitively, that if regional tv networks are allowed to be owned by capital city stations, they will be able to retain local news and content because they will be part of a bigger business that can remain profitable in the face the hugely disruptive shift being faced by the traditional broadcasting industry.
Canavan addresses this issue in his article, saying, "such a structural change would make sense if broadcasting laws were changed to allow metropolitan and regional private TV broadcasters to merge. Present laws guarantee a space for WIN, Prime and Southern Cross. In the digital age these restrictions are increasingly outdated and if they are to be abolished there will no longer be broadcasters dedicated to regional Australia. An ABC Rural could fill that void."
Unlike the commercial broadcasters which want to merge to form converged national companies, the ABC is already a converged broadcaster, with its radio, tv and online divisions, and its urban and rural stations all owned by one owner (the Australian taxpayer) and controlled by a single non-profit public corporation.
Canavan, however, does not think this is good enough. His proposal is:
"The two organisations would run in parallel but could co-operate where that makes sense. While ABC Rural could take over the running of the regional TV and radio broadcasters, and dedicated regional programs, content could be licensed between ABC Urban and ABC Rural, just as WIN and Channel 9 share content now.
"ABC Urban and ABC Rural would have separate boards but could share corporate services to keep costs down. Indeed, there are already proposals for the ABC and SBS to do that. Any costs of the separation could be met out of the $5 billion already budgeted for the ABC across the next five years…
"Two separate ABCs also would make publicly funded broadcasting more accountable to the parliament and ultimately the people of Australia."
According to its most recent
annual report
, the ABC has a network of 56 Local Radio stations, nine metropolitan and 47 regional, "which broadcast to, and engage with, local communities around Australia." TV signals are originated in capital cities and rebroadcast in regional areas.
Canavan says the current methods of pressuring the ABC to take notice of regional audiences through budget measures are a blunt instrument and not effective in guaranteeing the ABC allocates enough resources to the bush. "Many ABC regional stations do fantastic work but they are starved of resources from an inner city-run bureaucracy. Two separate ABCs could change that."
He cites an example of ABC Radio's PM program's coverage of the Adani Carmichael coalmine project last August as evidence of the Sydney centric nature of ABC reporting:
"The mine is a $16 billion project, would create 10,000 jobs and is front-page news in central Queensland. Yet the ABC could not find one person from central Queensland to talk about the mine. It found ministers, green politicians and even a journalist from India, but no one anywhere close to the mine, or perhaps someone who actually might have seen an ornamental snake or a yakka skink first-hand. All of this despite the ABC having a great team of journalists based in Rockhampton."

However, on twitter, PM presenter Mark Colvin has challenged Canavan's argument, pointing to another PM report that did use local reporting expertise.
Colvin and other commentators have continued to challenge Canavan on twitter over regional staff numbers and other points.
Another tweet from Colvin reminds the Senator that he voted for ABC budget cuts, while a tweet from Peter Martin hints that ABC Urban could eventually be privatised. Other twitter commentators support Canavan's views, as seen in a selection of comments below.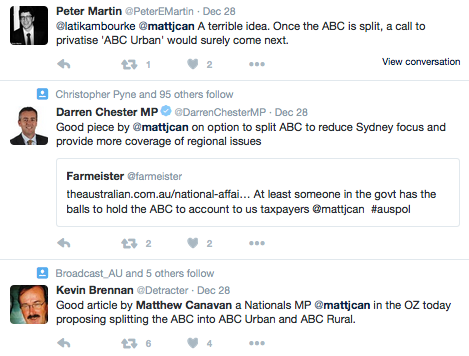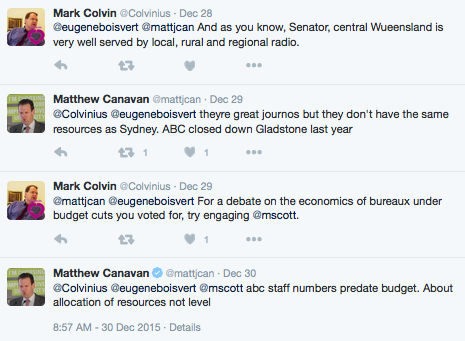 In the ongoing conversation with Mark Colvin, Senator Canavan also alludes to simmering disquiet from regional broadcasters who have been displaced by the recent changes to the Regional Program Manager (RPM) structure as a result of the divisional restructure. radioinfo's movement pages have chronicled a range of moves and redundancies in the past six months since this change was introduced.


The pros and cons of this debate look set to continue during the festive season while rural politicians are back in their electorates for the holidays.