Star 101.9 has just retained its lead in the latest Xtra Insights Survey for Mackay, despite dropping 1.2 to 19.6.
GM, Paul O'Conner, says "It was great to reinforce Star's number 1 position in Mackay & the Whitsundays, I'm just so proud of the entire team they truly deserve the accolades."
Just behind now are the two SCA stations, Triple M Mackay & The Whitsundays, down 0.8 to 18.6, and Hit Mackay & The Whitsundays, up 1.5 to 18.5.
ABC Tropical North gained slightly to be 11.6, with triple j also up to 11.4.
General Manager SCA Mackay, Nikolas Stuart, says, "We're proud to reach 54% of the Mackay community every week. More of the Mackay community have chosen Hit 100.3 Mackay and The Whitsundays or Triple M 98.7 Mackay and The Whitsundays over any other radio station, and today's result is a great reflection of the effort of our team who continue to deliver the best content in the country.
"A huge thank you to the local community for tuning in and choosing us. What a great day for SCA in Mackay!"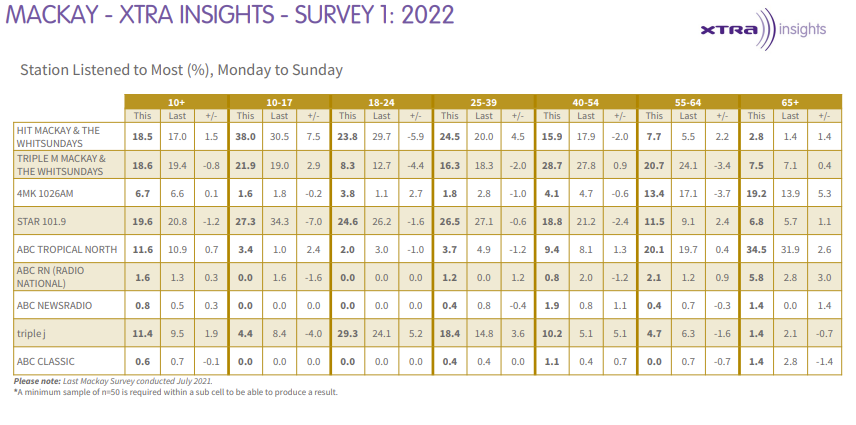 The breakfast results reflect the overall performance of the stations with Scotty & Rach (Star) easing by 1.3, but still leading on 20.0, from The Jay & Dave Breakfast Show (Triple M) who were down 0.9 to 19.5 and Cliffo & Gabi (Hit) who gained 1.5 for 17.9.
Pictured Scotty & Rach Star 101.9
THE SPIN