Our analysis of the survey one results by network and city.
Refresh this page to get the latest updates.
We have had a massive increase in traffic today, 400% more than any previous survey day, so if our site is a little slow that's why.
Networks
Southern Cross Austereo
It was a survey of big swings for SCA. Sydney was good, Brisbane, great. Melbourne, not so much. Adelaide and Perth were disasters.
Hit Network
Sydney's 2Day showed some "green shoots" as CEO, Grant Blackley likes to say. The station was up a tad to 4.7 and the latest Breakfast show with Em Rusciano & Harley Breen also added 0.2 to its audience share. So far so good for Sydney. Not so much for Melbourne where FOX tumbled 1.5 to a 9.1, overall, losing it's top FM crown to smooth on 9.4.
In Brisbane, long a two horse race between Nova and 97.3 now has three from runners as hit105 put on a spurt of 0.8 to land on an 11.5 share to overtake Nova for second place.
But in both Adelaide and Perth, the hit brand took a broadside, down 2.1 and 2.0 in their respective markets.
Triple M
Despite both stations in The Triple M stream losing share in Perth and Adelaide (albeit not near as much as hit) the brand gave a much better showing overall with a 1.1 gain in Sydney, a 0.4 in Melbourne and a 1.3 jump in Brisbane. All without the football.

Australian Radio Network
It was an okayish survey for ARN.
WSFM which gained a smidgeon took the #1FM spot in Sydney while KIIS lost 1.0 but was #1 FM Breakfast.
Both stations were down a bit in Melbourne – a bit more in Adelaide but in Brisbane both ARN stations plunged by over a full per cent in share each.
The good news is that their Perth purchase, 96fm seems to have finally turned the corner recording a strong upswing of 1.8.
Nova Entertainment
Melbourne proved to be the gun town for NovaEnt. Both brands did well with the big news that smooth 91.5 has grabbed the number one FM spot with a 9.4 share, toppling FOX on 9.1 after it plunged -1.5.
Meanwhile, smooth 95.3 in Sydney shed 0.5 but stays well positioned in the peloton of stations behind market leader 2GB.
It was an okayish day for the Nova brand, with Melbourne the standout, up 0.9 on the back of a hefty rise (1.7) by the Breakfast team of Chrissy, Sam & Browny making them #1 FM Breakfast an # 3 overall.
Other than that Nova had a small gain in Adelaide, slid slightly in Sydney and in Perth but dropped 1.6 in Brisbane where it was relegated to third place behind 97.3FM and HIT105.Macquarie
Macquarie Media and Other Talk
Who would've thunk it? 2UE's Talking Lifestyle format has propelled its overall audience share to 4.4, up from 3.5 last year – a 26% increase! It was, however, their non-lifestyle talk shows that recorded the biggest gains. John and Garry for Breakfast (+1.3) and George and Paul on Weekends (+1.7).
The MacRadio mainstays stayed number one in Sydney and Melbourne. Brisbane's 4BC went up a tad while Perth's 6PR dropped 0.9.
FIVEaa in Adelaide which is NovaEnt's lone Talker had a blinder, up 1.2 to be the #2 station in the market behind Mix102.3 and ahead of 891 ABC.
In Sydney, SKY Sports Radio slipped to just a 0.9 share while in Melbourne, sports station 1116 SEN is down to 2.7 ahead of the Footy season.
On the Magic side of things, Melbourne's 1278 gained 0.5 while Brisbane's 882 dropped 0.7 to put the stations on 2.9 and 2.1 shares respectively.
But the biggest drop (-1.4), which is likely to be a big disappointment to its new owners, was recorded by 2CH in Sydney which is down ton 2.9.
ABC
Local Radio
Apart from a huge spike in Perth where 720 rose by 1.6 to place land in third place in that market, it was a quiet day for Local Radio. It was down a tad in Sydney, up a tad in Melbourne, rock steady in Brisbane and down a smidgeon in Adelaide.
triple j
All eyes were on Adelaide where local lads Ben & Liam had taken on Breakfast for the national youth network. They took the local breakfast show from a 5.9 share to 8.2 which propelled the station to a 9.2 in that market.
But the love wasn't universal. The Breakfast show lost ground in Brisbane, Perth and Melbourne and held steady in Sydney. Whereas triple j as a whole lost overall share (Mon-Sun) in Sydney but gained in Brisbane, Melbourne and Perth.
Cities
Sydney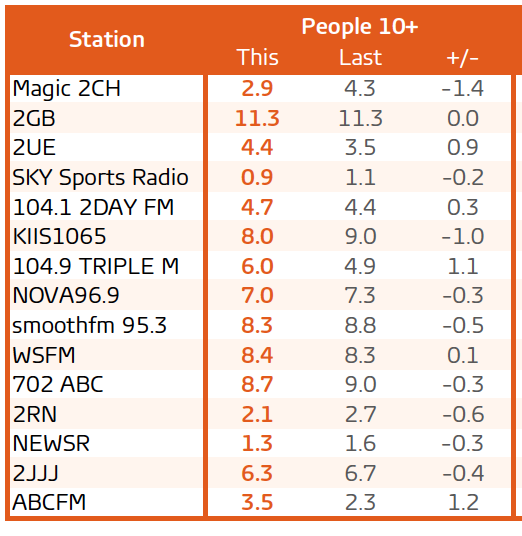 2GB was number one as usual, steady as she goes and streets ahead of the rest by more than three points.
ABC702 was second in a summer cricket survey, up 0.3 on last survey.
Third placed WSFM gained 0.1 to score 8.4%, closely followed by smooth, whcih slipped 0.5 to 8.3%.
Fifth place went to KIIS on 8.0%, down one share point overall.
Magic had the biggest fall, down 1.4 to 2.9%, at the bottom of the commercial pack. It has now rebranded under its new ownership and hope to reverse that fall in coming surveys.
Triple M and ABC Classic FM scored the biggest gains.

Melbourne
3AW retained top spot in Melbourne despite a fall of 0.7 share points overall.
ABC774 was in second place on 9.8%, up 0.2.
smooth was third, up 0.4 to 9.4%, ahead of its other FM competitors.
Fox was fourth, down 1.5 share points to 9.1%, the biggest fall of the survey.
In fifth place was Gold, down 0.6 to 8.0%.
SEN had a significant fall as it changed its emphasis more towards AFL coverage, while ABC Classic FM had the biggest rise of the survey
Reformatted Magic (now Talking Lifestyle) gained 0.5 to 2.9%.
Brisbane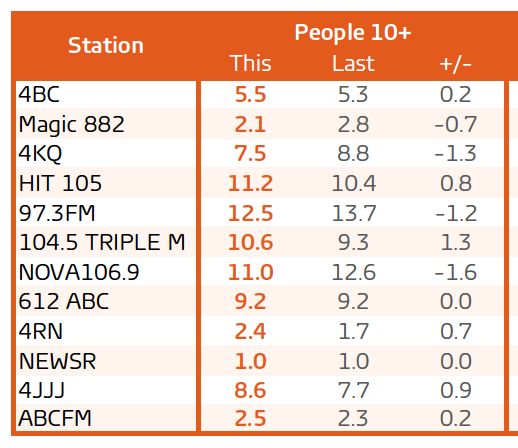 Music stations had some big falls in Brisbane over summer.
97.3 fell by 1.2 share points, but managed to retain top spot on 12.5% overall.
Hit105 moved into second place with a gain of 0.8 bringing it to 11.2%.
Nova had the biggest drop this survey, down 1.6 share points to third place on 11.0%.
SCA stations picked up the listeners who moved from the other stations, with fourth placed Triple M gaining 1.3 to 10.6%.
612ABC was steady on 9.2%, in fifth place, followed by triple j, up 0.9 then 4KQ, which lost 1.3 share points.
Reformatted Magic (now Talking Lifestyle) lost 0.7 to 2.1%.

Adelaide
The most significant movement in the market was triple j, up a massive 3.5 share points this survey to 9.2% on the back of the move of the local Fresh92.7 breakfast duo to triple j's national breakfast show.
Mix retained number one position despite a drop of 0.9 to 12.0%.
FIVEaa moved into second place with a big gain, up 1.2 to 11.3%
891ABC (now ABC Radio Adelaide) was third, down 1.0 share points to 10.9%, followed by Nova, up 0.2 to 10.3%.
Fifth place went to Triple M, down 0.8 to 9.2%.
Cruise gained 0.2 to 8.6% followed by Hit107, which had the biggest drop of the survey, down 2.1 to 8.8%, after some of its listeners moved across to triple j.
Perth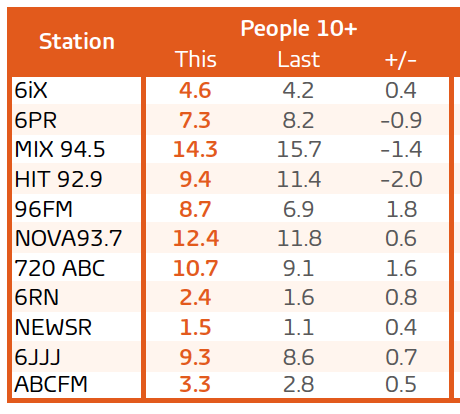 It was a hit and mix affair in Perth (sorry, couldnt resist…)
Hit92.9 suffered the biggest loss, down 2 share points to 9.4%.
Mix also dropped, down 1.4 to 14.3%, but retained its top position in the market.
Second placed Nova gained 0.6 to 12.4%.
720ABC was third, up 1.6 to 10.7%, followed by Hit on 9.4%.
Fifth placed triple j gained 0.7 to 9.3%.