Radio leads the way as the most trusted media in Australia and is seen as the most credible source of news, according to a new survey by global research firm GfK.


The GfK Radio Insights study found 42% of respondents surveyed consider radio trustworthy, with a wide gap to TV (24%), online (18%) and newspapers/magazines (15%).

GfK's General Manager Media, Dr Morten Boyer, said the results reflected high levels of trust in radio presenters and the live and human nature of radio, which made it a credible source of information for news, traffic information and emergency updates.

"Many people are questioning the truthfulness of the information they consume, and whether you agree with it or not the 'fake news' narrative seems to have touched a nerve.

"Trust is something that is earned over time through relationship building, so in an environment where people are unsure of which sources to trust, it's not surprising to see radio come out on top," he said.

The research found that 53% of respondents consider radio a credible source of news, compared to 44% for TV, 27% for online and 24% for newspapers/magazines. Fifty-one percent of respondents said online was "full of fake news", while only 11% said the same for radio.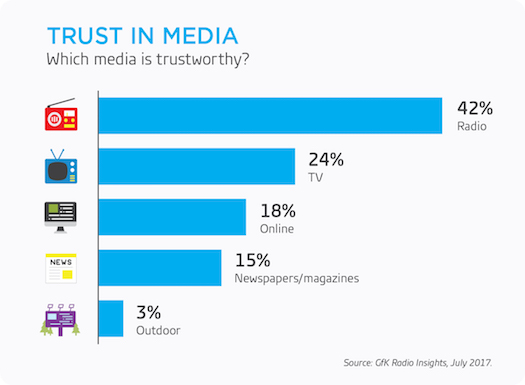 Joan Warner, chief executive officer of industry body Commercial Radio Australia, said the results in Australia were similar to a recent Trust in Media 2017 study by the European Broadcast Union across 33 countries, which also found radio was the most trusted medium, followed by TV.

"People are increasingly sceptical and more discerning about the information sources they regard as believable, so maintaining consumer trust is one of the most important challenges for media, brands and governments.

"Radio performs well because it is more likely to be considered an old friend and is associated with being personal, authentic and accessible," she said.


The survey found that:
71% consider radio a great companion
61% think radio is like an old friend
55% think radio connects them more to their community.
The relationship with radio personalities is an important factor in station choice, with a sense of humour, knowledge and honesty seen as the most important traits for a radio presenter.


GfK Radio Insights studies are conducted four times a year to provide additional perspective to the Australian radio ratings surveys. The latest research was conducted using a national online survey conducted 11-22 May, 2017 involving 1,267 radio listeners across both metro and regional areas.
The findings are available online.