Swinburne's commercial radio course will be discontinued from the end of this year. Radioinfo has been told: "The course has run at a loss for more than five years."
A few days ago, current students of the Swinburne Commercial Radio course received an email notifying them of the "discontinuation" of the course from next year.
Swinburne spokesperson Nataly Matijevic has told radioinfo:
"Low enrolment numbers in the Graduate Diploma of Arts (Commercial Radio) over a sustained period of time has made the course non-viable. There will be no further intake into the course. All current enrolled students will be able to complete their course.

"We could only previously offer the course to a small number of students each year in dedicated radio labs, but it is no longer viable to do so. [It] has run at a loss for more than five years due to the high costs associated with purchasing and maintaining specialised equipment.

"We have considered a range of options to make it viable including increasing our student intake, however this could not be done without incurring significant additional cost."

The course has been run by Jim Barbour (pictured) for over 15 years, and has gathered a loyal and influential alumni amongst the media.
While there appeared to be continuing demand for enrolments, the course had always been limited to a smaller intake than other uni courses due to the practical nature of the work and the industry focus. Matijevic's statement confirms that fees collected do not cover the cost of running the course and that it cannot increase the numbers to generate more revenue.
Commercial Radio Australia supported the course with an industry subsidy, in the same way it does for the commercial radio related courses at AFTRS and Charles Sturt University.
A Facebook page has been set up to gather support to 'save the Swinburne Commercial radio Course.' A discussion thread on that site says:
So here is a tweet I received from Swinburne Uni in response to a comment I made: "we could only previously offer the course to small number of students each year, but it is no longer viable to do so." considering the current student fees for this course I would be interested to know how it is not viable…
In response to that post, two people replied, commenting on the cost of the course and the limited numbers.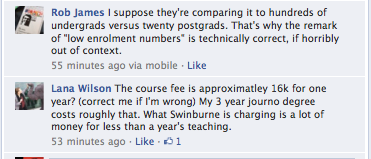 An online petition to pressure the university into reversing its decision is at this link.