Radio Tomorrow with James Cridland
Just like the bar in a favourite Western, radio has swing doors as well: but not swing doors between the bar lounge and outside, through which cowboys can shoot or throw people. These are swing doors between radio and the podcasting world; and they're getting used more and more often.
This week, we learn that the Australian ABC has lost one of its most popular podcasts, Science Vs, which has been snapped up by US podcast network Gimlet Media. Science Vs was one of a few podcasts produced by the Australian public service broadcaster under their 'first run' banner: making content for online first, and then seeing whether it should also get broadcast. In this case, strangely, the presenter retained IP rights in the program, making it easy to take it to someone else.
Wendy Zukerman, the presenter, is not the only person to be moving from broadcast radio to the brave new world of the internet; there are a lot of others, from presentation and production to sales. Acast, a podcast advertising solution, is now hiring for sales staff within the UK (and promising a US expansion soon).
All this comes, as far as anyone can tell, without a massive step change in podcast consumption; just a change in the way podcasts are viewed by investors. Everyone's heard of Serial now, and everyone reckons there's money to be made there somewhere.
But the swing doors are working the other way. Radio stations are increasingly looking at podcasts as places to undertake their next talent acquisition. I'm hearing more people on-air who were once on podcasts; and hearing more podcasts on the air, too, around the world.
The democratisation of production is one part of this. Twenty years ago, you simply couldn't make a radio program from your front room. Now, all it takes is an iPad or a laptop and you're away, with multitrack audio editors that make editing quarter-inch seem almost ludicrously backward.
Consolidation is another part of this. As more programs are networked, more is voicetracked, and overnights are simply left to auto-play, there are less opportunities to try new talent. My first air shift was a Saturday evening at 10.00pm, a place where I could hardly do any damage to the radio station's figures even if I totally screwed up.
Podcasting is rapidly becoming a place to trial new content and talent; a place where the sing-song voices of NPR don't reign supreme, and we're hearing more real, relevant
voices in the mix as well. What's missing, at least as yet, is a curated place to find great podcasts and share them with others: but I spotted h ttp://wearestabl.com/ the other week, which looks a valiant effort to start on that journey.
What's clear is that radio can learn much from podcasts; but podcasting can get much talent from radio if we're not careful.
About The Author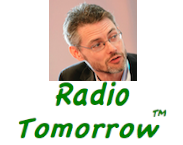 James Cridland is a radio futurologist, and is Managing Director of media.info, a companion website to radioinfo and AsiaRadioToday.
He has served as a judge for a number of industry awards including the Australian ABC Local Radio Awards, the UK Student Radio Awards, and the UK's Radio Academy Awards, where he has also served on the committee. He was a founder of the hybrid radio technology association RadioDNS.
James is one of the organisers of nextrad.io, the radio ideas conference each September, and is also on the committee of RadioDays Europe. He writes for publications including his own media.info, Radio World International and RAIN News.
James lives in North London with his partner and a two year-old radio-loving toddler. He very, very much likes beer.