"Where 10 or 15 years ago a Content Director/Program Director was more product focussed, today's Content Leader has become more people focussed, allowing great CDs to develop high performing teams and build a positive culture among staff", says AFTRS Lecturer, Content Director, and Leadership Coach Barry Keohane.

Barry Keohane delivered a Masterclass on "Radio Content Management and Leadership", a sample session from AFTRS Industry Certificate, as part of this year's Radiodays Asia Virtual event which took place from March 24-26. The Masterclass was made up of content from this year's Industry Certificate course which begins through AFTRS on April 19.

AFTRS (The Australian Film, Television and Radio School) is Australia's premier radio, broadcast and screen arts school offering a wide range of courses and opportunities for those looking to progress their creative and professional careers.

The focus for this Masterclass, which drew in participants from all over the world, was discussing the attributes of a modern day Content/Program Director and the qualities of successful Leaders – just a taste of what students can look forward to in this year's course.

Head of Radio Fyona Smith said: "The content of our courses evolves each year to align with best industry practice and the anticipated needs of the future. One of the key areas of focus in addition to excellence in programming, is building positive culture and a resilient team".

After a discussion on what the attendees actually think a Content Director does, the Masterclass moved onto the attributes that make up a great CD/PD.

Know your station
Understand your audience
Know your strategy
Strong leadership and development skills
Strong communication skills
Creativity
Ability to prioritise
Consistency of presentation
Duty of care to you and your staff

"Content around the last attribute has increased in recent years, as it's essential for a CD/PD to equally ensure the physical and mental well-being of staff", added Keohane who is now in his fourth year teaching the RCLM Industry Certificate course at AFTRS.

The attendees were then broken up into smaller discussion groups to discuss the challenges facing today's CD/PD. No matter where they came from (attendees came from Hong Kong, Singapore, Myanmar, Malaysia, Greece, Finland, South Africa), it seems that today's CD/PD faces the same challenged. These include keeping up with changing trends, growing cume and revenue, staying relevant, managing talent, and managing budgets and time.

The Masterclass then moved onto Leadership.

"We know leadership is having the ability to lead a group of people towards achieving a goal or shared vision, but what qualities make up a great leader", continued Keohane. The groups responses included ability to develop staff, strong emotional intelligence, being empathetic, good communications skills, decisive, and transparent.

The RCML Industry Certificate sampler, then looked at different leadership styles that a CD/PD can employ to help in different situations and with different staff. These included:

Coercive – Leader demands immediate compliance ("Do what I tell you")
Authoritative – Mobilises people towards a vision ("Come with me")
Affiliative – Creates harmony and builds emotional bonds ("People come first")
Democratic – Forges consensus through participation ("What do you think?")
Placesetting – Sets high standards for performance ("Do as I do, now")
Coaching – Develops people for the future ("Try this")

"Each of these styles has its place, and it can also be shown that emotionally intelligent leaders have mastered the ability to switch between styles depending on the situation".

While attendees were treated to only a small portion of this year's course, if any of them were interested in learning more they were encouraged to reach out to AFTRS who is offering this course online and welcomes students from around the world.

The Industry Certificate features four main subjects; Content Design, Learning and Leadership, Building Teams, and Tactical Programming. A highlight of each year's course is the Industry talent that gives up their time each week to talk to students.

To learn more, visit the AFTRS website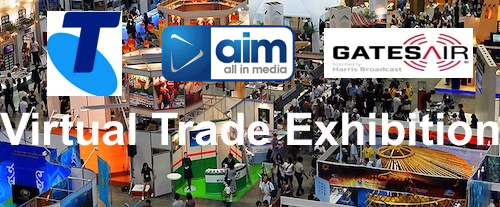 ---
Subscribe to the radioinfo podcast on these platforms: Acast, Apple iTunes Podcasts, Podtail, Spotify, Google Podcasts, TuneIn, or wherever you get your podcasts.