Veteran radio broadcaster John Minson has passed away in Tamworth.
Minson pioneered radio's support of Australian country music through his syndicated program Hoedown, which ran from the mid 1960s to 1988.
The program began as a country music show on 2TM and in 1965 was renamed Hoedown as it expanded nationally.
Hoedown was one of a number of specialist programs that was born on radio networks to combat the growth of television in the 1960s. The rationale was that, if tv was taking the bulk of the night time audience, radio should target smaller specialist segments to win back at least some of its advertisers. Country music lovers was the niche targeted by Minson. It proved highly successful both in the bush and in capital cities.
In a tribute to Minson, Country Music World noted some of the important elements of Minson's success:
Part of John's success as Australia's first full-time country music broadcaster was the fact that unlike so many other broadcasters of the day, John preferred to play Australian music, giving exposure all over the nation to country artists who were battling to be heard. For many of them, airplay on Hoedown became their key to success.
Of equal importance was the informal approach, where artists, musicians and fans always felt they could drop in on the program any night for a chat and a cuppa: be that at home beside the radio or in the on-air studio. Listeners liked the fact that John always talked "with" people not "to" them.
Bushwackers frontman Dobe Newton, writing on Australia's Country Music Association facebook page noted Minson's career began at 2MO:
One of Australia's great broadcasting careers started modestly when John moved from Sydney to Gunnedah's 2MO in 1961 as a copywriter. When a similar position became available at Tamworth's 2TM John moved 'down the road'. The rest, as they say, is history.

The smiling voice we all came to love was first heard in 1964 when John took over as host of the 'Modern Sounds of Country and Western Music' show. But the keen mind behind it had a grand plan. To establish Tamworth as a country music centre and create a recording awards that would be broadcast to the nation…

2TM took a punt, and the 'Hoedown' slot was gradually expanded. The show was discovered by listeners in distant locations – as far as Tasmania and New Zealand in the South, most of Queensland, parts of South Australia, even the islands of New Guinea. Hoedown was so popular that, by the late 60s, it was running from 7.30 to 11pm and 2TM became the first station to be playing country music every weeknight. He was 'Mr Hoedown' to one and all until retiring in 1987…

He didn't forget anything or anyone, and we won't forget him nor the debt we owe.

Our thoughts are with his family and countless friends.
Rest easy old mate.
Australian Country Music broadcasting icon John Minson has passed away in Coffs Harbour aged 89.
John Minson OAM was a pioneer in the modern country music industry in Australia. Hundreds, maybe thousands of local performers owe their success in part to Mr Hoedown…
With Max Ellis and a group of friends John Minson also started the Australasian Country Music Awards and was on the judging panel for the Golden Guitars. With his metal and woodworking skills he also designed and created the first Golden Guitar awards with Harry Frost. Later he would be instrumental in establishing the Country Music Association of Australia – the CMAA.
John was honoured with the Country Music Capital Award for services to the industry in 1978 and inducted into the Country Music Roll of Renown in 1988. In 1998 John Minson was awarded an OAM for "Services to the music industry".
Country music and radio broadcasting in Australia has this week lost another legend, innovator, icon and pioneer.

Country music stars young and old have paid tribute to an icon of the radio and country music industries in this country, and mourn his passing.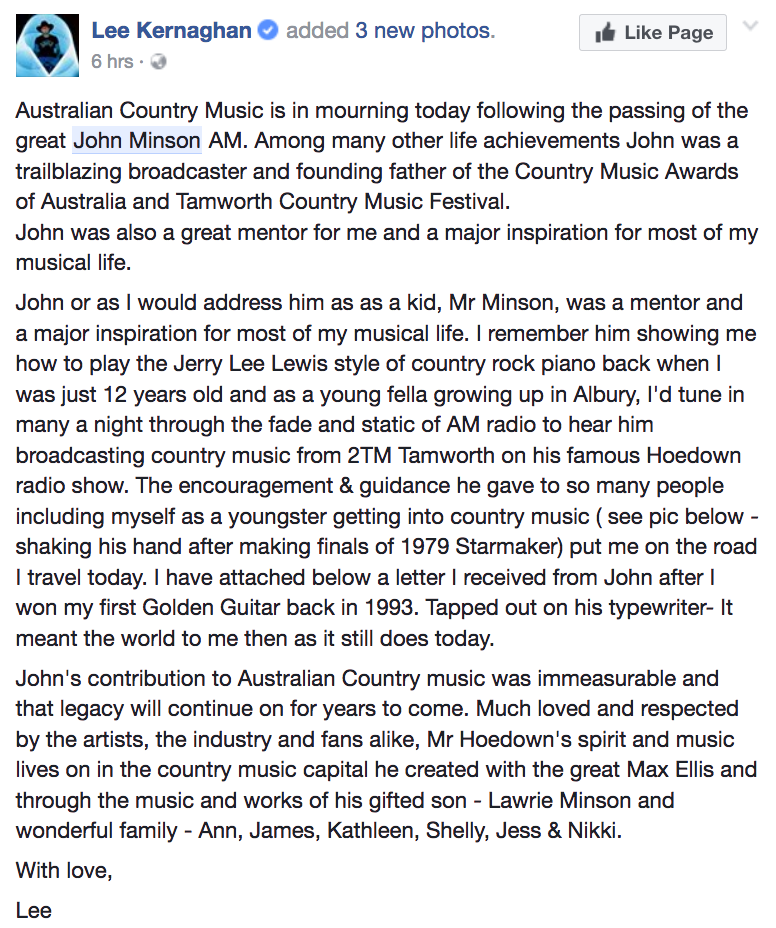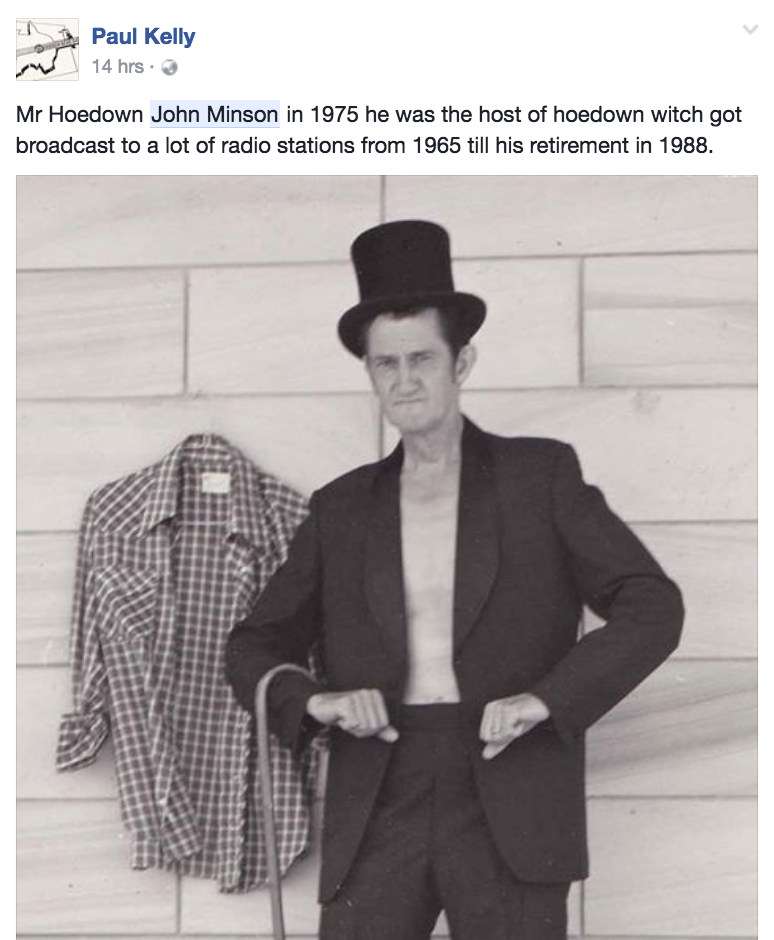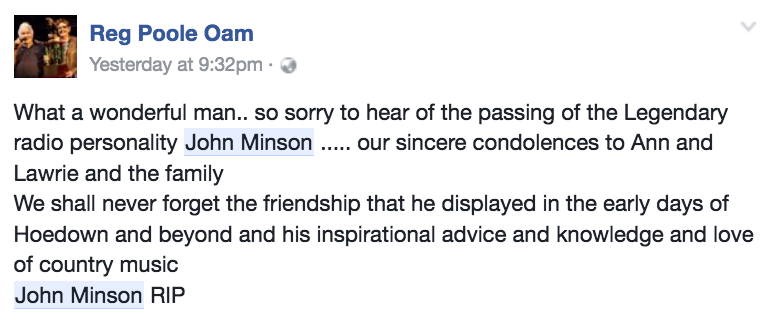 John's son Lawrie Minson went on to becoem a country music star in his own right, marrying another country music singer Shelly Watts/Minson.
Condolences to John's family from all of us at radioinfo.