Westwood One's Podcast Download – Fall 2019 Report, has been released and highlights some interesting trends, especially among women who continue to close the gap in time spent listening to podcasts.

Feeding into this result, the report also found that the majority of new podcast listeners are women, and that women are more likely to prefer host read ads while the use of traditional pre-produced ads has continued to grow.
Among those who listen weekly, women lead Millennials (59%) while men over 35 are much more likely to be weekly podcast consumers.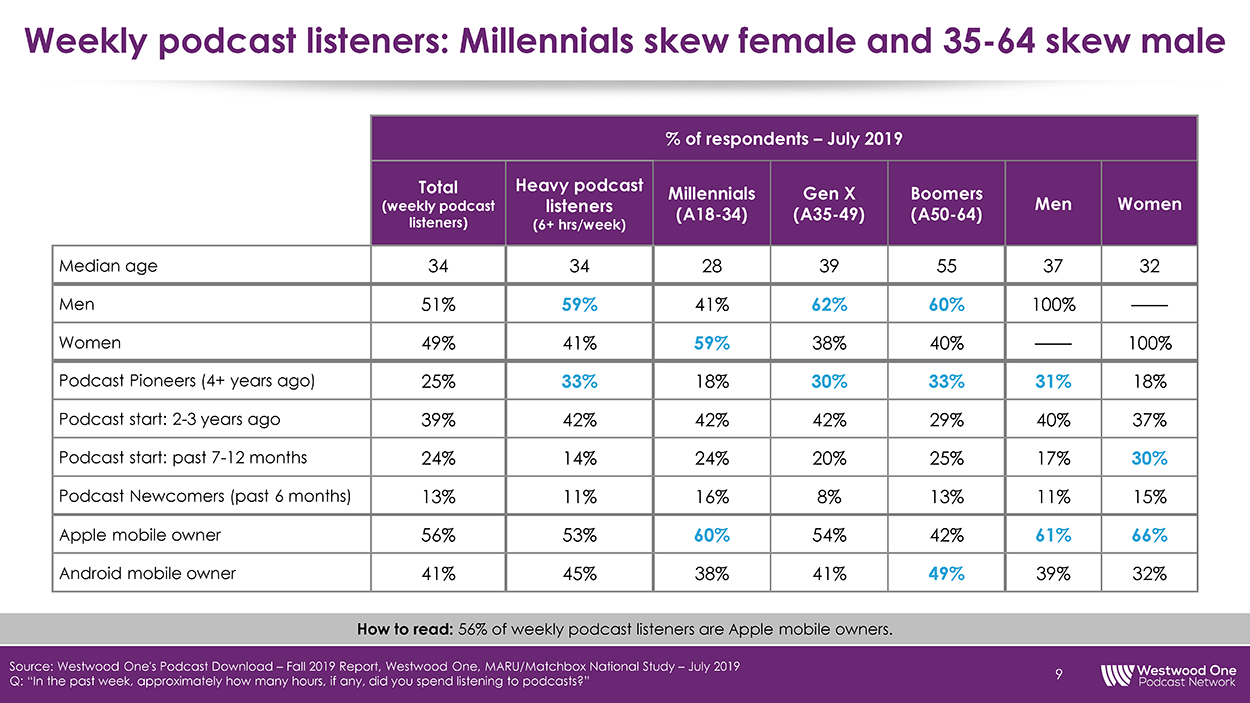 Podcast listeners are also 33% more likely to own a smart speaker but are much more likely to listen to podcasts a portable device such as a smart phone and one of the recommendations the report made was that podcast producers could improve their promotions to explain how to listen to their material on a smart speaker
Live event Podcasts are growing in popularity with 1 out of 5 saying they have attended a live event, and 53% saying they are more likely to attend a live event than they did last year.
Men are more likely to attend a live show, will travel up to 80k's to see one, and spend an average of US$42 for the privilege making podcast events are a huge growth area for content providers and advertisers.
Other highlights of the report are
Regular listening of entertainment and storytelling-focused podcasts grew the most in 2019
Podcast content preference varies by gender, demographic and Podcast Pioneers/Newcomers
Podcast Newcomers are more impatient meaning there's a shorter window of listening opportunity when tuning into podcasts
It's a close race with podcast distribution platforms with Apple, YouTube and Spotify at the top overall
At least 3 in 4 weekly podcast listeners have taken an action after hearing a podcast ad