Norway is planning to switch off its FM radio services in 2017, to be replaced by DAB+ digital radio, according to WorldDMB President Patrick Hannon, speaking today at the 2014 Digital Broadcasting Symposium in Malaysia.

Hannon reviewed the progress of digital radio around the world, highlighting the progress of digital radio in Europe where, "since Germany launched DAB+ in 2011 Europe has started to take notice."

Asian markets are also taking positive steps towards digital radio, but Australia is one of the world's leaders in the technology, with Hannon using many examples of Australia's success as case studies of how to introduce digital radio into new markets.

He tackled the question of why broadcasters should move to digital radio now, including:
Because the cost of DAB+ transmission is only 10% of the cost of FM transmission.
There are now many mass market receivers available at many price points.
Digital is much more power efficient (broadcast radio gives you 7 times the battery life of streaming phones).
Car makers are now taking an interest in digital radio
If broadcasters don't stake out the spectrum now they will lose it to others who want to use that spectrum.
In the UK 44% of cars now have digital radio as standard. Hannon also used the example of Absolute Radio, which has doubled its audience by using digital to launch new channels.

Hannon, however, made the point that it's not just all about digital radio. Digital Radio and broadband need to be used together for success. "It's not broadcast or broadband, it's broadcast AND broadband," he said. The Secretary General of the ABU, Javad Mottaghi also echoed those sentiments, telling delegates: "Content delivery on multiple platforms is essential, otherwise there will be many lost opportunities for broadcasters. We should make full use of new platforms and opportunities, without ignoring traditional broadcasting services."

Patrick Hannon's advice to broadcasters planning to introduce digital radio is to create a "compelling content proposition" for the audience and for governments to offer "regulatory incentives to offset the initial costs of digital radio setup."

"The world is changing. Broadcasters must innovate… digital radio is part of that innovation and the time is now," he said.

The comparative cost of free to air digital radio transmission compared with online transmission was a point discussed in several presentations and is also an issue for tv. In another presentation DVB Chairman Phil Laven gave delegates an insight into the cost of the popular BBC iPlayer. iPlayer has 2% of the BBC audience but accounts for 12% of the BBC's transmission costs, with costs incrementally increasing as the player becomes more popular.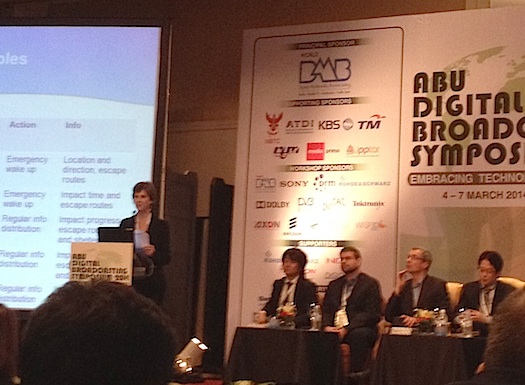 At the Symposium, CRA's Joan Warner reported the results of a very successful DAB+ trial held in Kuala Lumpur last weekend on the sides of the Symposium. With about 150 attendees from broadcasters from all over Asia attending, the trial demonstrated the success of DAB+ in the local environment.

In her presentation Warner reported on new developments in 'categorised slide show' pictures, hybrid digital radio and using DAB+ for early warnings.
Warner said CRA's current priorities for digital radio are to get DAB+ chips into mobile phones so that consumers don't overspend their plans or run their batteries out by using data to listen to radio, because receiver chips in phones provide free audio and consume less power than data hungry streaming apps. She also discussed a new hybrid product called RadioTag which is used to send listener data to advertisers.

In a later session, Alex Zink reported on progress on the other digital radio system, DRM, which is now being introduced in India. At least one Indian company is now making mass market digital receivers for the DRM standard of receivers, which will also be capable or receiving DAB+ signals because the two systems work on compatible open standards.