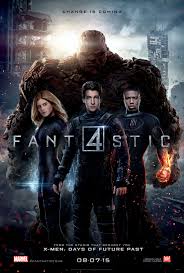 Actors from the new Fantastic Four film walked out of an interview with a pair of Atlanta radio personalities when the two DJs insisted on asking rude, inappropriate questions.

According to BuzzFeed, actors Jamie Bell (Thing), Kate Mara (Susan Storm) and Michael B. Jordan (The Human Torch) became steadily more uncomfortable during the interview until, finally, they just got up and left.

Things started to go off the rails when Rock 100.5's Steven J. Rickson asked what he called "the obvious question," which is how Jordan and Mara could play brother and sister in the film when they are different races.

Rickman asked: "From what I've seen you're brother and sister. Am I missing something?"

Jordan replied: "No.".

Rickson said: "But you're white and you're black. How does that happen?"
"They could be raised as brother and sister," Jordan said. "There's a whole bunch of family dynamics that could be without the obvious adoption."

Then things got even more awkward when Rickman said to Mara: "You're way hot. Why'd you cut your hair? Your hair was beautiful."

"This is a great interview," Mara said coldly before explaining that she cut her hair for a movie role.

Rickson pressed on: "What would you cut your hair for?"

"They asked me to," Mara explained icily. "I'm an actress, I have to be a chameleon."

Rickson's co-host Jason Bailey jumped in, but his effort to defuse the awkwardness only made things worse.

"Is it weirding you out that he's doing that? It's creeping me out," said Bailey.

"Which part?" Mara asked.

"The hair thing," Bailey replied before saying: "I'm a toe guy. Your toes are fine."

It was then that the actors got up and left.