The Wunderman Thompson agency from Perth won Round 2 of the 2022 Siren Awards with a powerful radio ad to raise donations for the Anglicare WA's Winter Appeal.
Creatives Matt Wilson and Luke Williams speak to radioinfo's Brad Hayne who delves into the creative process behind the award winning ad.
The "Cold Campaign" was awarded overall, single and the craft category winner for an ad highlighting the plight of the homeless sleeping rough in winter via the concept of 'temperature contagion', an involuntary response that cools the body temperature hence helps humans empathise with others who are freezing.
"We were approached by Anglicare for their winter appeal campaign… there was a time of year when there were a number of other winter appeals… we wanted to get cut through for a relatively small budget.
"Our research led us down a bit of a rabbit warren to explore temperature contagion… we spoke with our good friend Brad at Soundbite and started chatting about what could be possible so that's how it was born," explain Matt and Luke.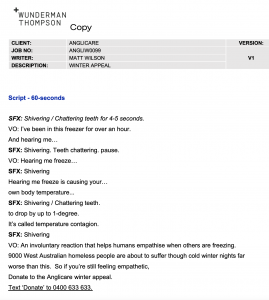 Brad Habib from production studio Soundbite has worked with the pair before and says "I know how Matt's crazy mind works, we've done quite a few projects together over the years."
The voiceover talent in the ad talks about being cold, but it's no act. Working together the producer and creatives convinced the voice actor to sit in a freezer before the ad was recorded, so that it would be authentic.
"We set up a lot of safety protcols to make sure no one was in danger, as soon as we told the talent what we were doing he was so up for the challenge.
"The ad relied on authenticity so we dropped the temperature for real to evoke empathy… but of course we took the necessary precautions… and there was some warm soup on hand for when he was finished."
The sound of the freezer was also authentic.
"There was a bit of magic to capture that freezer hum sound for real… we tried different mic positions in the room, we had a mic close to Liam and a mic further back in the room so I could get the real vibe of the room… when it came to post production I had those options of how loud I could mix that freezer sound… we used the close mic to get the shivering in his mouth sounds… all of these were really important to capture how cold he was, we got that with the close mic. Then I had the other far away mic that allowed me to push up the sound of the freezer without over powering the voice.
"Normally when you have a voiceover talent in the booth you keep doing takes until you've got what you want, but that freedom wasn't there in this case. We rehearsed what he was going to say outside the studio, but we couldn't rehearse when he was freezing, it just had to be what it was. We pushed him as much as we could to get a few takes, it was enough for what we needed.
"We wanted it to be real, we weren't chasing a performance here, we were chasing a genuine read of something who is freezing, not an actor pretending to be cold."
"The whole concept was a delicate balance between Liam being safe but experiencing this phenomenon for real… This idea would not have worked unless we did that, it is so important to make the audience feel empathy for what people who are genuinely cold are experiencing."
Is connecting to the listener in a real way an important thing for the future of audio advertising?
"Radio is always about rewarding the listener in some way. You can reward them by connecting or entertaining them, or making them feel happy or sad. Radio has plenty of room to make people laugh or cry, that's the beautiful thing about radio you can do it in so many ways.
"We are always trying to find new ways to involve the listener in audio advertising to bring the listener on the ride with us.
"Audio is a powerful tool that can make you feel something and evoke emotions… People may turn off if they feel you are selling to them too much, one way you can overcome this is through honesty. You can be genuinely entertaining or genuinely real, this one is real that's why it worked so well. Listeners are smart these days they pick up fake really quickly.
"Advertising is continuously exploring ways to make a real connection to the listener with audio."
Credits
Agency: Wunderman Thompson 
Senior Creative: Luke Williams 
Associate Creative Director: Matt Wilson 
Creative Director: Joe Hawkins 
Soundbyte Studio Sound Designer: Brad Habib 
Sound Assistant: Colin Graham 
Sound Recordist: Joanne Marie Carwardine 
Voiceover Talent: Liam Graham
Medic: Deanne Coxall