Nearly 80 community radio stations are broadcasting in fire affected areas of Australia.
With around 450 stations in the sector, community broadcasters are represented in most larger towns in Australia. Many of them are staffed by small handfuls of volunteers who keep the station on air in normal circumstances, but during the current bush fire situation, many of those stations are facing severe pressure on their people and resources.
The Community Broadcasting Association (CBAA) has been in contact with many of the stations in affected areas and tells radioinfo that, thankfully, most don't have a lot of damage to their property or equipment, but they are struggling with exhaustion and reduced volunteers to broadcast live shows from the stations.
Many community stations are located in protected areas at the centre of their town and often have their transmitters atop their building, so the infrastructure threat has not been as serious as might be expected. However the cost to people has been high.
Several stations, some of which asked not to be named, have told radioinfo that members have resigned or taken time off due to exhaustion. In one case broadcasters were on air while their houses were burning down.
2EAR in the Eurobodalla shire, which includes Batemans Bay, was not as lucky as some. Its transmitter on FM 107.5 was destroyed by fire on 31 December. Station Manager Kathy Shields says the station is in the process of getting a new antenna with help from the CBF for emergency grant funding. The transmitter wasn't insured as it was in a location where insurance rates were too expensive for the station to afford.
Shields told the CBAA: "Everyone at the station has been very shaken as a result of the fires, but this disaster has also united the community."
These stations are closely linked to their communities, drawing their announcing, producing and support volunteers directly from the towns where they broadcast. Almost everyone in the worst hits areas knows someone who was injured or killed in the fires, or had their house burnt. Most are very shaken but are bravely continuing to give information as the fire threat continues.
In Mallacoota, another area hard hit by the fires, 3MGB was off air for a short while, but is now back on air and online as the station's 20 volunteer presenters struggle to keep programming going as best they can.
In Canberra 1Way FM is reported to be off air and the station has been evacuated.
Stations in the worst hit areas report that their teams are stressed and traumatised by the events that they have had to cover.
How can you help?
Some stations need donations or equipment, but many just need more people to help them stay on air. If you are a community broadcaster who is holidaying in a fire affected area, why not call in at the local community station and ask if you can volunteer some time to help out behind the scenes or on air.

The CBAA is holding a Webinar tomorrow (Wednesday 15 January) at 2pm on the topic – Emergency Broadcasting; resources & best practice. Register for the webinar at this link. Broadcasting guidelines here.

A list of stations in fire affected areas is below.
See our related articles:
Broadcasting during fires and emergencies, which has guidelines for broadcasters in affected areas and information about trauma.
Fires hit ABC Radio's Batemans Bay transmitter

In commercial radio, FIVEa's breakfast team, David Penberthy and Will Goodings will broadcast live when they return to air next Monday from Kangaroo Island. More reports next week as the regular commercial radio presenters return to air and come to grips with the bushfire aftermath around Australia.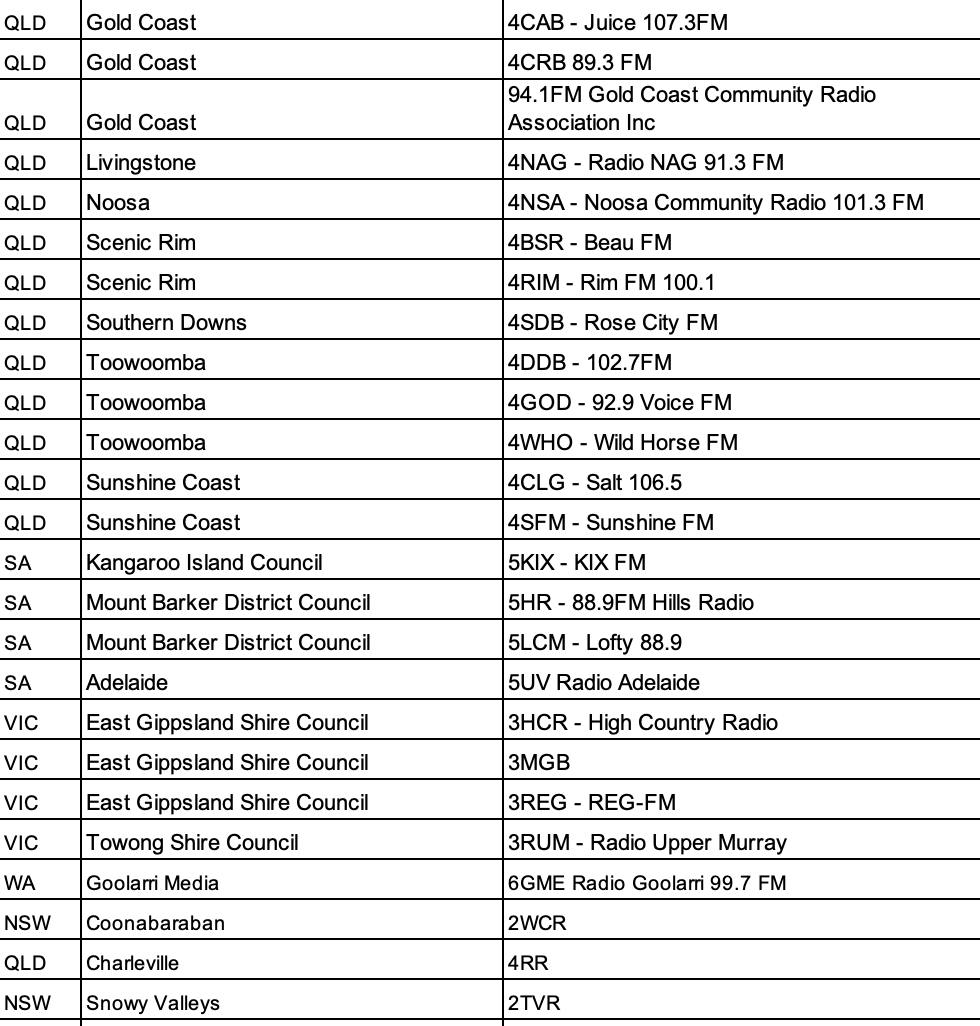 See all our coverage of how radio is responding to Australia's bushfires at this link, or click on the tag cloud below.