WA radio and tv presenter Carmen Braidwood started something with a simple tweet earlier this week.
She tells radioinfo about her crowd-sourced discussion on radio jargon.


I've spent much of the week prepping to give a crash course in all things Commercial Radio for Noise+Colour's upcoming Basecamp, for beginner to intermediate Voiceover Artists.

I figured a fun element of my presentation might be a list of commonly used radio jargon and their surprising meanings.
Seeking a little extra inspo, I tweeted out to Australia's Commercial Radio industry and alumni, kicking things off with my one favourites: "Phoner", which, with its multiple meanings, has lead to some confusion in my time.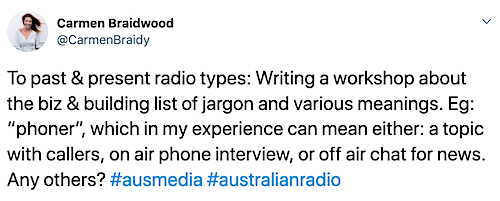 Your response was swift, and often hilarious.

Talent – the person you interview (famous or not)

— Damian Rabbitt (@DamianRabbitt) July 30, 2019
Many of you pointed out the terminology we use every day that borders on the crude, or even offensive, when uttered out of context.
Like Mamma Mia's The Quicky podcast host, Claire Murphy, who feels our habit of calling headphones "cans" is fraught with danger.
Or Mix 94.5 Breakfast presenter Dean Clairs, who has a giggle every time someone asks about the (music) "log", and in similar fashion, this gem from Ange Bishop:

Which is an announcer at a radio station who's there mainly to cover for other jocks on sick or holiday leave. Do full time jobs as station floaters even still exist?!
Then, as 2019 Gold Logie winner, and former Mix 101.1 radio announcer, Tom Gleeson pointed out, there's the downright unnecessary.

'Cume' as a verb. "I cumed into the show this morning." Ummm … I think that's called "listening".

— Tom Gleeson (@nonstoptom) July 30, 2019
C'mon PDs, CDs, GMs and CEOs.. tell me you've never said that to your Breakfast team before?
Finally, the news room favourites. Like vox pops, grabs, slabs, voicers and the old Homer Simpson special:

Yep, we still use vox (without grab) and donut (with grab). And also 'I'll put you to tape' (I'm recording now.)

— Lisa Barnes (@Barnsy_Lisa) July 30, 2019
As of today the twitter post has generated around 40 comments, with serious to hilarious examples of used and misused radio jargon. You can still contribute to the discussion on Twitter, or post your thoughts at the bottom of this article.

To past & present radio types: Writing a workshop about the biz & building list of jargon and various meanings. Eg: "phoner", which in my experience can mean either: a topic with callers, on air phone interview, or off air chat for news. Any others? #ausmedia #australianradio pic.twitter.com/bOoXqeR1Dr

— Carmen Braidwood (@CarmenBraidy) July 29, 2019
About the author
co-hosts Weekend Breakfast at Macquarie Media's 6PR, is a TV Presenter on Destination WA, Radio Masterclass lecturer at TAFE will present the commercial radio component of Noise+Colour's new course for Beginner and Intermediate Voiveover artists, Basecamp.
To register your interest for upcoming workshops, Australia-wide, email [email protected]