SBS Radio is the world's most multilingual public broadcasting service, dedicated to the nearly five million Australians who speak a language other than English at home. It provides Australian news and information in 68 languages on radio, online, via digital television and social media.
Head of Audio and Language Content, Mandi Wicks, shares some insights into how SBS has responded to the pandemic.
When COVID-19 began to significantly impact Australia in March with measures including movement restrictions, social and physical distancing and strict health and safety requirements, stakeholders and community organisations were seeking COVID-19 information in languages other than English (LOTE) to share with their communities.
While each SBS language service was already covering the news, our Content and Digital teams launched a significant coordinated response which included a website, video content, infographics and more. At the core of this project was the SBS Multilingual Coronavirus portal which was developed and launched in just four days, with an unparalleled capacity to deliver critical updates and health information.
Via the portal, SBS promoted the 'stay at home' messaging, dispelled myths and deepened community understanding of key issues. The portal curates all COVID-19 content produced across our languages, in one shareable destination www.sbs.com.au/coronavirus.
As well as linking to our daily news and explainer content, the portal includes two key fact sheets, which are updated regularly by the language services as restrictions change frequently across Australia (use the language toggle at the top right of the fact sheets to change language).
sbs.com.au/language/english/what-you-must-know-about-covid-19-in-your-language
sbs.com.au/language/english/victoria-in-state-of-disaster-and-how-other-states-are-responding-to-covid-19
The Fact Sheets ensure Australia's multilingual communities feel informed and include links to other LOTE information provided by State and Federal Governments.
SBS Radio's multilingual COVID-19 website content has attracted more than 4.2 million Australian unique visitors and 8.6 million total unique visitors as at August 2020. (Source: Adobe Analytics).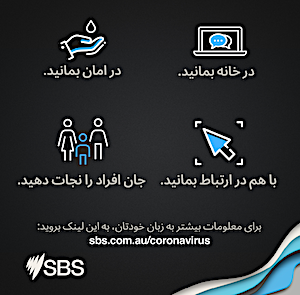 The team has also produced more than twenty infographics (example right) promoting key health messages and dispelling misinformation. These infographics have included messages about shopping safely, wearing masks, mental health, domestic violence services, coronavirus testing and so on.
SBS also worked closely with the Federal Department of Health to deliver essential health and safety messages through our 'Coronavirus Explained' videos in 59 languages. The videos have more than 700,000 views with the most viewed languages including Arabic, Vietnamese, Dinka, Persian Farsi, Cantonese, Filipino, Tamil, Nepali, Portuguese and Punjabi.
In addition, programs have been giving radio audiences direct access to in-language health experts via talkback, and have brought comfort by encouraging audiences to share moments of joy, acts of kindness, and tips for staying connected with family and friends.
SBS Radio has seen significant consumption growth over this time, including 12 million in-language audio plays and podcast downloads during the first wave in March and April. SBS Radio's work to serve communities during the pandemic was noted in a Federal Parliamentary motion on 14 May 2020.
SBS Radio is a division of SBS, internally known as Audio and Language Content (ALC) and includes more than 200 journalists and digital content producers, representing more than 100 cultures (see all the languages here).
Innovation in action
Prior to COVID-19, our ability to produce content away from the office was somewhat limited to live Outside Broadcasts and some remote field recording. With our team of journalists and producers being mostly based in the office, we were unable to support all language teams to work from home when the pandemic began.
Equipping everyone with the right technology and equipment was a major challenge, and thanks to a huge effort from our Media Systems Manager, Chris Broad, the SBS Technology team and our training team, we have implemented a number of systems enabling teams to record content and contribute to live programs from home.
We have now overcome most of the challenges across our Sydney and Melbourne centres with more than 160 journalists and producers regularly contributing content from home (Pictured right: Alan Qu, Senior Producer SBS Mandarin).
There are up to 12 hours of live radio broadcasting per day where one or more of our presenters is outside our broadcast centres.
We have a number of solutions in place to support this, including:
IPDTL – which provides us with an easy to use, high quality audio link from a presenter's computer or laptop at home, through to the studio.
Services like Webex and Zencastr which allow us to record interviews (including phone interviews) remotely.
We've implemented cloud-based file delivery to our playout system, which delivers around 250 pieces of pre-recorded content every week directly into our production system.
Through strong partnerships with local vendors we have been able to source the best audio equipment for the job, including a combination of Rode NT microphones, and Audio Technica microphone headsets.
Video conferencing and web based collaboration tools allow for effective team communication and flexible editorial planning.
We are constantly evolving our work from home technology strategy by discovering improved tools and adjusting workflows where required to meet the changing needs of our team.
---
Subscribe to the radioinfo flash briefing podcast on these platforms: Acast, Apple iTunes Podcasts, Podtail, Spotify, Google Podcasts, TuneIn, or wherever you get your podcasts.
Ask Alexa
:
'Alexa, play radioinfo flash briefing'
or
ask Google Home
:
"Hey Google. Play the latest Radioinfo flash briefing podcast."
---