In January and Feburary of this year Edison Research conducted a national telephone survey in the US, of 2001 people aged 12 and older.
Infinite Dial 2016 is the latest in a long running series of studies on consumer adoption of digital media.
The survey found smartphone ownership is up from 10% in 2009 to 76% in 2016, with the biggest growth in the 12 – 24 demographic.
Tablet ownership and Inter-Connected TV ownership is also up.
As a result of smart phone penetration the growth of streaming has increased.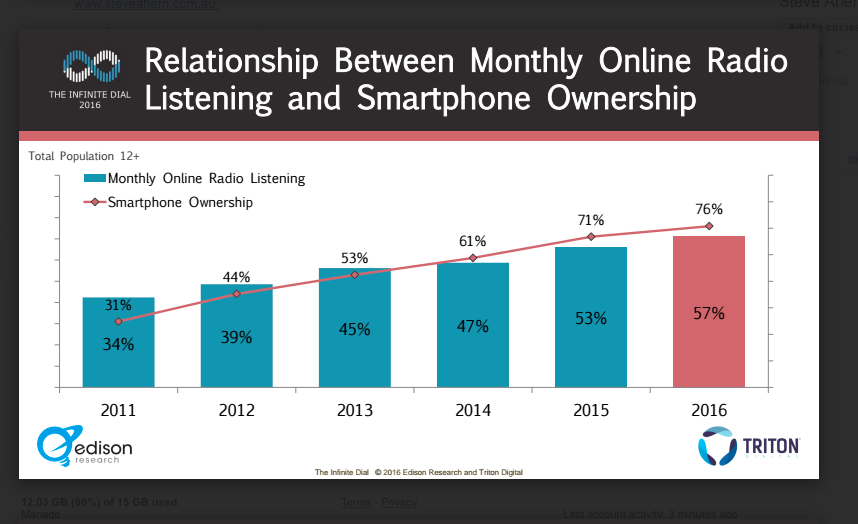 And with the number of streaming services also increasing, Pandora is now being challenged by iTunes Apple Radio.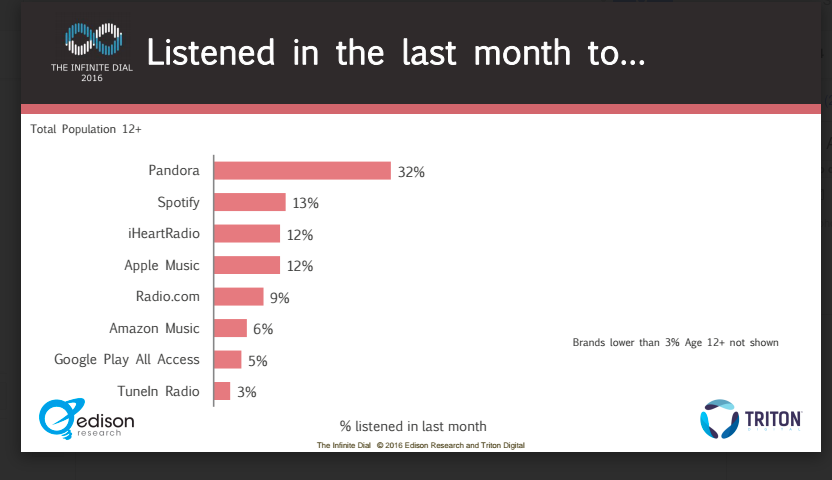 Despite the growth in digital media among consumers AM/FM Radio is still a good source of new music discovery for 68% of respondents, the same number that rely on "friends and family."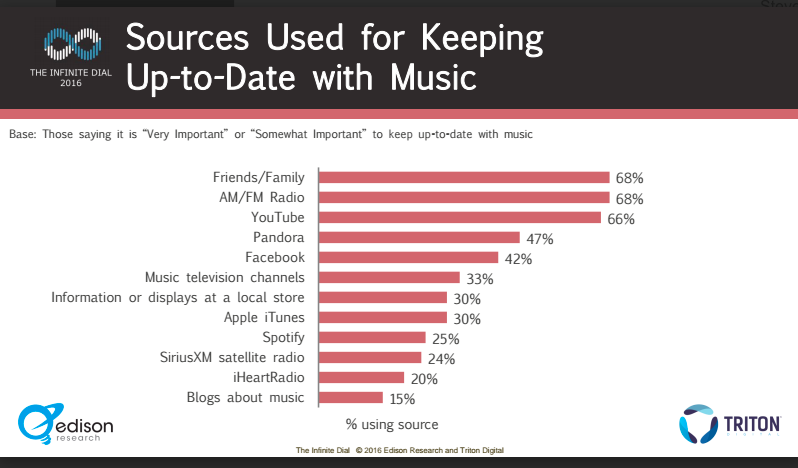 However, for kids the number one source for new music is YouTube.
Among 12-to-24s, broadcast radio falls to third (58%), behind You Tube (86%) and friends/family (74%).
Among other highlights:
Podcast Listening showed sharp gains on both a monthly basis (17% to 21%) and weekly (10% to 13%). Those who consume podcasts on a weekly basis listened to an average of five podcasts per week.
Spotify also posted a gain as "Audio Brand Used Most Often," up 10% to 14%, despite Pandora strongly with 48%.
"Media consumption is showing signs of being dramatically changed by both technology and by new paradigms," noted Tom Webster, Edison's Vice President of Strategy. "Mobile's increasing utility as 'the first screen,' as well as the rise of alternative content forms, such as podcasts and 'bingeable' content from on-demand video services is subverting the myth that our attention spans are shorter."
Click here for the full survey report.