Breakfast in the Riverina.
Carly Portch loves dogs. In fact, her morning routine before she heads to the studio is to pat her dogs.
Carly's on-air partner Dane McGuirk can even see her in 20 years living with her partner Russ on the beach with a house filled with rescue dogs that eat and live better than they do.
"Where do I start …the other night it was quite warm, her dogs sleep in her bedroom and she heard one panting (like dogs do) so she got up and fanned it at 3am?
She let one sleep in bed with her during nap time because the dog looked sad…"
Carly and Dane are the breakfast show on the Riverina's 99.7 Star FM and have been on-air together for a year and a half.
And their on-air partnership has managed to survive a car accident (of sorts).
"It happened when I was bulking up for Europe (I'm 6 foot 4 inches and a long streak of pelican poo) and I was training with her boyfriend Russ who is a PT. We were at her house and she mentioned that she was going to pop out and grab some groceries. When I arrived I parked in the driveway – like any normal person would. I heard the garage go up and the next thing I heard was a loud crack and I looked at Russ and said – I bet she's hit my car….when I went outside, she had. In her defence she says she never checks her rear view mirror because it's her garage driveway and no one ever parks there. Lesson learnt – I now park on the grass."
Russ has cropped up a couple of times so far in this story so how did he and Carly meet – walking their dogs?
"I meet my boyfriend Russ when I was working reception at a radio station. He was paying a bill for advertising and I had no idea how to write an invoice and he was so nice about it. I wasn't the best receptionist LOL!"
OK, by Carly's own admission she wasn't the best receptionist (and she doesn't check her rear vision mirror), its clear her talents lay elsewhere.
"I think I can do an Elmo impression and it could hold up in front of the real Elmo."
In fact it did.
" Dane jumped on the phone and after a few calls we were on the phone to the Sesame Street in America but what we didn't know was Elmo was doing Australian interviews at that time with big stations, so the accents were what got us through we couldn't believe how easy it was.
We got right through to being put on the phone to Elmo, we were beside ourselves, when they asked us if we were the producer for Fitzy and Wippa we were tempted to say yes but the jig was up and we came clean. The girl took pity on us and gave us a contact in Melbourne to line up an interview and since then we have had two chats with Elmo and for the record he loved my impression he said if we got Cookie Monster on the phone we could confuse him."
So if Dane can see Carly living by the beach with a heap of dogs in twenty years, where does Carly see Dane?
"Still a Broncos supporter and with an even bigger Lego collection and still giving me change when I'm short. Hopefully married with kids and raising that dog I gifted him now he has the appropriate yard."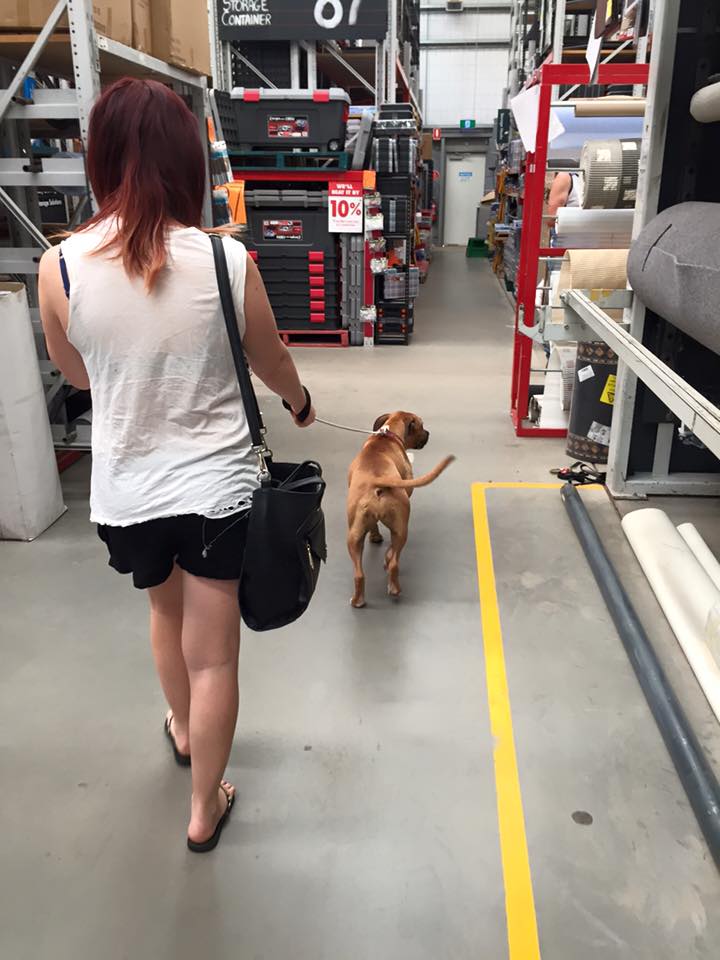 Carly taking her dog to Bunnings.