Triton Digital has released its monthly digital audio Top 20 Ranker figures for December 2018.
The data is dominated by American streaming listening, but also includes international streaming in the data we examined (we excluded Latin American data).
The ranker is a listing of the top-performing digital audio stations and networks measured by the Webcast Metrics audience measurement platform, and provides an interesting snapshot of audience habits, mainly in the US market.
According to the latest report, online listening in the US continues to show a peak listening period from around 9am until around 3.30pm each day, perhaps indicating that 'at work' and/or 'at home' listening is becoming a dominant pattern for streaming listening. It may also coincide with the growth of smart speakers at home and in the workplace, but there is no hard evidence for that theory.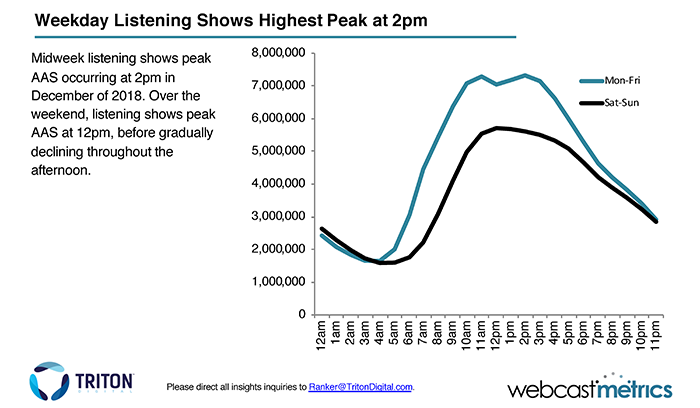 Spotify and Pandora still have most listeners with iHeart leading the radio stations, plus NPR and RADIO.COM the next best performers, but a long way behind.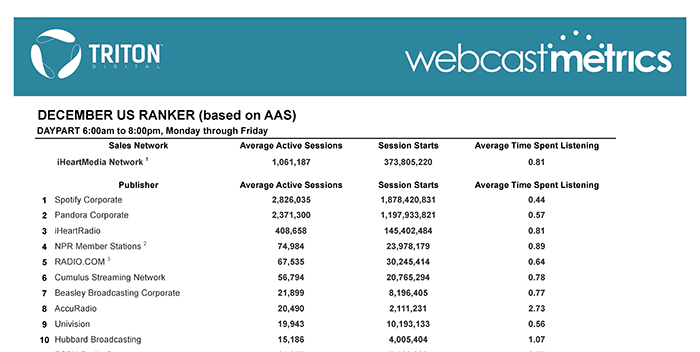 The Average Time Spent Listening for internet pioneer Kurt Hanson's AccuRadio of 2.73 hours is a long way in front of Spotify (0.44), Pandora (0.57) and iHeart (0.81).
The December stats are skewed by the Christmas holidays, where streaming Christmas music services showed a huge increase. 'Holiday' formats showed the biggest growth for December, extending their popularity from their debut in November, with the number of Average Active Sessions being 6,070,098.
In the two months before Christmas talk and sport stations showed growth as people listened more to major sports events and the various investigations of President Trump. Before that, Adult Contemporary and Urban formats were dominant. Each month's stats can be viewed here.
Rankers are divided into U.S. and International with the U.S. Ranker quantifying listening done inside the U.S. based on log-based information provided by the station, and the International Ranker merely verifies the quantity of streams without qualifying where they are being consumed.