This week in the AirCheck National Radio Airplay Chart, Kylie Minogue's new single 'Dancing' has moved up 10 places with 357 spins last week.

BayFM in Geelong spun the track the most, accounting for 32 spins.
Meghan Trainor returned to the chart with new single 'No Excuses'. The track received 308 spins, up 163 plays on last week, making it our biggest mover of the week. This is the first release from Trainor since her 2016 album 'Thank You'.
​Julia Michaels teamed up with Noah Kahan on 'Hurt Somebody' in at No.27. Michaels is best known for her smash hit 'Issues' that scored her a Grammy nomination earlier this year for Song of the Year.
Pink's 'Whatever you Want' cracked the Top 40, in at No.33. This is the fourth single from her album 'Beautiful Trauma'.
The National Radio Airplay Chart is compiled using AirCheck spins from Thursday to Wednesday each week & published every Thursday. It is the most immediate & accurate airplay of the past 7 days from all 54 commercial radio stations in Sydney, Melbourne, Brisbane, Gold Coast, Perth, Adelaide, Central Coast, Newcastle & Geelong, plus triple j, ABC Local Radio in Sydney, Melbourne, Brisbane, Adelaide & Perth, FBi Radio in Sydney and Fresh 92.7 in Adelaide. The chart is also published every week here on radioinfo and here.​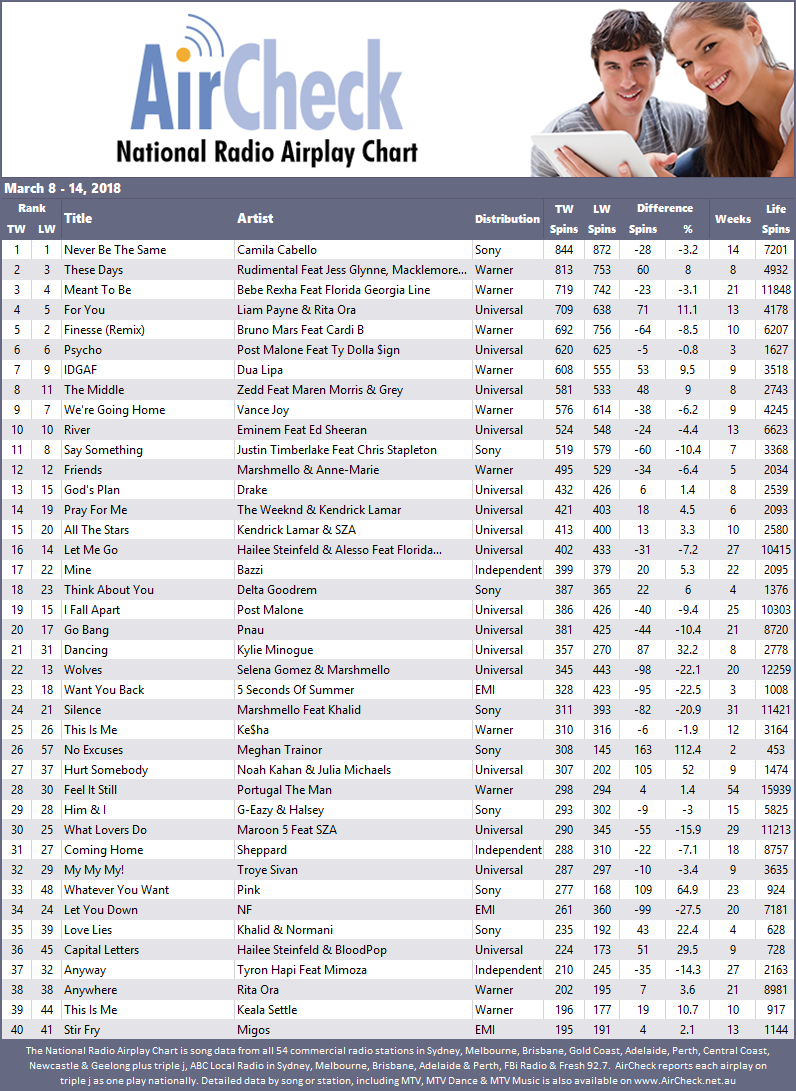 ​