Simon Baggs has had over 20 years' experience in commercial radio, and has hosted number one shows in Sydney, Melbourne and the Gold Coast.
He has launched his new course in radio and podcasting at The Audio College, and radioinfo asked Simon to for his best tips on how to make money from podcasts.

---
Ambitious podcasters come to The Audio College with the same dream: to create a successful career as content creators and be paid to do what they love.

While we're adamant that great content and loyal audiences must always come first, every student will inevitably fantasise about making money from podcasts. It's natural to imagine a time, hopefully in the not-too-distant future when your dream job delivers a dream pay packet.

There are thousands of blogs about making money from podcasts, but few of them offer concrete recommendations. We decided to make a more practical guide for our students, but whether you're learning podcast production here at the college or making your own way, this should be a great resource that you can return to as your podcast grows.
I know you're eager to start discovering ways to monetise your podcast but let's quickly address the elephant in the room.
Becoming obsessed about making money from podcasts can often be counterproductive. The order of podcast success will never change. You'll always need a great idea or angle, excellent content, good production, and a loyal audience.
So, how quickly can you start making money from podcasts? Well, if you already have a loyal following, even as few as 1,000 listeners, you should get started now. Let's begin with some of the easiest ways to monetise your podcast.

Step 1: Joining an affiliate marketing program

You send traffic to a retailer's website and they pay you a commission on sales. It's as simple as that. But it's an even sweeter deal than you might be imagining. Most affiliate programs don't just give you a commission on the product you've advertised; you get a commission on every product your listener buys while they're on the retailer's site.
So, if they clicked on a link to buy a $30 set of headphones but continued shopping and spent $500, you'll get a commission based on the whole amount.
The great thing about affiliate marketing is that it creates an opportunity for small niche podcasts, especially if your listeners tend to consume similar products. For example, a podcast about films could drive traffic to streaming services. The great thing about this kind of affiliation is that it's quite contextual. It's 'on brand' and often advantageous for the listener.
But here's the big caveat: it must be measurable. The retailer needs to be able to measure the referrals coming from your show. That means the listener must type a specific URL into a website browser or click a link on your website.
Thankfully, there are plenty of resources, tools and tricks. Sites like Lasso can help manage links and create addresses that are easy for your listeners to remember. You can add links to your podcast notes and make it clear to your listeners that you only get paid when they click on a link. If a listener loves you, they'll be happy to click their mouse a couple of extra times to make sure you're rewarded.

The most important tool in an affiliate program is your website. You need a home base that listeners can get to quickly so they can find affiliate links. It doesn't have to be an entire website but it must be a webpage that you control. For the many WordPress users out there, you can use a plugin called Thirsty to help manage your affiliate links.

Amazon is the most obvious affiliate program to use as an example but there are hundreds to choose from including programs set up specifically for podcasters like Buzzsprout's affiliate marketplace. But always remember that it's worth looking for potential partnerships based on the topics you cover in your podcast. You don't need a marketplace or network to find affiliates.

You can often go directly to a business that you believe appeals to your audience and check if they have an existing affiliate program.

The Audio College recommends affiliate programs for making money from podcasts at the beginning of your career.

Step 2: Profit from your expertise
Creating amazing audio content is your passion but you need to think outside the box when it comes to profit. Your podcasts can easily be transcribed to become in-depth blogs and guides that can build a great website audience. Again, the affiliate program we've already explained can help you profit from your website audience. But that's just one way of using your expertise to monetise podcasts.

Why not publish a book? By the time you've produced a dozen podcasts, you may already have enough content for a popular eBook. There are affordable freelance markets out there with hundreds of writers and editors who can take your recordings and turn them into a book. How you use the eBook will depend on your strategy. You can sell it, give it away as an incentive for website subscriptions, or make it an important part of a completely different strategy: the online course.
I know a thing or two about this strategy because every student at The Audio College gets a companion eBook to help them through the course curriculum. I used my 20 years of experience as a radio announcer and podcaster to write a practical introduction to podcast production.

You may be an expert on real estate, literature, board games, computer programming… it doesn't matter what your area of expertise is. The question is: will your audience pay for that expertise?

Our courses are a combination of video conferencing, closed Facebook groups and one-on-one coaching, but there are several options for creating more structured online courses including sites like Udemy.

If you want to keep it simple, also consider one-on-one coaching and consultation. Your podcast will build your authority as an expert in your field so don't be surprised when your listeners ask you to become a teacher or consultant.
Blogging, eBooks, courses, and consultation are just a few ways to cash in on your reputation as an expert.
Step 3: Crowdfunding and donations
The obvious way to monetise a podcast is to ask the listeners to pay for it. Adding a PayPal link to your website is a good start. Ask for donations at the start and end of every episode. If your audience is small but very passionate about the content, it may pay to be honest.
Given the choice between losing their favourite podcast or contributing a few bucks to keep it alive, the audience may be happy to pay.
But most podcasters will use platforms like Patreon to create a community of regular supporters who contribute monthly and often receive additional content. The great thing about Patreon is that you can set up tiered memberships that offer greater rewards to loyal supporters. The most obvious way to incentivise additional contributions is to offer more content but there are many ways to offer more. The only limit is your imagination.

The key to Patreon is creating the type of loyalty that generates superfans that want exclusive content. Use your imagination to come up with special premium packages. This can be a much faster road to earning a good income but remember that once you set up the tiered supporter packages, you need to deliver on your promise.
Setting up a method of crowdfunding is our recommendation for smaller niche podcasts that have very devoted audiences.
Step 4: Merchandise
The power of merchandise as a revenue-driver depends on the type of audience you have. For instance, if your podcast has a broader appeal rather than a niche audience, it certainly won't hurt to come up with a catchphrase or a campaign that can sell 50,000 t-shirts.
There are so many online businesses that handle printing and delivery. Cafe Pressand Custom Ink are just a couple. Right now, you can get your logo on face masks. These businesses take a cut of the profits but it's easy money. It's just a matter of getting the designs made, which is very affordable thanks to sites like Fiverr.
Merchandising is unlikely to be the backbone of your monetisation strategy but it's incredibly easy. We class it as icing on the cake, but for some podcasters, the icing could become particularly sweet.
Step 5: Paid Advertising
While we're discussing making money from podcasts, I should make one thing clear: advertisers get great results from podcasts. Whether they're building brand awareness, selling products or driving membership, sponsors profit from the close relationship you've built with your audience. Never go into a negotiation with a potential sponsor thinking they're doing you a favour.
While many of the other methods we've looked at involve technology and automation, the best way to make money from podcasts is very traditional. If you have full control of the content in your podcast, you could potentially walk down to the local shopping centre and ask a store owner if they'd be interested in sponsoring your show. Yep, it can be that easy.
At the top end of the market, it's a cutthroat business with huge brands and professional sponsorship managers, but it's important to remember that at the heart of every sponsorship is the simple proposition of advertising a business or product in exchange for payment. Of all the ways of making money from podcasting, it's the most simple to understand.
Most paid advertisements will be pre-roll ads that appear at the beginning, middle and end of a show. Pre-roll ads completely interrupt the content and give the sponsor control for the duration of the advertisement. We call this non-contextual advertising because it's not a natural part of the show content.
The cleverest contextual advertising can be just as effective as a pre-rolled advertisement, especially when the podcaster promotes products in creative ways that are either entertaining or very natural to the listener. This is a method that's worked for a century in commercial radio and there's no reason why you can't apply it to your podcast by coming up with creative ways of introducing your sponsor's products to your audience.
I would advise podcasters with smaller niche audiences to make advertising revenue from the CPA (cost per acquisition) model. Businesses measure how much it costs for an outcome (sale, registration etc) so if your podcast is responsible for that outcome, you deserve to be paid whatever it usually costs to achieve the result. This may sound similar to the affiliate programs we explained above, but when you have a sponsor, you have the ability to work together on targeted campaigns that can achieve larger results and higher profits.
A CPM model is better for podcasters with larger audiences. It's the most common form of podcast advertising. Each pre-roll ad has a set value per thousand downloads. Some of the rates can be quite sobering for podcasters in the early stages of their careers. Let's just say that you shouldn't buy any champagne until you have a realistic idea of how valuable your audience is in terms of advertising dollars.
AdvertiseCast who manage sponsorships on behalf of podcasters, have a podcast CPM calculator that can give you a quick idea of possible revenue if you're planning on making money from podcasts by featuring ads. Remember that if you handled your own sponsorships you wouldn't have to pay the 30% fee that AdvertiseCast charges for their services.

We recommend choosing paid advertising as a revenue model only if you have a large audience (ideal for the CPM model) or a medium-sized niche audience that will respond to campaigns that result in high-value outcomes (ideal for the CPA model).
Step 6: Podcast Networks
There's no doubt that joining a network forces each podcaster to consider a long list of pros and cons, but the concept is very simple: in exchange for a hefty cut of advertising revenue, networks help you promote your podcast and find sponsors who'd like to target your audience.
Most of the caveats are obvious and predictable. You won't have control over the advertising on your show, other shows on the network will be promoted on your podcast and you're likely to have to cough up 30% of any ad revenue your podcast generates.
But if you hate the business side of podcasting and would rather just focus on the content, a network could be a great option.
When you reach a point when you want to take control of your career, share less of the profit and dictate which sponsors you work with, you can leave the network. Just make sure you read all the fine print before you join. Ensure you retain copyright and future use of your content.
Podcast networks are generally interested in content that appeals to a specific demographic and in most cases, they only want podcasts that already have large followings. Just take a look at the type of shows being featured on the homepages of Midroll, PodcastOne or EarWolf and you'll see that the networks are controlling a lot of premium podcast content.

Like streaming services, it's become an incredibly competitive market. There are huge acquisitions taking place and bigger sponsors are being tempted by the massive audiences that networks are building. In my opinion, networks are a solid option for people who don't want to be gobbled up by the business of podcasting. By the time you become successful enough to be attractive to a network, you'll probably be working long hours and under quite substantial pressure. Less control and less revenue may be a sacrifice you're willing to make.
Making money from podcasts – the conclusion
When deciding how you'll monetise your podcast, the size and type of audience you have is the main consideration, but it's also a matter of how much time you want to invest in the business of podcasting. Remember that commercial success won't happen if you can't create great content and build a devoted audience. You can't have those things without focusing on content.
Work your way through our guide, introducing each method as your podcast grows in popularity. If you need to learn how to create a great podcast, The Audio College provides courses that will help you produce professional shows in just five weeks.

We'll keep this guide updated as the podcast market changes, so bookmark the page and check for new advice, tools and recommendations. We'd love to hear your feedback so please comment below and let us know which techniques are working for you. We'll incorporate the best reader feedback as we update the guide.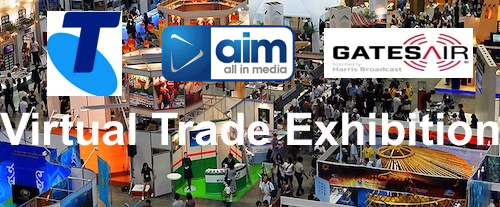 ---
Subscribe to the radioinfo podcast on these platforms: Acast, Apple iTunes Podcasts, Podtail, Spotify, Google Podcasts, TuneIn, or wherever you get your podcasts.