triple j Unearthed have announced this year's finalists for their DIY Supergroup competition.
Entrants to this year's competition flipped, cut and chopped up stems from the likes of BBNO$, Holly Humberstone, Porter Robinson, Pup, renforshort and Superorganism.
triple j Unearthed Executive Producer Tommy Faith says "We were really pleased to be able to get our mitts on some world class recording parts from some truly global, high-profile artists. But it was Australian musicians who took centre stage with immensely creative flips and twists on those sounds.
"We heard Holly Humberstone over Flume type records, BBNO$ rapping to psych rock, Pup used as hip-hop percussion and so many other wild moments. Choosing just five doesn't nearly reflect their creative diversity we saw within the competition."
This year's finalists are:
Awa Mbaye – 'BubbleWrap'
Already on the Unearthed radar after a playful pop debut in 2021, solo artist Awa Mbaye has made the most of the DIY Supergroup sample pack, with the rolling bass of Superorganism setting a strutting tone for this fun and colourful entry.
BESTIES – 'two bedroom apartment'
Providing one of this year's most daring switch ups, newly minted NSW duo BESTIES picked Holly Humberstone's gorgeously airy vocals and made an angst-ridden melodic punk duet of their own. We recommend accepting this friend request ASAP.
Dubbel Drop – 'Dubs & Rugs'
Can we confirm if Dubbel Drop are from the Paris end of Melbourne? Cos this producer duo would fit right in with French house greats like Daft Punk and Stardust. In their hands bbno$'s hedonistic bars reach a whole new peak.
Jack Gray – 'Wasted On Me'
A repeat offender in DIY Supergroup campaigns (he was featured with finalist JEFFE in 2020), this year Jack Gray's teamed with international stars Holly Humberstone, Porter Robinson and renforshort for his own makeshift bedroom-pop constellation.
Stocker – 'Rodeo'
An awkward encounter with an ex resulted in a marathon studio sesh for Stocker; 27 hours later and they emerged with an electric bop which samples nearly every artist from the stems. Out of breath but back in control, Stocker's entry is a dark, buzzy speaker-shaker.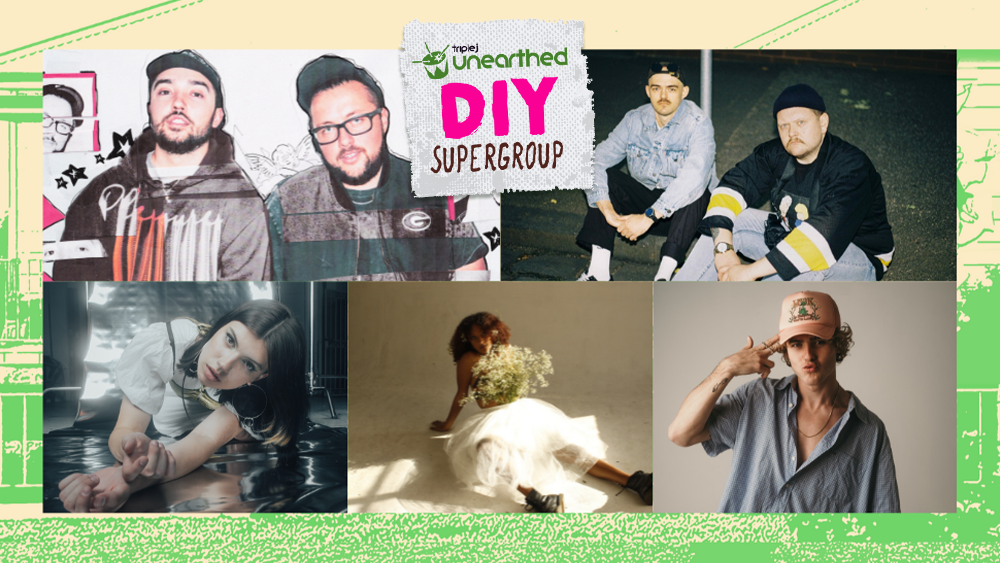 Bryce & Ebony will announce the winners next week on triple j Breakfast.