In a pre-election budget, Treasurer Josh Frydenberg has promised tax relief, small business benefits and a drop in petrol prices. And what about media?
Here are the outcomes for the broadcasting sector.
Extension of the commercial broadcasters' licence fee rebate for two more years
A $7 million increase for the ABC from government
A $6 million increase for SBS from the government
An indexation increase in CBF grants to the Community Radio sector
A $200,000 increase for AFTRS
An increase of $1 million for the National Film & Sound Archive
The figures quoted are from the portfolio statements and are raw figures that do not necessarily reflect inflation, wage increases or increased operating costs.
Commercial Radio
The Government will extend transitional support for regional commercial broadcasters by providing a rebate of the Commercial Broadcasting Tax for an additional 2 years. This change is estimated to be worth $9.5 million over 2 years to the Commercial Radio sector.
ABC
The ABC will receive $7 million more next financial year, up from $1.070 billion to $1.077 billion. The national broadcaster will be expected to increase revenue from $65 million this to $71 million next financial year through program sales, licencing and other non-commercial activities.
Increases are planned every year for the next 5 years in the ABC's five year forward outlook.
Staffing levels are expected to remain consistent next year at 4,130 employees. The ABC will spend $548 million on salaries next year, up from $527 in the current financial year.
Performance measures have been altered for the ABC, with the addition of a target of 18.3 million weekly digital users and a change to the 'trust' measurement from a raw figure of 80% trust to a relative measure, that "trust in ABC is 10% higher than Commercial TV/ Radio."
Click here for the full ABC budget statement
SBS
SBS will receive $316 million from government next financial year, up from $310 million this financial. SBS is able to accept advertising and will be expected to raise $152 million revenue from non-government sources such as advertising and program sales.
Staffing is expected to increase by about 30 people, up from 1,238 this year to 1,267 next financial with $170 million being spent on staffing costs.
SBS funding will increase each year over the next 5 years. The broadcaster is expected to broadcast at least 90% of its content on radio and tv in languages other than English.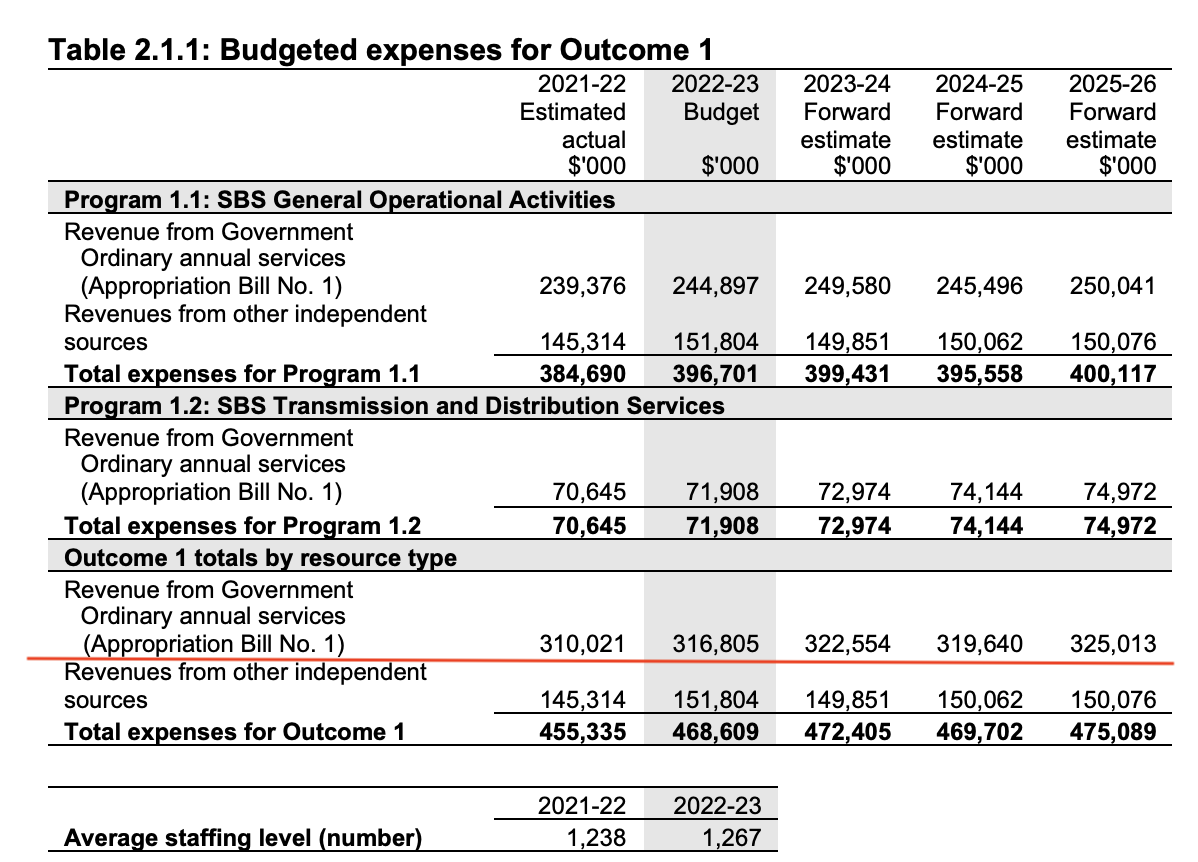 Click here for the full SBS budget statement
Community Broadcasting
Funding to the CBF from the Department of Communications, through the Community Broadcasting Program will increase slightly with indexation this year and steadily decline after that.
The funding table shows actuals of $20.149 million in the 21/22 financial year and funding in the 22/23 financial of $20.531, but looking deeper into the detail reveals that funding is keeping in line with indexation rather than being substantially increased.
CBF Chief Executive Jo Curtin has told radioinfo:
"The 2022/23 year will see a slight increase on what was anticipated and we have confirmed with the Department of Infrastructure, Transport, Regional Development and Communications that that slight increase is an adjustment to the indexation applied to the funds.
"Our expectation is that the community broadcasting sector will be seeking support in the upcoming election to maintain current funding levels at the $20m baseline beyond 2022/23 – this is the level of funds required to support the continuation of key sector development initiatives – and the sector is also seeking further investment of an additional $5m per annum to support the sector's growth and future development. The additional $5m would be distributed through the CBF's Development & Operations grants program which would support community broadcasters to enhance their impact in their local communities."
Within this portfolio of Departmental Funding is also a further allocation to Free TV for the continuation of the Australia TV Network to the Pacific, called Amplifying Australia's Voice in the Pacific
The Government will provide an additional $5.7 million in the 2022-23 financial year to Free TV Australia to continue to deliver Australian television content to broadcasters in the Pacific. This funding builds on the $17.1 million that has been provided over the three years to 2021-22 to deliver more than 1,000 hours of Australian television content each year to broadcasters in the Pacific.
Part of the Pacific Step-up, the program operates in nine participating Pacific nations, making a range of Australian commercial television content available for free-to-air broadcasting locally. This extends to Australian lifestyle programs, news, current affairs, drama, entertainment, children's and sports.
AFTRS
The Australian Film Television & Radio School's allocation from government will increase slightly form $22.7 million to $22.9 million, with staffing number to remain the same.
NFSA
The National Film and Sound Archive will receive increased funding of $1.7 million from $28.0 million to $29.7 million.