Chart Highlights – 21 March 2019
New No.1: Pink's 'Walk Me Home' ties with Mark Ronson & Miley Cyrus
Highest Gain: Ava Max up 256 spins to No.20 with 'So Am I'
New Entry: Mabel's 'Don't Call Me Up' rises 31 places to No.36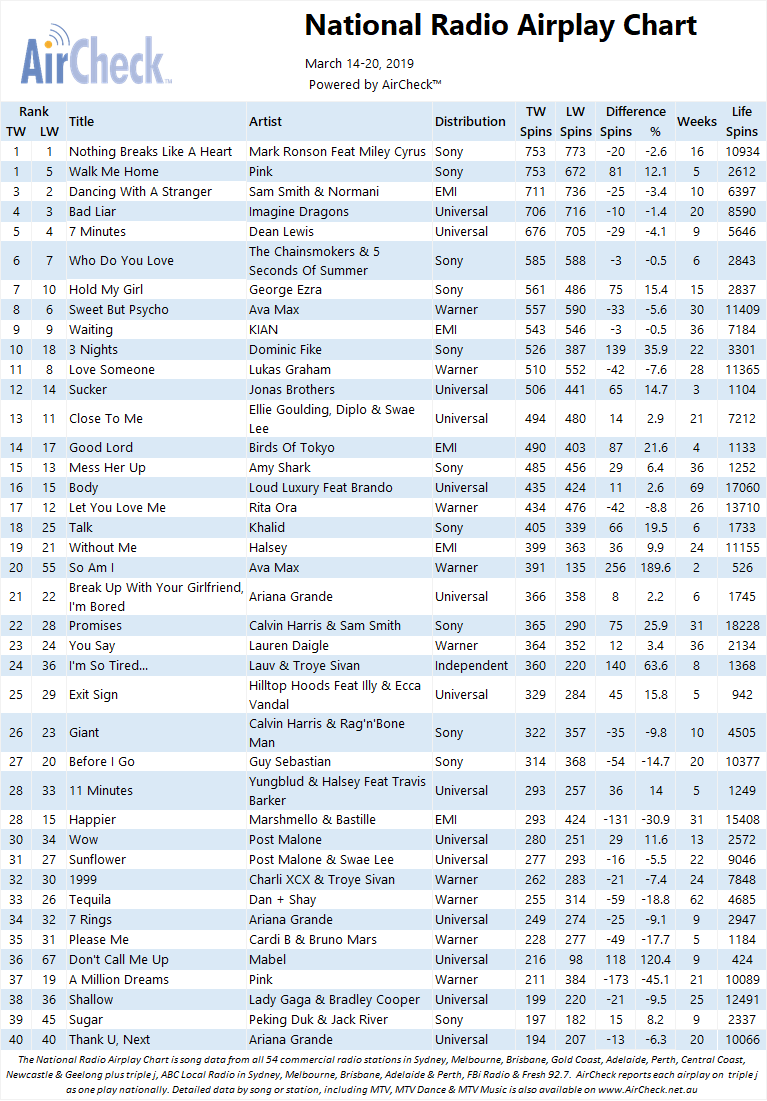 This week it was a race to No.1 ending in a tie between Pink's 'Walk Me Home' and Miley Cyrus & Mark Ronson's 'Nothing Breaks Like A Heart' both earning 753 spins on the latest AirCheck National Radio Airplay Chart.
Pink's latest release skyrocketed to No.1 in its fifth week on air after earning spins on 26 stations with Nova 1069 Brisbane spinning the track the most, adding 44 plays.
Meanwhile Miley Cyrus and Mark Ronson's dance collaboration was heard across 28 stations, securing the most spins on Melbourne's 101.9 The Fox and Geelong's KRock with 45 plays on each station.
After the success of her previous single 'Sweet But Psycho', Ava Max released 'So Am I' which reached No.20 in its second week on air gaining momentum from the Nova network last week, doubling spins from the previous 7 days.
British singer-songwriter Mabel delivered new music to the chart with 'Don't Call Me Up' in at No.36 with 216 spins. The release earned the most spins on The Edge Sydney with 40