"No matter what the platform, story-telling matters," Valerie Geller told RadioDays Europe.
James O'Brien reports that Geller was on a panel with another Valerie, Valerie Weber from a commercial music radio station based in Bavaria, Germany.
She explained how story-telling is important in mostly music radio also, not just talk. "Every song is like a short movie" she said at one point. She illustrated this by saying, her listeners had been moved by the dramatic qualities of a song by Adele which they had simply translated from English into the Bavarian dialect.
Geller also mentioned a great sounding on-air promotion they did where they asked listeners to tell them the story behind a significant bill they had to pay. For the best story, the radio station paid the bill on the listener's behalf.
Craig Bruce, Head of Content from Southern Cross Austereo, talked about the importance of developing talent in regional areas, providing them with guidance and coaching which hopefully leads a path to capital city success. He gave the example of Kyle Sandilands who worked in promotions and marketing in a number of markets, always begging to be put on air, and who then, through a series of smaller radio stations was able to be guided and coaxed until eventually achieving the level of success he now enjoys.
In developing new shows SCA content directors "Select the cast, Build the Eco System and Grow the brand" according to Craig Bruce, who says that Content Directors always have to be on the lookout for new talent.
In the midst of a lot of talk concerning technology in radio (obviously an important issue) it was great to hear people like Valerie, Sam Cavanagh (see yesterday's report) and Craig talk with such passion about the on-air talent and on-air content.
That said, technology is important, and there are lots of new platforms emerging, such as Spotify, Soundcloud and Pandora which might replace some radio stations completely, and challenge many others. The American researcher, Larry Rosin said today radio can choose to ignore Spotify and Pandora, and say "that's not radio" at its peril. He illustrated by showing how the current market value of Pandora exceeds by many times the value of many important national radio networks in the United States.
There was also a really interesting presentation at the end of the day about how a German radio station had developed a smart-TV app. One of the developers of that app noted both the Android and Apple phone app markets are close to maturity, with several hundred thousand apps in each place. By comparison, he noted the opportunities for smart-TV apps is wide open, and radio stations should try to find a home there in the space of a relatively green-field site.
---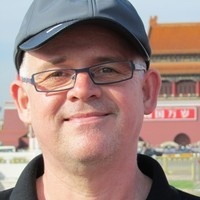 James O'Brien works for ABC Radio and travelled to RadioDays in a private capacity.
This article was originally posted on his blog and is republished with his permission.