Australia's regional radio stations pulled the plug on their live internet streams at midnight, due to a court ruling that would force them to pay an additional fee for simulcasting their broadcast audio online.

A court mandated deadline for stations to sign up to an interim agreement with the PPCA expires today. Regional stations have told radioinfo they will refuse to sign up to the PPCA's interim agreement, and instead will switch off streaming.
Commercial Radio Australia CEO Joan Warner has told radioinfo: "In a converged world, listeners want the convenience of listening to their local radio station at home, at work and in the car. Record companies now want radio stations pay for how our listeners tune in. We don't pay an extra fee when people listen on a car radio, via an FM chip in a mobile phone or via radio chip in a clock radio or hifi system but we are now faced with the prospect of paying an extra and higher fee, (if the PPCA gets the high cost scheme it is pushing as a final scheme), if listeners choose to listen to their local radio station online.
"Exact online simulcasts themselves do not attract additional revenue. Not only would the PPCA's preferred final scheme impose a second and higher fee, it would require local radio businesses to incur significant financial costs to put in place the sophisticated system needed to perform complex calculations to report on PPCA's proposed scheme."
The radio industry maintains the internet is simply another distribution mechanism for live and local free to air content, as are analogue radios, DAB+ digital radios, car radios and FM radios in mobile phones. As the PPCA fees are already based on a % of gross revenue earned by commercial radio stations, this insistence on a second higher fee long term is more than double dipping and threatens the continuation of listeners being able to access their local stations online when it suits them.
All radio stations, including the ABC, SBS, community radio and commercial radio already pay record companies each time they play an Australian song on radio. The Phonographic Performance Company of Australia (PPCA) representing, in the main, the multinational record companies is demanding the radio industry pay twice – a payment for music when heard on radio and a second proposed higher payment for the same music played at exactly the same time when it is simulcast on the internet – which means exactly the same content will be levied multiple times.
Metro stations will continue to stream for the time being, but will reconsider their position on a weekly basis, as the situation develops.
As a result of this action, more than 200 local regional radio stations will not simulcast their local station. As the plug is progressively being pulled this afternoon, stations are sending messages such as this one to listeners who attempt to hear the broadcasts online.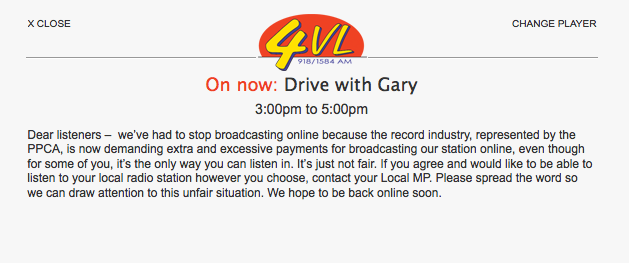 Stations are concerned that the PPCA's action through the Copyright Tribunal is just the thin end of the wedge. The PPCA has been successful in imposing an 'interim scheme' on commercial radio stations while it continues its legal pursuit of a high cost scheme for songs played on the internet.

Under the interim scheme, broadcasters were ordered by the Copyright Tribunal to apply for an interim simulcast licence by 31 January to enable them to continue what they have been doing for the last 10 years. However, should the PPCA be successful in having the Tribunal endorse their preferred high cost scheme, radio broadcasters are concerned that simulcast fees may be back dated to the start of the interim licence and the financial liability amassed by radio stations would be cost prohibitive, particularly for regional stations.
Those following the legal battle between the commercial radio industry and the record company representative body PPCA, will recall that an initial court decision determined streaming was simply an extension of transmission, and therefore radio stations did not have to pay any more to stream their broadcasts online. See our report on that decision from 2012 here.

But the PPCA appealed that decision and won, resulting in an additional fee being required from radio stations. See our reporting here and here.

Last year Grant Broadcasters switched off audio streaming from all its stations, with Grant Broadcasters Director Dugald Cameron telling radioinfo, "I see it as a necessity as a result of the record industry's ridiculous claims… it would certainly make any streaming or simulcasting radio unviable."

At CRA's national radio conference last year network owners criticised the requirement to pay extra to simulcast their broadcasts online.