Comment by Jen Seyderhelm
Kyle is single again. So apparently is the whole KIIS Breakfast crew, including Intern Pete.
Kate Ritchie's relationship is going through the media wringer.
I cried buckets listening to Robin Bailey say farewell to her Triple M listeners in Brisbane to spend as much time as she could with her terminally ill husband Sean Pickwell and was so proud of Ben Fordham for prioritising time with his Dad over his Drive Program on 2GB.
Both Robin and Ben got far less time with their loved ones than either would have hoped for after their respective announcements.
Let me ask you the question I feel is as important as "RUOK?" How is YOUR relationship going? With your spouse/partner/kids/parents? How are things going at home? Work is never more important than your home life, and love.
I met my husband when I was nine years old. One day, in the music room of my primary school he sent me a note asking me if I would go out with him – tick the box – yes/no. He liked me because of how my knees locked when I was standing. Plus, I looked like Punky Brewster (still do). Several years later we saw each other at a seedy nightclub in North Sydney. I was (literally) between boyfriends. He'd been dared to ask someone out, having relatively recently ended a serious relationship. I could spell and say his last name, which impressed him. Good thing too as I have to spell and say it now on an almost daily basis.
We had a quickie wedding two and a half years later. Not because I was pregnant, but because he wanted to go to the UK to get into the Games industry and I couldn't work there freely unless we were married. We've moved 14 times. Created two boys. I've been with him half my life. Our story is cool. We could be on the Amazon Prime show Modern Love.
Okay. Now reread the above. You know nothing, really, about this man from my story. I could be married to Billy the One-Eyed Goat for all you know. No, seriously, Billy's just a friend. I had a couple of friends over this week. Hubby isn't home. He's in Peru (as you do). Neither women have ever met him. One asked WHY he was in Peru. I gave the spiel and then said, for reasons I can't pinpoint, "He's a very interesting man." My friend said, "Well, he must be to be married to someone as colourful as you." It was almost like we were talking about why I'd selected my orange couch; rather than my husband of 18 years.
That's been my choice though.
Initially I didn't talk about him on air because I was superstitious that if I talked about him, we'd break up, like all the women who won Oscars used to. Then I worried what I might say something to upset him with my often spontaneous candour. How many jobs can you think of where someone could come up to your partner and say, "Did you hear what your wife said about you today? We all heard it, in the office, how you have a thing for armpits." Hubby doesn't by the way. Just needed an example.
When I was teaching earlier this year I actually articulated WHY he remains safely in plastic at the rear of the closet at home (again a metaphor people) and I only bring him out for special occasions. I'm Classic Hits now. They're all Hot AC. My stories of packing lunches, making sure my children dress appropriately, kissing their wounds better and excursions to the zoo have no resonance with them, yet. They wouldn't listen to my station.
Here's my truth about my hubby:
He's a good man
He's a great Dad
He's far better than I deserve.

I have some friends who might contradict me on number three (possibly not though….) but after half my life spent with this person, he's the one thing I have the most experience of. I'm punching far above my weight. We don't have family nearby and babysitting is expensive. When hubby and I do go out, we try to make it something just for us. Due to the need for one of us to be with our children, we do stuff solo, often. I love going to gigs and shows. Hubby likes Warhammer. I also like being an entity separate to my family, and honestly, few people ask me about us and him. I'm glad for the privacy, but he deserves this shout out because he has supported me through more than anyone else knows.
Not long ago, my friend of 30 years told me that she was thinking of leaving her husband. I'd not seen this coming. The next conversation we had was when she was in hospital and an AVO had been taken out against him. She's one of my closest friends, but I hadn't asked about him. Them. While we in the media have a right to privacy around our personal relationships, I also hope that those whose private lives are on open display have safe people they do feel able to honestly debrief with, without it making the front of Woman's Day the following week.
Being a radio announcer can be very therapeutic during times of relationship stress as you are forced to put your best foot forward. It's even better if your co-host (if you have one) knows your "stuff" and as a result doesn't push certain buttons when they are likely to most affect you. I am fortunate to have a couple of radio mates like that. They hold some of my secrets and I theirs. You need these people in our industry.
I wonder if you might take a chance and ask someone you work with not just how they are, but how their partner is? Their kids? How're things at home? It feels mighty confrontational, doesn't it?
I can attest to the mental health benefits of both being given the keys and sharing the vault.
On the subject of choosing what matters most in life, warmest hugs and appreciation to Gus Worland. Gus just left the radio station and show he loves to prioritise his Gotcha For Life Foundation and other projects. Don't know it? https://www.gotcha4life.org/. Nothing is more important than our loved ones and relationships.
About the author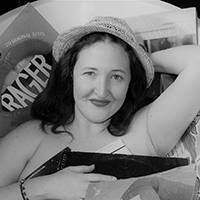 Jen Seyderhelm is a radio announcer, producer, news reader, lecturer, Rockwiz victor and podcaster.
Her podcast, 20/40, celebrates friendship and conversation between two women with a 20-year age gap. In her spare time, Jen does stand up comedy, is writing her first book, and posts music trivia around her vast collection of vinyl singles daily, online.