Geoff Brown leads a tough life: profile by Keith McGowan
On Geoff Brown's Facebook page he lists his occupation as "Janitor BayFM99.3". What he doesn't tell us is that he's also the Owner, Program Manager, Publicist and everything else you have to be when you own a small Radio Station.
One area "Brownie" doesn't touch is Sales, as he leaves that to his Sales Manager Jeannie whom he says "is doing a great job filling our schedules with local and national and even Government bookings."
Jeannie also figures as Geoff Brown's wife and Mother of his musician son Rohan. The two met when both worked at 3MP in the late 70's. In 2001 the Browns purchased the Narrow-cast radio station at Nelson Bay in the Port Stephens region about an hour North of Newcastle.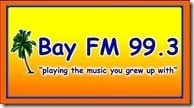 With a potential audience of near 30,000 the population doubles at holiday time. A decade down the track BayFM has a proven "Golden Oldies" format with seasoned veterans like Gary Newton, Rod Pointer and Graham Webb presenting programs. "I'm a big believer in Gold music," says Geoff, "I learned the importance of Gold Music from Ray Bean who of course played 50% Gold in those great days at 3MP."
Geoff Brown was born in Sydney and educated at Kingsgrove North High where he says he was, "a pretty average student specializing in nothing in particular."
As a child Geoff had a speech impediment which was corrected after three years by an Education Department therapist. The young lad and his Mother had to travel 45 minutes to and from by bus for each session.
Whilst still at High School, Geoff spent hours listening to the radio and programs conducted by Bob Rogers, Howard Craven, Tony Withers and others and it was then that Geoff knew he wanted to be a broadcaster. In 1968 aged 17 "Brownie" left school and got a job at 2GB as an office boy. Geoff recalls "I rang 2GB and spoke with a lady named Pat Halliday and I asked her how do I get started in radio, she said come in, so I did and she gave me a job."
"At 2GB then were Gordon Chatter and Gwen Plum, Andrea, John Pierce, Barry Eaton and Alan Toohey, great broadcasters all of them," Geoff remembers.
Whilst running messages at 2GB, Geoff took announcing lessons from Bryson Taylor and within a few months was doing nights on 2MG Mudgee a gig that lasted 12 weeks. At 2LT Lithgow, his next station, it lasted only six weeks. "I didn't like Lithgow and applied to go back to 2GB where I became a panel operator at the same time as Graham Mott who until recently ran the Fairfax Media Radio Division."
In 1971 and now at 2KY Geoff's numbers came up for National Service. He says, "they put me into radio signalling and I quite enjoyed that, but when I came out of Nasho's in 1973 a job was still there for me at 2KY but not as a panel operator. And that's when I went to 2KA Katoomba as part of the Rod Muir/Digamae team as Production Manager."
After a couple of years in the cold and fog of the Blue Mountains Geoff joined the staff of John Laws who was then at 2UW. Of John Laws Geoff Brown says "He was the master, I learned from him everyday, he showed me how to do things and he was terrific to work for."
In 1975 Geoff was asked to join 2UW in Promotions and Production where he worked closely with then Program Manager Ray Bean. When Bean was hired to set up 3MP in Frankston he asked Geoff to join him in the task. Brown went to Melbourne in March 76 and in July of that year Bay City Radio was on the air. Geoff says "It was all so exciting, I walked into the place and it was a concrete slab and some trestle tables, and the day we finally went to air, and the success we enjoyed, you could never forget being a part of it."
After two years in Melbourne Geoff was making his mark and was head-hunted by 3KZ to be their Program Manager where he introduced his Gold format. After a short while, as they can do in this industry things soured at 3KZ and following a management change Brown was back in Sydney and at 2GB where he had the job of launching "Newstalk" a momentous ratings failure causing Geoff to return to Victoria and 3GL in that state's second largest city, Geelong.
Pictured, (L-R) Geoff Brown. PD Gar Newton. Reg Gray (Manager). Terry Tayler Manager.
Today Geoff says, "The three years between 1980 and 1983 were wonderful and I look back on 3GL as my favourite radio station." As Program Manager he remembers "I loved every day of it, we had a great team of guys, there was Rick Ditchburn (now at Magic), Gary Newton, Rod Pointer and Don Dwyer and others, and I started to support the Geelong Cats in the AFL too," Geoff says.
Returning to New South Wales there was a brief period operating his own recording/production studio, then in 1985 2WL Wollongong and three years later moving to Canberra for Macquarie to manage 2CA and oversee the launch of FM104.7.
Geoff Brown is very involved in his radio station's local area having been on a number of committees and action groups. He stood for council at the recent elections and narrowly missed out. I asked him if he planned on standing again, "It's something you do only once," he said. Which made me wonder why you would do it at all as Geoff and Jeannie Brown have a to-be-envied lifestyle in a very desirable part of the Northern Coast. And he owns his own Radio Station, haven't we all dreamt of that ?
Keith McGowan