Mix 106.3 has consolidated its lead in the latest GfK Survey for Canberra, remaining unchanged on 20.6.
In the second survey for this year hit104.7 shed 3.7 to be down to 13.9 overall, but still in second place and just ahead of ABC Canberra (12.6) and triple j (9.6).
2CA improved slightly, up 1.1 to 7.1, with 2CC also gaining audience, up 1.2 to 5.9.
Canberra FM Radio General Manager, Craig L. W. Wagstaff, says, "To again see MIX106.3 and HIT104.7 as #1 and #2 AND have – by far – more listeners than any other station in the Canberra region is certainly pleasing and rewarding for our entire team, all of whom play a specific part in these results and all of whom enthusiastically dedicate themselves to their work.
"Our stations being atop various measures is, of course, something we remain humbled by, particularly amid a survey period with market distractions and a Federal Election, though today's strong results also serve as another great reminder for us to remain sincerely appreciative of the significant support we receive from the audience, our community, the many commercial partners who entrust us with their brands and the not-for-profit sector to whom we feel a genuine obligation to continue to try and highlight."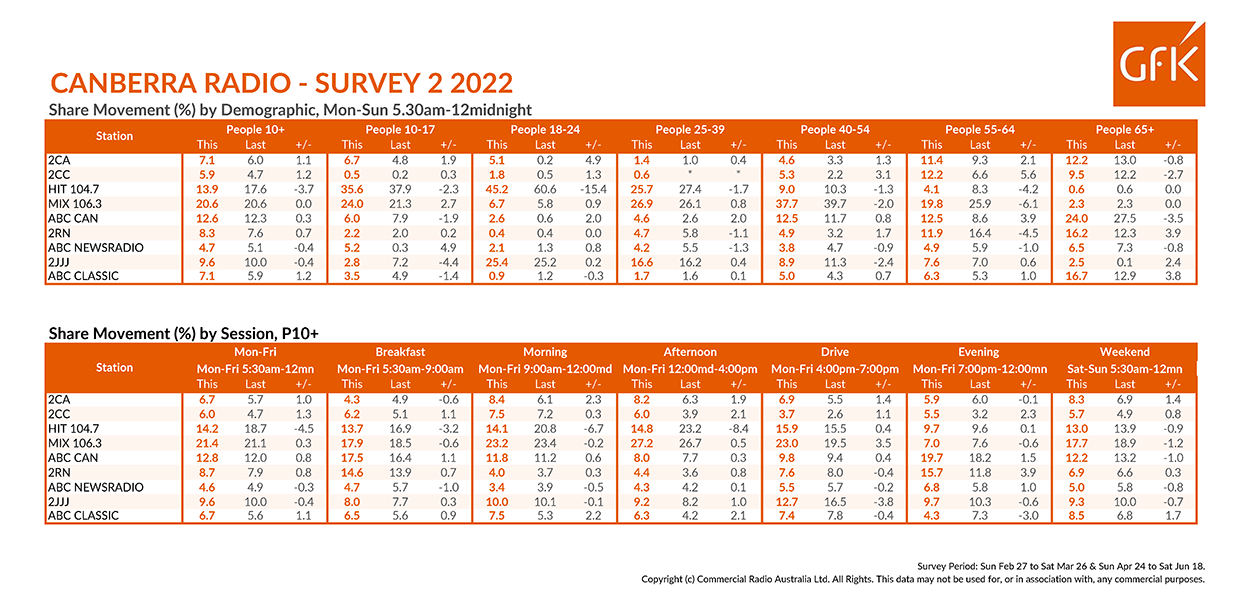 Breakfast is a much tighter race with Kristen & Nige (Mix) dropping slightly to 17.9 and Lish Fejer (ABC) gaining 1.1 to be within striking distance on 17.5.
Ned & Josh (hit104.7) dropped 3.2 to be down to 13.7.
Pictured Kristen & Nige
THE SPIN