Opinion from Peter Saxon –
As the winter of our discontent is made glorious summer outside the hallowed halls of Commercial Radio and Audio (CRA), inside, the atmosphere in the CRA board room at the next meeting of directors is likely to be decidedly frosty.
If the CRA meeting goes ahead at all, it will probably be the first time that the CEOs of both ARN and SCA will be in the same room since the startling news of ARN's proposed takeover of SCA was made public less than two weeks ago.
At the head of the table sits current Chairman of the CRA board, ARN CEO Ciaran Davis. Down-table from him is SCA's CEO John Kelly who was the CFO of that company until recently before being elevated to the top job following the departure of Grant Blackley.
Those on the board that represent the rest of the major commercial networks can do little more than pass the popcorn as the two biggest titans in the sector jockey for position in what's shaping up tp be the biggest shake-up in Australian radio history.
Current CRA Board of Directors – Pic CRA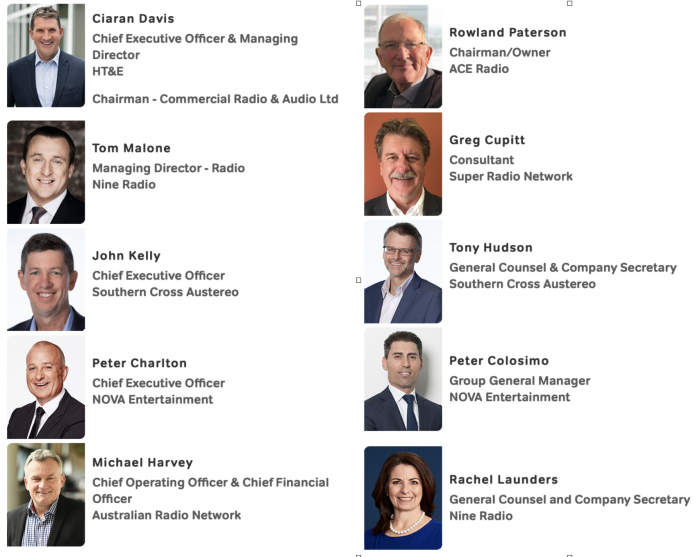 By definition, publicly traded companies are always for sale. Their shares are traded in small batches every day. However, if you bid for enough shares (51%) to give you a controlling interest, then a formal offer must first be made to the target company's board of directors who must then decide whether or not to recommend the offer to their shareholders.
In this instance, as a broadcaster, ARN could only own up to 14.9% of its nearest rival. With 15% or more, it would be obliged by law to make an offer for a controlling interest.
Although there had been some muted gossip surrounding such a move, and SCA management must have twigged to something going on when ARN purchased 14.8% of SCA around $38 mil, last June, they seemed to be taken by surprise when ARN's bid for 100% , which could fairly be described as "hostile," landed on Mr Kelly's desk.
It was the corporate equivalent of a ransom note – somewhat more complex than 'leave the money in small denominations in a brown paper bag or the dame gets it' but not dissimilar in intent, only using more polite language (instead of Ransom Note, they use the more gentile: Indicative Proposal). Also allowed is time for due diligence and contact with the proper authorities to clear any legal hurdles – and, of course, there's an actual offer from the would-be kidnappers that, unlike one from Don Corleone in The Godfather, can be refused but will no doubt cause many sleepless nights for those in the protagonists C-Suite and many on staff until the issue is resolved one way or another.
Mr Kelly's immediate response to ARN's offer was to issue a statement in which he confirmed that Southern Cross Media Group Limited had received the proposal.
He also confirmed that the proposal was "unsolicited, complex, and highly conditional."
"The Indicative Proposal is subject to the unanimous recommendation of the SCA Board, due diligence, shareholder and regulatory approvals from both the ACCC and ACMA, and other terms and conditions," the statement reads.
"The Board of SCA will consider the Indicative Proposal and has appointed Grant Samuel as its financial adviser and Corrs Chambers Westgarth as its legal adviser to help assess the Indicative Proposal. SCA will update shareholders as required."
Bidding to take over a company is not the same as bidding for a house at auction which tends to occur when the owner decides they wish to sell. ASX listed company auctions work the other way around. They start with a buyer making an offer. And unlike house auctions where there are usually several would-be buyers on auction day, competing to be the highest bidder when the hammer falls, for SCA, the only bid on the table, for now, is from ARN.
Before the SCA board can make any recommendation to their shareholders they are duty bound to ensure that they are presenting the best offer available. That means trying to find other entities that are willing and able to enter a bidding war with ARN.
But ARN seems to be determined to get its way. After all, if it misses out on buying this property, it's not like there's another similar FM Music network with a huge complementary regional network down the street. Nor is there another similar asset likely to come up for auction in the near future.
So, what is this bid from ARN all about? And why SCA?
At this stage, I should mention that I reached out to SCA's John Kelly and ARN's Ciaran Davis both of whom declined to comment – understandable as this remains mostly a matter for their respective board members, shareholders and the aforementioned regulatory bodies until resolved.
I have, however, discussed this with a number of highly regarded former network CEO's and other senior executives to try to make sense of what this audacious proposal from ARN might be about. But I warn that what follows is mostly conjecture. Which is not to say it's untrue. It's not necessarily true, just yet.
In a word, it's about SCALE. You either grow or go home.
The real opportunities in scale are not so much in broadcast radio in the metro markets, which we'll get to later, or even owning the regions – although there's a solid revenue case for that. The real need is to defend against and compete with the likes of Spotify, Apple Music, Amazon's Audible in the burgeoning streaming and podcasting sectors. Even Meta has developed an audio component for Facebook.
The intent is also to take full advantage of AI and other technological developments and the economies of scale they bring.
For ARN, there are two irresistible morsels of meat within the SCA pie. One is LiSTNR, the other is the Triple M brand.
One senior ex-employee who worked at ARN for over a decade told me that Mr Davis had "coveted the Triple M brand since 2010." Mr Davis likely felt that the KIIS and Triple M brands together had more strength and chance of fulfilling ARN's stated goal of owning the number one and number two FM stations in Sydney and Melbourne. Then why not Brisbane, Adelaide and Perth too?
LiSTNR is indeed an Aussie triumph of digital engineering lauded and awarded around the world for its tactile audio platform. And it has in a short time amassed a deep library of engaging content. Which makes it ripe for a buyout from the likes of the big international streamers previously listed. Enter ARN and its affiliation with U.S. giant iHeart. The possibilities are immense.
Tomorrow, we'll discuss the Kyle and Jackie O factor as well as some other pros and cons.
Peter Saxon – Managing Editor