Comment from Jen Seyderhelm
Ed Sheeran turned 30 in February. He's been in the music industry for near two decades. Most would identify him as a pop star, but he's crossed over from rap to country. Plus, he acts, owns a record label and a bar.
Heading towards his fifth album release, =, which comes out in October, I've been waiting for the Sheeran bubble to burst. Similarly with podcasting. Both now are global phenomena, with some hits, bad habits and different visiting hours.
As this radio page moves to embrace podcasting further, I want to celebrate this audio confessional tool, motivator, healer, immersive experience and conversational door opener. I think they (podcasts – not Ed Sheeran, although he's helped) have saved radio.
The radio ratings last week were an interesting reflection on how, as the pandemic shut us down again, listeners turned (slightly) from entertainment to information. The ABC, which is allowed to explore people and topics in depth, flourished. Community radio, experiencing a great resurgence since the 2019/2020 bushfires, is not only now competing with the commercials but rating highly as a trusted resource. People are turning back toward radio, and podcasts are a part of that decision.
I currently work with my feet in both camps. The point at which they overlap I find fascinating.
Recently I recorded a podcast episode, which also was filmed. Sue, my guest, is a poet, writer and critic, who initially spoke to the microphone and not me. After a while I deliberately moved off topic to the birdlife in her garden. It was like the lights turned on. From there Sue talked (and I listened) freely. Later, she experienced a powerful emotional breakdown, the likes of which I've witnessed before only in conversations without a set time limit.
A couple of days later Sue wrote to me, as I knew she would, asking whether she could redo the emotional part and replace it with a composed version. I said no, knowing full well that if we went back and did it again the magic and authenticity of the first time would be erased.
With most of the wonderful, interesting, intelligent, funny, real people I've had the pleasure of doing a long format podcast interview with, when you've put the investment into getting to know them, a later quick and zippy breakfast radio four minute version, is a breeze. Once the trust is there, prior explanations and clearly defined boundaries are no longer required.
Recently I did an interview with psychologist, social researcher and author of The Kindness Revolution, Hugh Mackay. Hugh described listening as the most powerful act of kindness we can perform, saying the deepest social need we have as humans is to be listened to, taken seriously, understood and appreciated.
The assumption amongst those outside our broadcast industry is that we are talkers, not listeners. The latter is equally important – radio teams supporting each other's voices and announcers focusing on the moment they are in, rather than preplanning in their head their next question or answer. Talk breaks have become prerecorded, shows done in advance and syndicated and opportunities to interact shortened to the point where the "real chat" time lasts less than 30 seconds. Some delight in our audiences being unaware of this, but people know when you're not really talking to them anymore; or listening.
In 2019 Australia experienced fire, flood, then later, ongoing pandemic. These crises drove radio listeners to seek answers, relief, understanding and connection through other mediums. Radio also lost, during lockdowns, the captive audience that were people travelling to and from destinations via their vehicles.
Businesses, small, large, community, Government and educational were forced to pivot, another buzz word of our current times. I have helped facilitate podcasts for all the above, as well as individuals with unexpected free time to explore their hobbies, passions and themselves.
Radio stations and identities also bought into the boom, with catch up podcasts, investigative and informative varieties (Coronacast being a fine example), news, sports and mass of personality driven shows. There's podcasts taking the mickey out of the industry itself, and interview versions galore. Networks quickly cottoned on that you could play the format four-minute celeb chat on air then drive listeners to socials to hear the extra secret additional podcast part where a hither to unknown salacious detail would be revealed.
Now the music industry is buying in. Literally, with Spotify offering us the Anchor platform, which is currently free, and Spotify creators having a subscription option, which doesn't have to be. For me, we reached the peak of podcasting when Barack Obama and Bruce Springsteen teamed up to use this new platform to create the Renegades podcast. You can go no higher than a leader of the free world and the boss!
I've just read this article about a caller Mark, who rang into Raf Epstein's ABC Drive Show in Melbourne. The power of that piece of audio is its immediacy and authenticity. As a radio announcer I felt for Raf as I too balance my station's and own generally positive attitudes, with the very real fears for the future that this pandemic has gifted us. Then there's the actual time that can be given to Mark while still conforming to network formats. We simply can't appropriately listen and respond.
Podcasts allow us that time. They're also still largely free to access and on literally any topic you can imagine. You can listen alone to a subject that makes you feel less so or interact amongst your tribe.
Which brings me back to Ed Sheeran, who doesn't have a podcast of his own (yet) but has been a featured guest on many. When will we get sick of Ed, or hearing Barack and Bruce's opinions on masculinity or my work colleague's podcast about raising chickens or that Jen Seyderhelm and her generational chats?
The answer is not yet.
Definitely not while the pandemic and lockdown continue. Probably not when we emerge to a new normal and maybe never if radio, music and podcasts can find interesting and innovative ways to collaborate ongoing.
All of us just need to keep listening.
---
About the author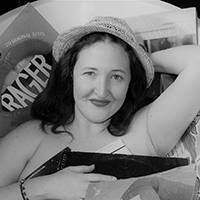 Jen Seyderhelm is an announcer, podcaster, producer, writer, news reader and music historian.
She's Breakfast co-host at 2CA in Canberra.
Jen's podcast, 20/40, celebrates friendship and connection between two women with a 20-year age gap. She is taken her podcast, teaching and storytelling skills on the road as part of an exciting national conversation project.
Read more at: https://radioinfo.com.au/news/theres-no-such-thing-impartiality/ © RadioInfo Australia