It's business as usual on this month's Australian Podcast Ranker, the 50th released by Commercial Radio and Audio (CRA). LiSTNR's Hamish and Andy was No 1 for a record 22nd time. Mamamia and Mia Freedman's No Filter was the only new entry in the top 10, up four places to 9th. Hamish and Andy had nearly a million listeners and Casefile True Crime (2nd) had the most (2,377,637) downloads.
CRA CEO Ford Ennals said of the growth of Australia's podcast listening:
"The fast growth of the Australian Podcast Ranker is proof of the immense popularity of podcasts in Australia – in fact, our podcast audience is bigger than that of the US, with 43% of Australians listening to podcasts each month*," Mr Ennals said.
"The Ranker also shows how much we love Australian-made content, which takes out 9 spots in the top 10 for October.
"After 50 Rankers, there are just five titles that have reached number one – Casefile True Crime, The Kyle and Jackie O Show, Stuff You Should Know, AFL Trade Radio, and Hamish & Andy. In fact, Hamish and Andy are in first place when it comes to placing first, reaching #1 22 times as of October 2023."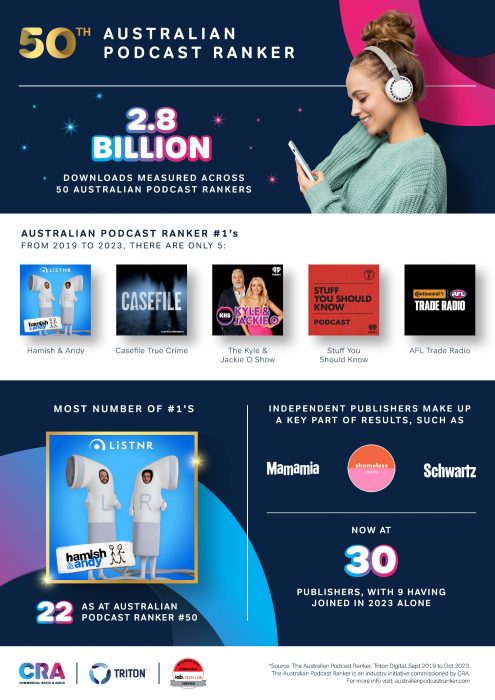 LiSTNR's 7am as the highest ranked news podcast (8th). They continue to be the largest podcast sales network and have three new podcasts debut; Murder in Apt. 12 at no. 60, The Grade Cricketer at no. 62 building on the current one day Cricket World Cup being held in India, and Red Hot Pod at no. 83.
SCA Executive Head LiSTNR Podcasts, Grant Tothill, said:
"As Commercial Radio & Audio (CRA) celebrates the 50th Podcast Ranker, we are delighted to be a part of the growing podcast industry in Australia. To have Hamish & Andy achieve 22 number ones is simply outstanding. We have enjoyed continued growth across our owned and operated podcast titles along with our partner titles. To be the leading podcast sales network is a great outcome."
There are a few other interesting details in this ranker.
The highest debut, at 14, is Hamish and Andy's Hamish Blake's podcast How Other Dad's Dad. It's not connected to LiSTNR, released by HODD Media (presumably connected to Blake) and sponsored by Hertz for its second season. That this podcast had 250K listeners last month still says there is space for independent podcasts with a recognised and trusted name hosting.
There were significant drops for the Marty Sheargold podcast, as Sheargold takes personal leave from his Triple M show and for SEN Breakfast now the AFL season is over. AFL Trade Radio however, also published by SEN, whose listeners are already thinking about season 2024, returned to the ranker at 46.
TED Talks Daily debuted at 53. We received a "free listen" option to this through an Audible subscription, despite it being published through ARN and iHeart. We liked it and see how the "freebie" contributed to the debut.
Lastly, what I consider Australia's most successful podcast, The Teacher's Pet, yet again surged up the ranker (no. 47, up 20, 267K monthly downloads) off the back of host Hedley Thomas's book of the same name. It has had 60 million downloads as of August 2022. I imagine it must be nearing 100 million now.