Edison Research has asked 1,000 podcast Super Listeners to take part in their latest survey on listener trends and preferences.
They define a Super Listener as someone who listens to podcasts for at least 5 hours per week, and in this latest survey conducted in November 2021, data was weighted by age, sex, and race to reflect the demographics of weekly podcast listeners as found in the Infinite Dial.
The survey is dominated by men (57%) with a fairly even spread across three age groups with 25-35s listening most (27%) from 35-44s (24%) and 45-54's (20%).
94% of the respondents already have a subscription to any internet-only television streaming service such as Netflix, Amazon Prime Video, or Hulu, any premium cable channels such as HBO or Showtime, or any live TV streaming service such as Sling TV, DirectTV Now, Hulu With Live TV, or YouTube TV.
76% have audio subscriptions to any paid internet-only music streaming service such as Pandora Premium or Spotify, any audiobook service such as Audible or to SiriusXM Satellite Radio, and the main reason they have a subscription to an audio provider is for more control over their listening content.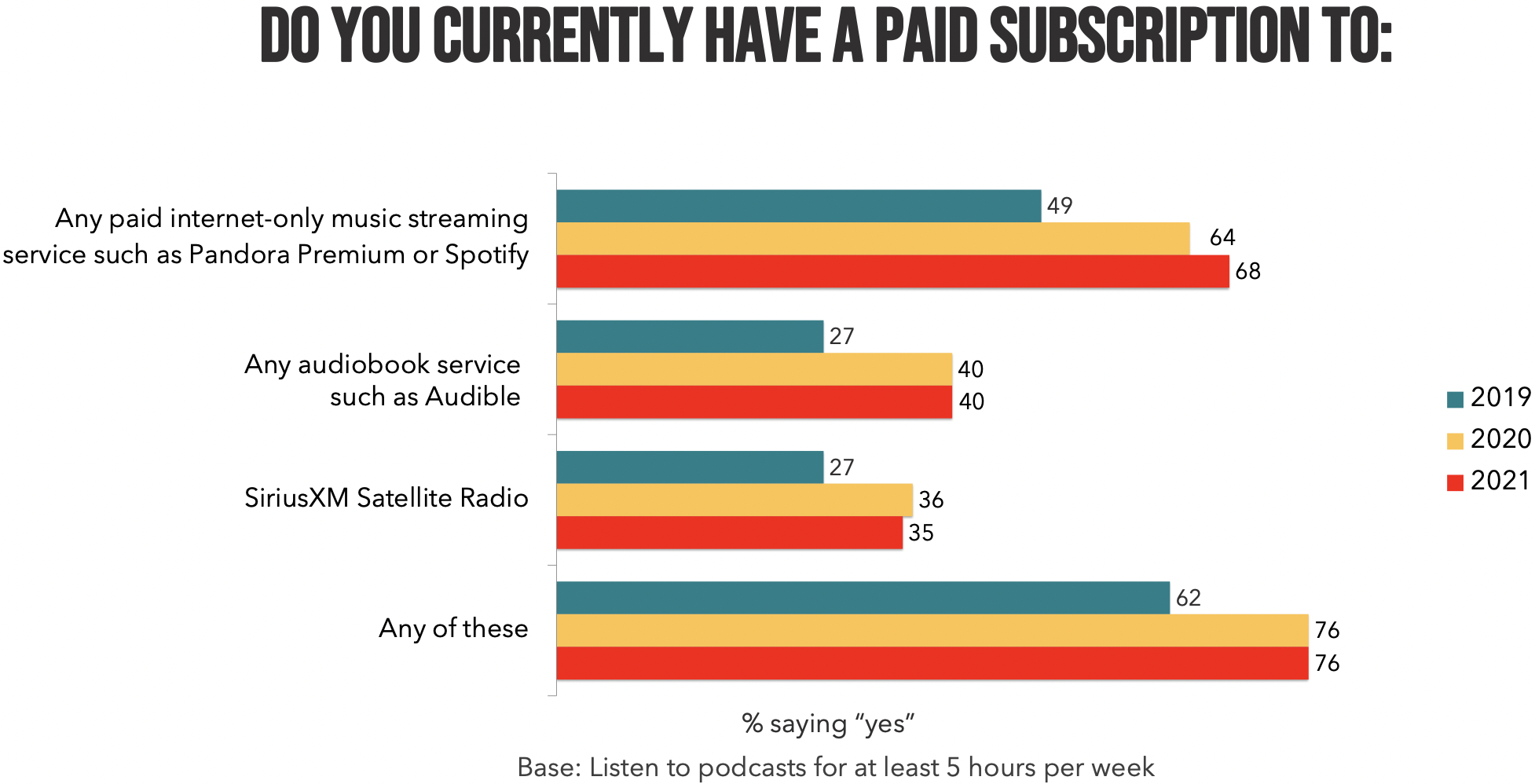 The average time spent listening to podcasts each week in up to 11.2 hours from 10.5 hours last year and 9.8 hours in 2019.
Listeners have now become more acceptable and responsive to advertising in podcasts with 50% now saying that advertising on a podcast is the best way for a brand to reach them.
YouTube(55%) and Spotify(49%) are still the biggest sources for podcasts, followed by Apple Podcasts(38%) and Amazon Music, iHeartRadio and Facebook(27%).
Only 18% of the respondents go to the podcasts own website to listen, and only 10% to the podcast mobile app.
Asked if they would still subscribe to their favourite podcast if it became exclusive to a particular service 87% said yes and 62% would pay a subscription if required.