Our analysis of the networks and cities in this survey period, which included the football grand finals.
Raw results here, Trend Graphs here, Spin Cycle here.
Refresh this page during the morning to see the latest additions.

Southern Cross Austereo

HIT
There was good news to be shared in both the SCA camps. In the HIT tent 2Day FM was up a healthy ↑ 1.2 to reach territory they've not seen for years, a 5.5 share overall. Breakfast with Ed Kavalee, Ash London and Grant Denyer also rose by ↑ 1.0 while mornings and afternoons played it on thick ↑2.5 and ↑2.2 respectively.
In Melbourne, FOX was steady on 9.5 tied with GOLD while in Brisbane HIT105 stayed in the top three despite a slight drop ↓0.4.
In Adelaide, the HIT brand was down ↓0.7 and ↓0.4 in Perth.
Triple M
The big news at the blokes network is that Triple M is the new leader in Brisbane. Everyone else has had a shot at it so why not Ms?
They did okay in Melbourne too where the station was ↑1.0 to land on a 7.6 share. After that there's a bit of a slide. Sydney was steady ↓0.1. Perth slid 0.2 and Adelaide ↓ 1.1.
Nova Entertainment
The two smooth entities in Sydney and Melbourne both shed audience share. Sydney ↓0.5 and Melbourne ↓0.1. Nonetheless, both can lay claim to Number 1 FM.
In the Nova huddle, the big talking point was that their Perth outpost had scored a Herculean victory in that city to wrest leadership from the clutches of Mix 94.5. Just as pleasing perhaps is the slow but steady rise of Nova 96.9 ↑0.4 and on a 7.9 share, tantalisingly close to knocking off some of the big guns in the 8's.
Adelaide put on a ↑0.8 spurt but remains 5th overall. Not much joy in Melbourne though, just a tiny ↓0.1 but on a 6.7 share there's still lots to do reach the next tier.
In Brisbane, Nova 106.9's briefly held crown has been stolen by Triple M.
ARN
A long sigh of relief could be heard across the network and, particularly, in Melbourne where their much vaunted British import Christian O'Connell and his team has sharply reversed the slide in Breakfast ↑1.2 to help the nation post a more modest gain overall ↑0.2 to be level pegging with FOX on 9.5 just behind FM market leader smooth.
That said, it was mainly swings and roundabouts for ARN.
In Melbourne, KIIS was up a tad ↑0.2 but trails the major FM pack on just 5.6.
In Sydney, KIIS was ↑1.3 but WSFM was down↓1.8. In Brisbane the once mighty 97.3 FM fell↓1.3 to be in 4th place but the venerable 4KQ put on ↑o.8 to be #1 AM. A similar thing happened in Adelaide – a market bereft of a Gold format on FM – where the equally venerable AM station CRUISE1323 rose ↑1.0 to be #2 AM behind FIVEaa. Meanwhile MIX102.3 shed ↓0.6. And in Perth, 96FM had a slight increase but is still an underperformer in the market.
Macquarie Media and other Talk
As the Radio Gods proclaim: That which rises bigly thus shall it fall. So it was with 2GB which enjoyed a massive rise last time but came back to earth ↓1.3 with its stars Alan Jones ↓1.5, Ray Hadley ↓2.5 and Ben Fordham ↓1.4. No matter, the station is still on a 14.1 share, way ahead of its nearest rivals ABC and smooth 95.3 on 8.8.
3AW leaped further up the Melbourne ladder ↑1.0 to 14.5 and like 2GB, it's the only station in the market in double figures. 4BC in Brisbane made a giant leap forward ↑1.4 to 6.0 share and 6PR in Perth enjoyed a good gain ↑0.9.
In Adelaide, the NovaEnt owned FIVEaa also fell victim to the Radio Gods' sense of humour tumbling ↓ 1.9.
Macquarie Sports Radio remained rock steady in Brisbane and Sydney but just when you thought the brand could not go any lower it halved its audience in Melbourne to a 0.2 share overall.
ABC Local Radio
After a long period of sustained losses the ABC flagship network is finally showing signs of better things to come. Aunty's biggest gain ↑1.3 was in Sydney which was enough to catapult it back to its customary #2 position behind 2GB on the ladder.
Melbourne too enjoyed a small gain ↑0.3, good enough for 3rd place on the ladder behind 3AW and smoothfm. Brisbane ↑0.6, Adelaide steady and Perth, the only one in the network to fall ↓0.6.
It was a good survey for the js ↑up in every city except Melbourne, a feat parallelled by the breakfast duo
Ben & Liam
.
Cities
Sydney
WSFM and 2GB lost the most this survey, while ABC Sydney and KIIS had the biggest gains.
In the finals footy season it is traditional for talk/sport stations with footy call rights to increase, and for music stations to dip. This happened to ABC Sydney, but not to 2GB. The survey dates corresponded with Alan Jones' Opera House issue and came just a week after the Wagner defamation case defamation verdict.
2GB easily retained top position, down 1.3 share points but still well ahead of the pack on 14.1%.
Second placed Smooth FM lost 0.5 to 8.8%, a tie with ABC Sydney, which moved into equal second place after jumping 1.3 share points to 8.8%.
KIIS moved third placed into third place, gaining 1.3 to 8.6%.
WSFM toppled from second place last survey to fourth place this time, down 1.8 to 8.2%.
Nova was fifth, up 0.4 to 7.9%.
2GB won breakfast (17.5%, down 1.5), followed by a tied ABC and KIIS, seven points behind (10.7%). 2GB won all other shifts except drive, which was won by Nova.
Nova won the 10-24 demographics, KIIS won 25-39s, WS won 40-54s, 2GB won the over 55s.
Melbourne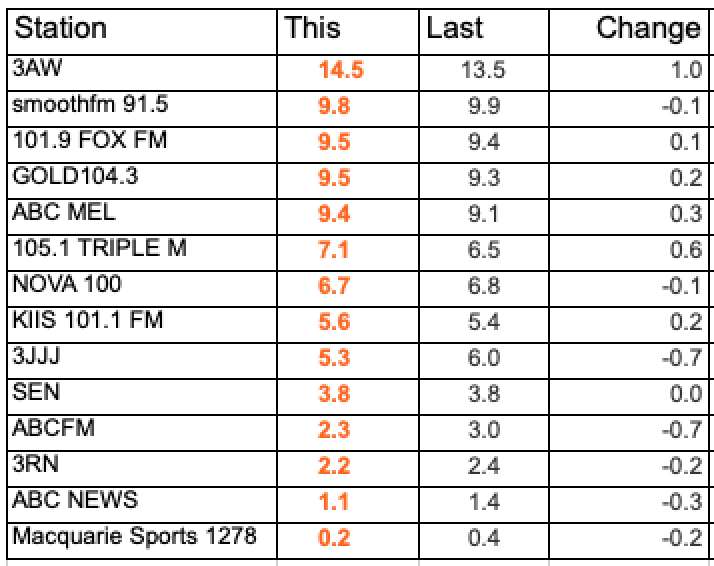 It was a very stable survey in Melbourne, with no movement above one share point. The top 4 rankings remained the same as last survey.
3AW topped the survey with 14.5%, up 1 share point.
Smooth was second, slightly down by 0.1 to 9.8%.
Fox and Gold tied for third place with 9.5%.
Fourth placed was ABC Melbourne, up 0.3 to 9.4%.
Triple M gained 0.6 to 7.1% in fifth place.
3AW won breakfast ahead of ABC Melbourne. 3AW won all other shifts except drive, which was won by Fox.
Fox won 10-39s, Gold won 40-54s, 3AW won the over 55s.
Brisbane
Nova and 97.3 fell the most this survey, giving Triple M the chance to grab top spot. 4BC and 4KQ had the biggest rises.
Triple M gained 0.4, moving to tpo position on 11.6%.
Nova lost 1.1 to 11.5%, slipping into second place.
Hit105 lost 0.4 and moved into third position with 11.3%.
97.3fm dropped 1.3 share points, down to 9.6% in fourth position.
4KQ gained 0.8 and retained fifth position with 8.9%.
An increase of 0.8 moved Triple M into the winning position in breakfast after the previous leader, sister station Hit105, dropped significantly in that timeslot. Triple M won mornings, Hit won afternoons and drive, Nova won evenings and weekends.
Nova won 10-24s, Hit won 25-39s, Triple M won 40-54s and 4KQ won the over 55 demographics.

Adelaide
FIVEaa was the biggest loser this survey, with Cruise and triple j scoring the biggest gains.
Mix retained top position despite a drop of 0.6 to 13.0%.
Second placed FIVEaa fell 1.9 share points to 10.9%.
Cruise moved into third place with a strong gain of 1 share point delivering 10.2% overall.
ABC Adelaide was steady on 10% in fourth place, followed by Nova, up 0.8 to 9.6%.
FIVEaa retained breakfast ahead of ABC Adelaide, despite dropping one share point in that timeslot. Mix won mornings, afternoons, drive and weekends. FIVEaa won evenings.
Nova won 10-24s, Hit won 25-39s, Mix won 40-54s, Cruise and ABC Adelaide tied for dominance of the 55-64s and ABC Adelaide won the over 65s.
Perth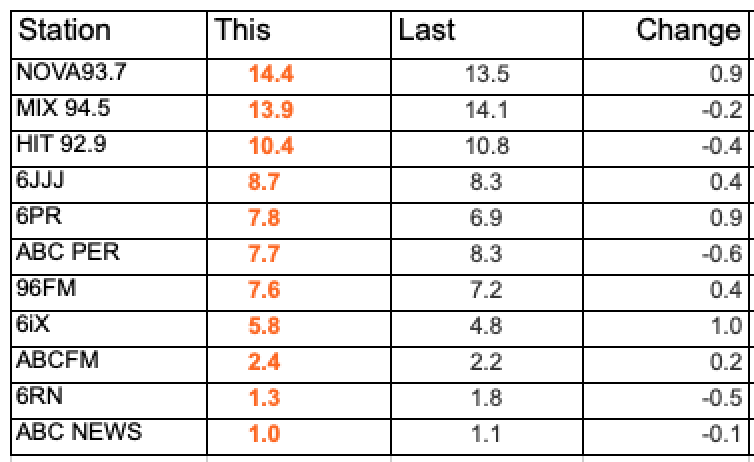 The Perth market has a new leader. Nova jumped into first place while previosu leader Mix slipped slightly.
6iX had the biggest gain this survey, up one share point to 5.8%. ABC Perth dropped slightly, down 0.6 share points to 7.7%
Nova gained 0.9 to 14.4% and grabbed the top spot.
Previous leader Mix94.5 lost 0.2 to move into second place on 13.9%.
Hit dropped 0.4 to 10.4%, followed by triple j, up 0.4 to 8.7%.
Fifth placed 6PR gained 0.9 to 7.8% pushing ABC Perth down to sixth position.
Mix won breakfast ahead of 6PR. Mix also won mornings and afternoons. Nova won drive and evenings, Mix won weekends.
Nova won 10-17s, triple j won 18-24s, Nova won 25-54s, Mix won 55-64s and ABC Perth won the over 65s.