ARN's iHeart and Magellan AI have revealed the top 15 brands who are advertising on Australian podcasts for Q3 2023 with the data also showing local podcast advertising grew by 88% from this time last year.
Data measurement company Veritonic have also released their 2023 Audio Insights Package which includes the top US podcast advertising spenders. There is one company in the top three in both.
BetterHelp.
It is No 1 in the US and two in Australia. I didn't know the company and googled to discover that it is the "worldwide largest online counselling service".
If I was to think of the advertising I'm most aware of when watching free to air or subscription TV I would say cars or holidays. Radio is home and contents products, services and accessories. Your list may be different.
BetterHelp invested $20 million in advertising on 174 podcasts across nearly 3000 episodes.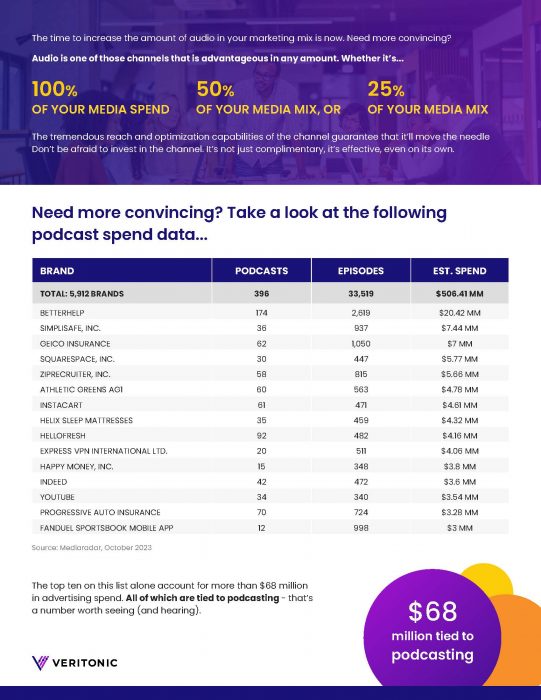 Australia's No 1 advertiser is Amazon, likely to remain No 1 next quarter too as we hit Christmas. It's complicated with Amazon as they acquired Wondery in 2020 and with it the exclusive rights to release episodes of podcasts like Smartless which sits at No 13 on the latest Australian Podcast Ranker. They've got skin in the game.
Our top 15 is Amazon, BetterHelp, both major telcos, three delivery and pick-ups, one major fashion, one vehicle, three insurance and banks, one gambling, Airbnb and finally, targeting women and parents, Kimberley-Clark.
Compare this to two years ago: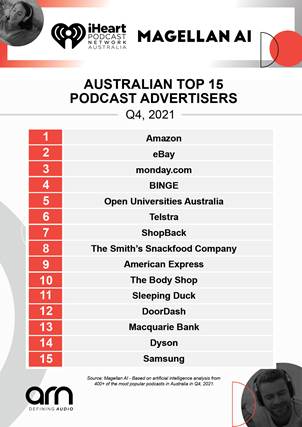 While iHeart represents a portion of the Australian podcast market, the organisations buying into podcast advertising don't overlap much with Australia's top advertising spenders according to a recent Nielsen Ad Intel report below: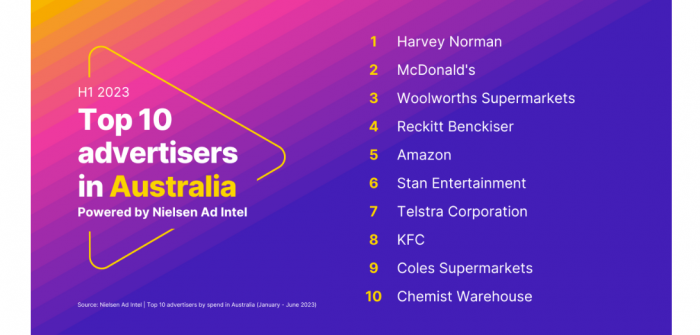 Supermarkets, takeaway (venues like McDonalds, not delivery options) and medical are not (yet) investing in podcasts to the same extent as television, digital and radio.
Is it because they can't control, in the case of McDonalds and Woolworths, when people are listening to a podcast? A weekly special might have expired or the breakfast menu doesn't feel right at 10pm.
And with BetterHelp and Kimberley-Clark investing so much into podcasts, why isn't Reckitt Benckiser or Chemist Warehouse?
One final thought, Telstra and Optus both spend on podcast advertising. Telstra features on Australia's top advertising spenders too. With the recent outages debacle for Optus I think we'll see a push up both lists for that telco next quarter and in 2024 too.
---
Jen Seyderhelm is a writer, editor and podcaster for Radioinfo