At a gala dinner in Adelaide this evening, winners of the 2014 CBAA Awards were announced, as part of the Community Broadcasting sector's annual conference.
Congratulations to all the winners of this year's awards.
The full list of winners is below.
2014 CBAA Awards Winners
Excellence in Community Participation
Community Outlook, 3MDR 97.1fm
Outstanding Volunteer Contribution
Rebekah Lowe, 5THE FM
Best Digital Media Initiative
Star Observer Digital, 2SER 107.3
Excellence in Training
Inclusive Training Program, Harvey Community Radio 96.5fm
Best New Radio Program – Talks
Brothers, CAAMA Radio
Best New Radio Program – Music
Jump Up With Jesse, Harvey Community Radio 96.5fm
Contribution to Australian Music
Brisbane Live Music Week, 4ZZZ
Contribution to Indigenous Broadcasting.
CAAMA Radio
Excellence in Ethnic and Multicultural Broadcasting.
Where Are You From?, 4EB
Excellence in Music Programming
Soul Time, PBS 106.7FM
Excellence in Spoken Word, News and Current Affairs Programming
Memories of Sarajevo – Radio Zid: Rock Under Siege, Bay FM 99.9
Outstanding Youth Contribution
Audrey Flannery, Mitchell Community Radio
Best Station Production
A Christmas Carol Promo, Bay FM 99.9
Best Station Promotion, Sponsorship or Fundraising Campaign
TransMISSION, Fresh 92.7 (pictured above)
Troy Garner Excellence in Sports Programming
Pride Cup Round – Match of the Day, 3MDR 97.1fm
Most Innovative Outside Broadcast or Special Event Broadcast
World AIDS Day Worldwide, JOY 94.9
The Outstanding Small Station Award
8CCC Community Radio
Excellence in Technical / IT Services
Mark Farley, Ian Moore & Glen Donhardt, ThreeD Radio
National Features and Documentary Competition
Maddy Macfarlane PBS FM Melbourne
Tony Staley Award for Excellence in Community Broadcasting, presented by Tony Staley (below), went to
The Wire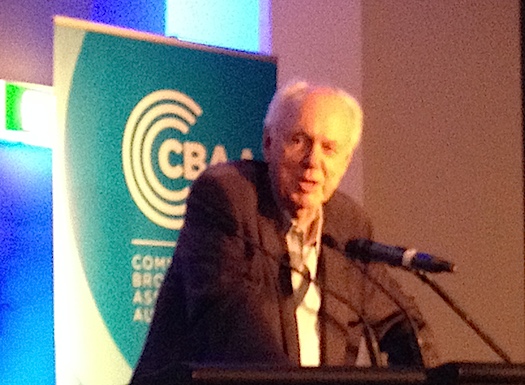 The Wire is community radio's national current affairs program, available via the Community Radio Network satellite and the CAAMA Radio satellite to more than 200 stations in city, regional, rural and remote communities, including many remote Indigenous communities and places with no other broadcast media. It is run by a consortium of community broadcasters: Radio Adelaide, 2SER in Sydney and 4EB in Brisbane.
Michael Law Award for sustained and outstanding contributions to community broadcasting was presented to two worthy recipients:
Maureen O'Keefe and Nicky Page (pictured below)
Maureen O'Keefe has been involved in community broadcasting for more than 20 years. Starting at the then 3YYR, where she was instrumental in training people to operate this new community radio station. After a sojourn to the ABC, O'Keefe returned to community broadcasting, taking on training in South Africa before heading to Alice Springs to manage Indigenous radio station CAAMA, then 3ZZZ in Melbourne. She was also on the board of the CBAA and Melbourne's 3MBS, and part of the General Grants Advisory Committee at sector funding body, the Community Broadcasting Foundation.
Nicky Page has been the Training Manager at Radio Adelaide for 15 years. Since 1996, she has worked tirelessly as part of the sector's first registered training organisation. Her talent for bringing people together and managing the logistics of accredited training have seen her involved in a number of partnerships, including a decade long relationship with CAAMA Radio, training their staff and volunteers. Page started as a volunteer at Adelaide's ThreeD Radio
CBAA General Manager Jon Bissett said: "The staff and volunteers at stations around the country work tirelessly each and every day, and it is always an honour and a pleasure to recognise some of the outstanding achievements each year."