Talk about consistency! Hit 99.5 Sunraysia is the most listened to station in Mildura with 33.1% of the listening audience 10+. That percentage has fluctuated by just 0.1 across the two Xtra Insights surveys conducted since November 2018.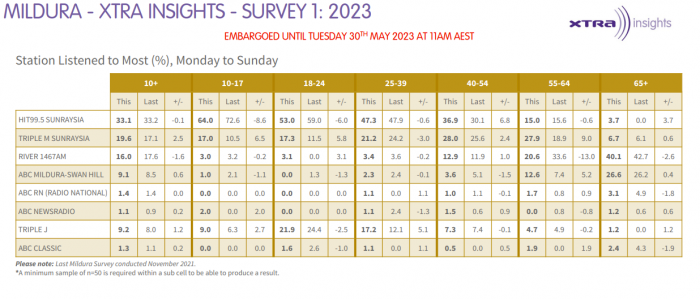 Triple M Sunraysia also saw growth, up 2.5 from last survey with big jumps in listeners 10-24 and 55-64's (up 9.0 in that demographic)
Both stations were also up in breakfast, Hit's Nick and Jules, 2.0 to 34.8 and Matman on Triple M, 1.9 to 20.4. Triple M afternoons (Leisha Brodyk) and weekends both increased 5 points.
SCA Head of Content – Regional, Blair Woodcock said of the radio ratings.
"It's a great pleasure to congratulate the Mildura team this morning with the amazing regional radio survey results, reclaiming the #1 and #2 Stations in the market.
I know the dedicated team have been working immensely hard to lift the loyalty throughout the community and have had an unwavering commitment to success.
"The results this morning is a testament to that work with both Hit and Triple M claiming their highest cume results to date as well."
ARN's River 1467AM saw a dip, down 1.6 to 16.0, to third behind Hit and Triple M.
Triple J and ABC Mildura-Swan Hill both saw gains to 9.2 and 9.1 respectively.