Survey 2 results are out, and so is the spin.
Here's the latest from the Network PR and Marketing Departments.
See the raw results here.
Analysis here, trend graphs here.
Refresh this page during the day to get the latest additions of press releases, as they're sent to us.
If you have a release, send it to [email protected].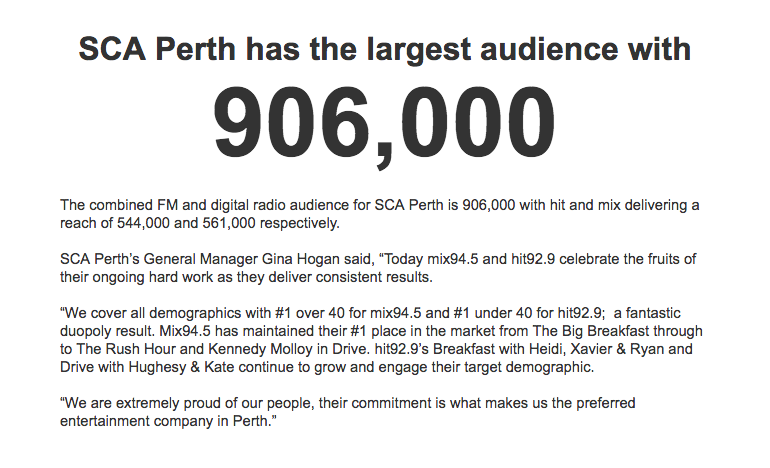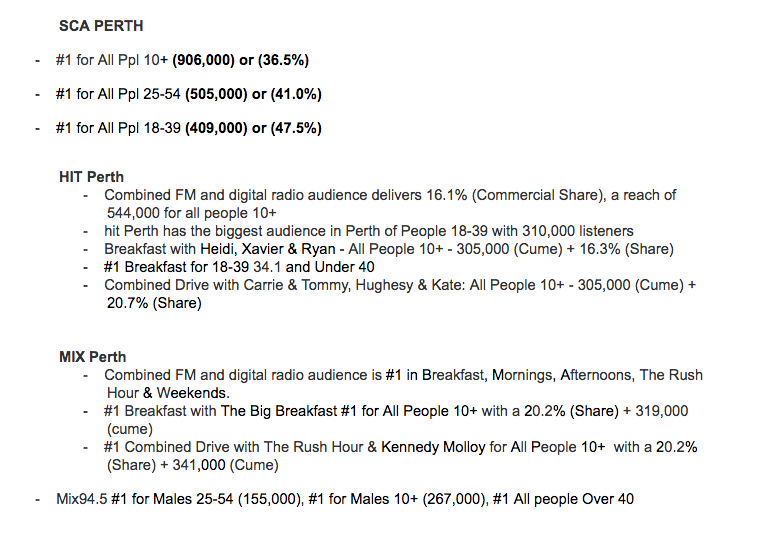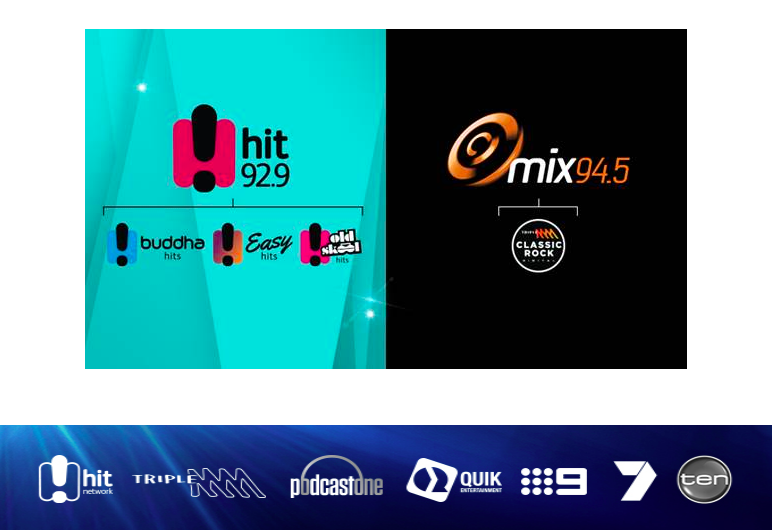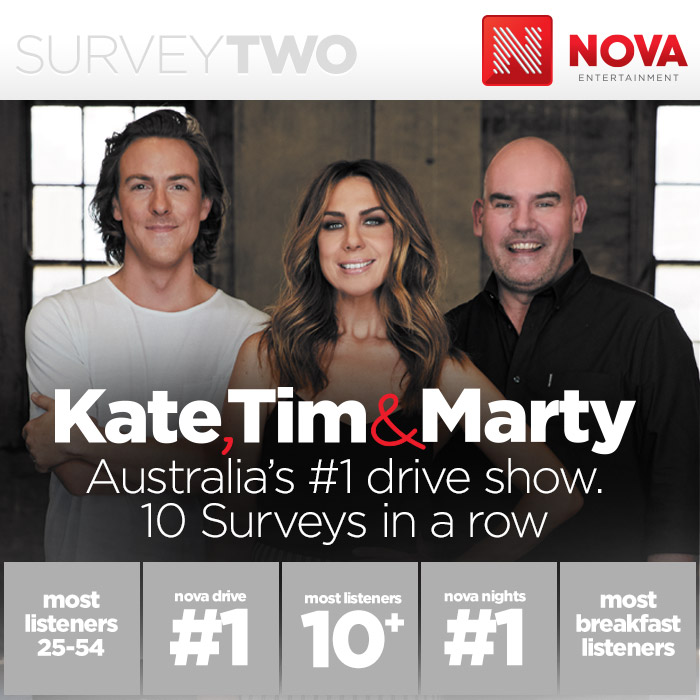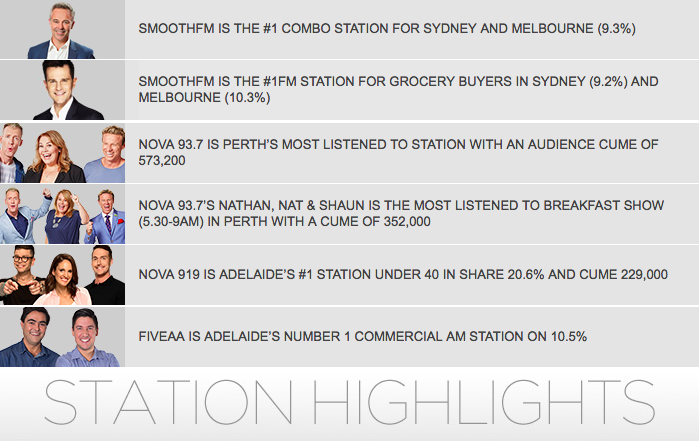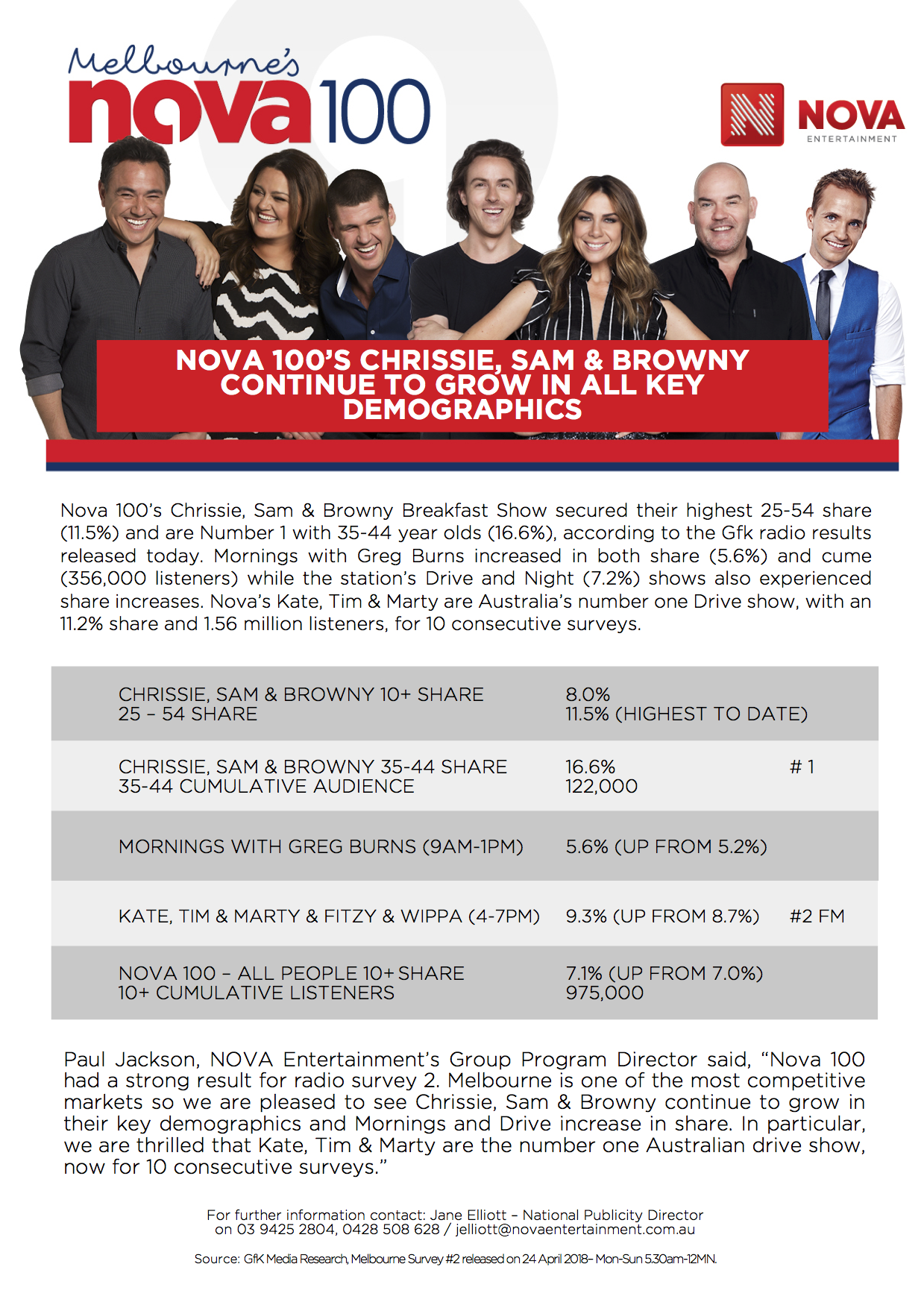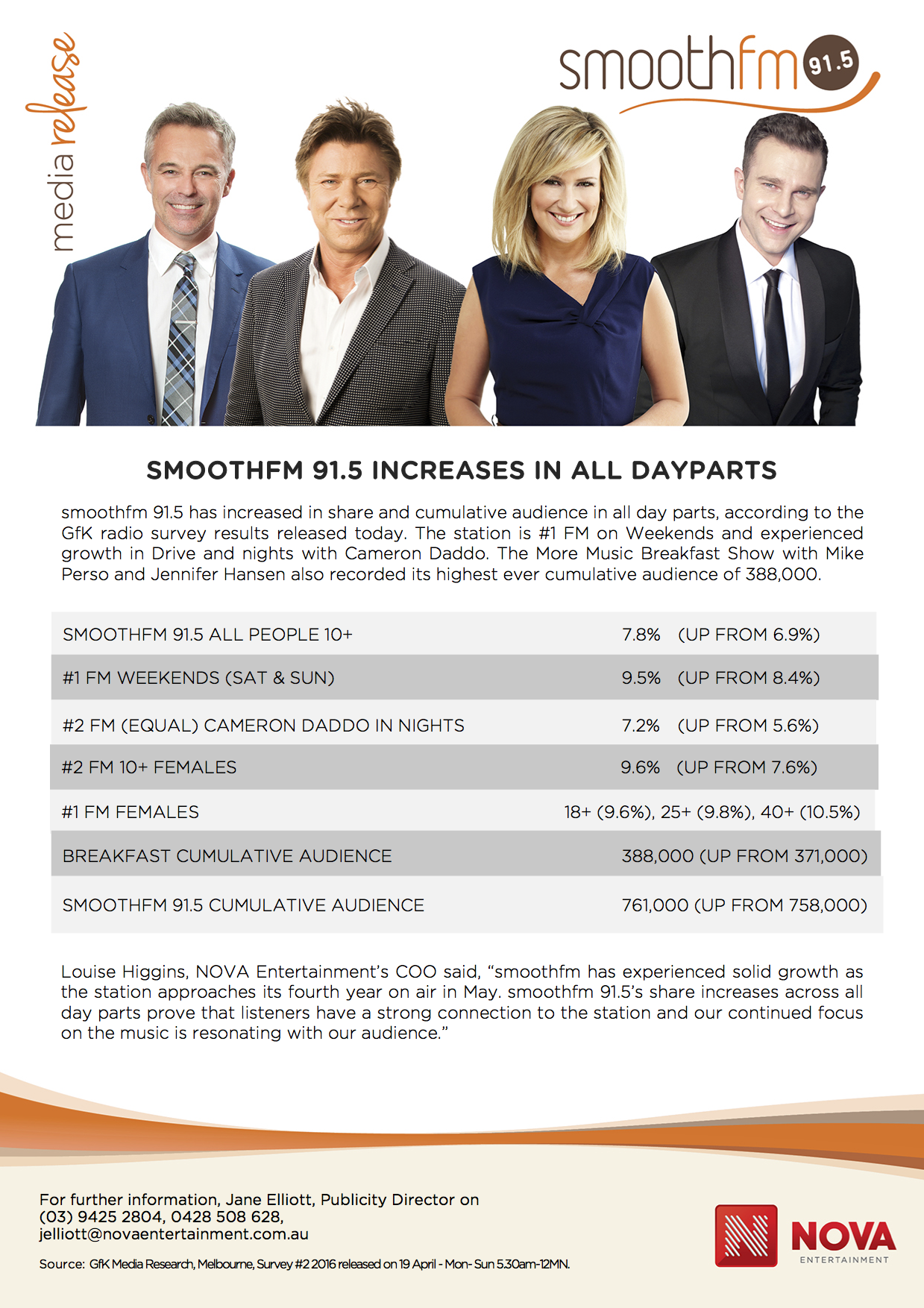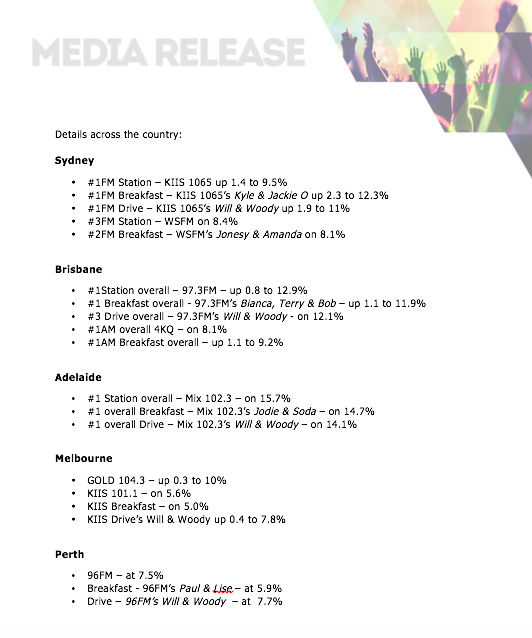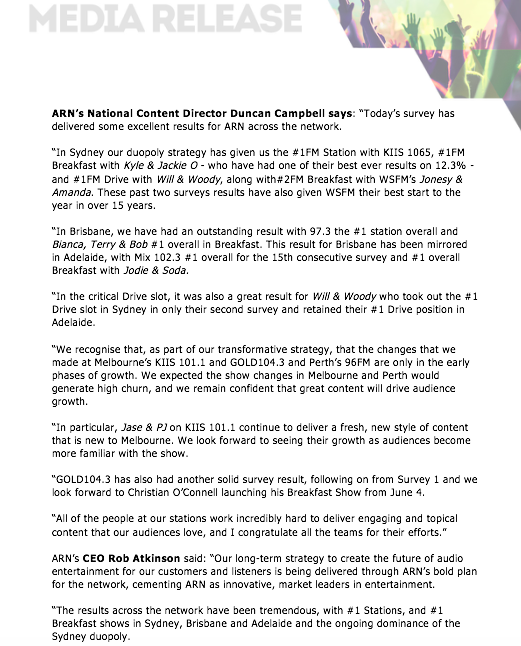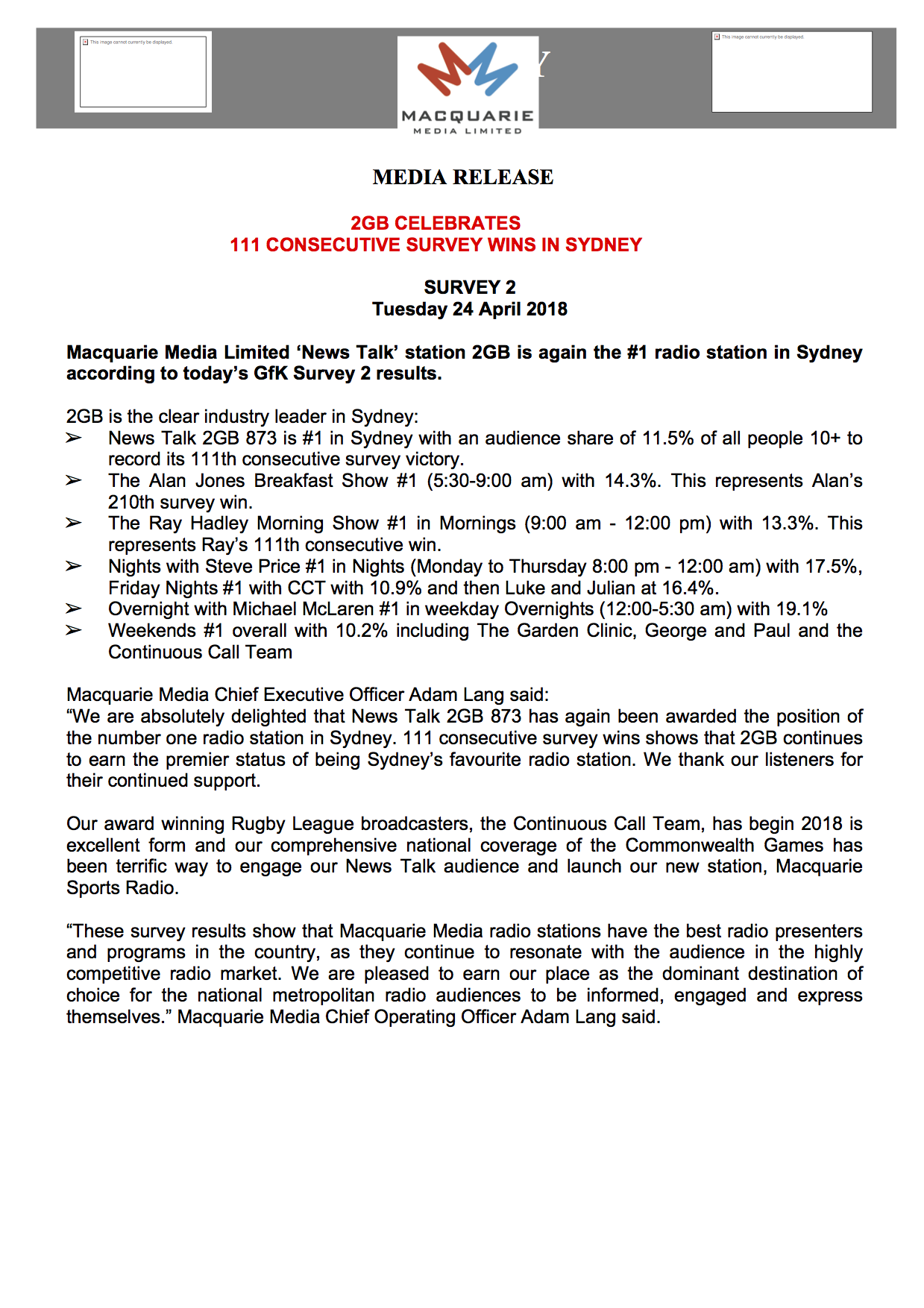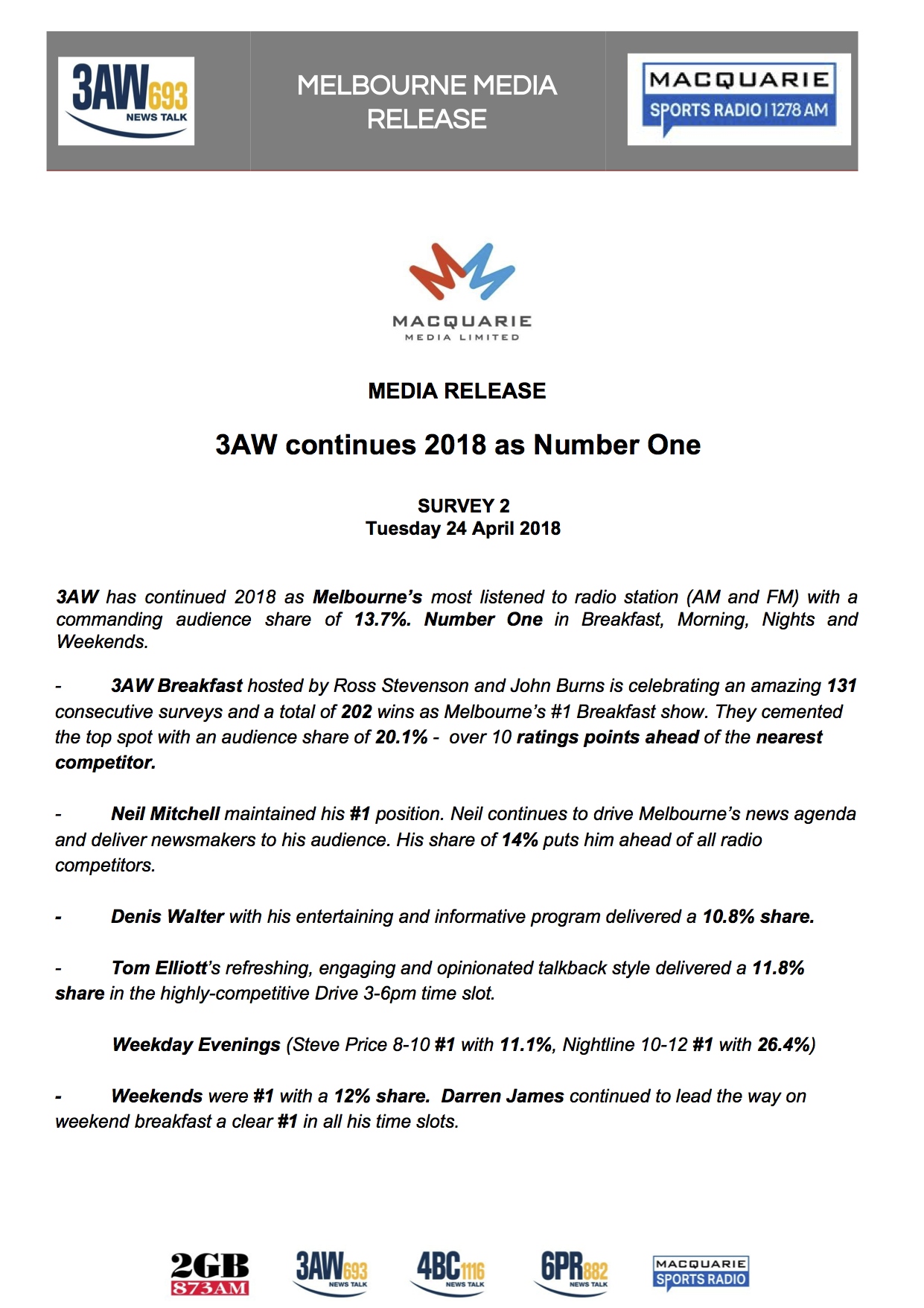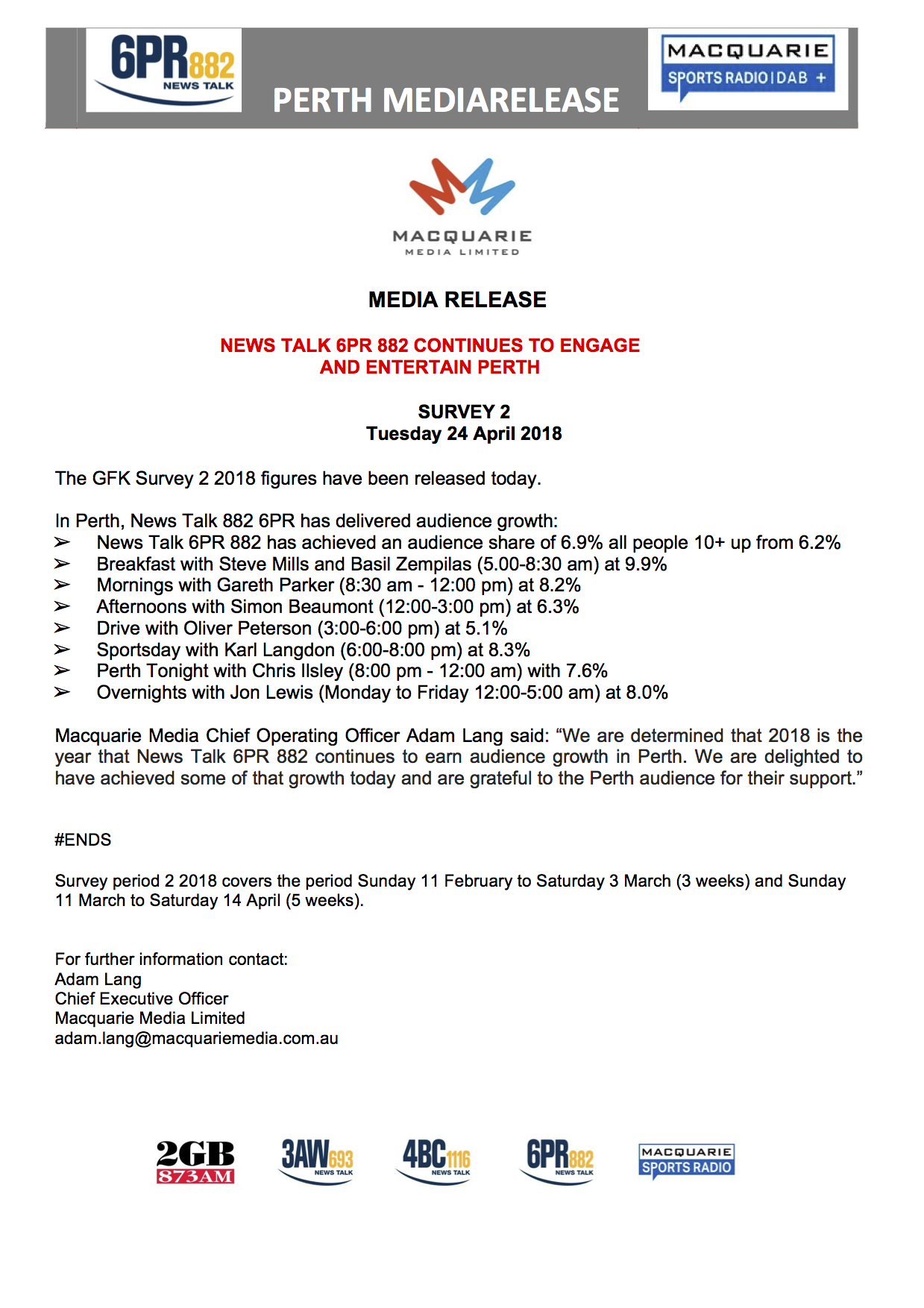 HIT SYDNEY
The new 2DayFM Sydney Breakfast show continues to grow its audience and in the second survey of the year the Breakfast show hosted by Em Rusciano, Grant Denyer & Ed Kavalee has increased its share by 1.0% to 4.4% for all people 10+.

Hit Sydney has a total listener base of 862,000 across FM and digital radio. Nights up 2.2 with Ash London Live.
ARN
Radio ratings for survey #2 are in and it's a fantastic result for Australian Radio Network, taking out #2 Network overall.

In the coveted Breakfast and Drive positions ARN again take out #1FM and #2FM Breakfast shows and #1FM Drive show in Sydney, the #1 overall Breakfast in Brisbane, and the #1 overall Breakfast and Drive shows in Adelaide.

ARN hold the #1FM stations in Sydney, Brisbane and Adelaide.

Highlights across the country:

Sydney
#1FM Station – KIIS 1065 up 1.4 to 9.5%
#1FM Breakfast – KIIS 1065's Kyle & Jackie O up 2.3 to 12.3%
#1FM Drive – KIIS 1065's Will & Woody up 1.9 to 11%
#3FM Station – WSFM on 8.4%
#2FM Breakfast – WSFM's Jonesy & Amanda on 8.1%

Brisbane
#1 Station overall – 97.3FM – up 0.8 to 12.9%
#1 Breakfast overall – 97.3FM's Bianca, Terry & Bob – up 1.1 to 11.9%
#3 Drive overall – 97.3FM's Will & Woody – on 12.1%
#1AM overall 4KQ – on 8.1%
#1AM Breakfast overall – 97.3FM's Laurel, Gary & Mark – up 1.1 to 9.2%

Adelaide
#1 Station overall – Mix 102.3 – on 15.7%
#1 Breakfast overall – Mix 102.3's Jodie & Soda – on 14.7%
#1 Drive overall – Mix 102.3's Will & Woody – on 14.1%

Melbourne
GOLD 104.3 – up 0.3 to 10%
KIIS 101.1 – on 5.6%
KIIS Breakfast – on 5.0%
KIIS Drive's Will & Woody up 0.4 to 7.8%

Perth
96FM – at 7.5%
Breakfast – 96FM's Paul & Lise – at 5.9%
Drive – 96FM's Will & Woody – at 7.7%